Crypto Borrowing 101: Your Guide to Fast Funds When You Need Them
With a crypto-backed loan, you can use your existing crypto funds as collateral to borrow cash. You can then use that cash to invest in another crypto, finance a major purchase, or for any other purpose you want.
Best of all, you can do it quickly, easily, and affordably, even without perfect credit.
In this guide, we will tell you everything you need to know to borrow money using your crypto as collateral.
Borrowing Money Through Crypto Platforms: The Basics
What exactly is a crypto-backed loan? It is simply a type of loan that is secured to your crypto funds as collateral.
If, for whatever reason, you were to default on your loan, you would forfeit your crypto.
With your crypto acting as collateral, crypto lending platforms are able to offer you competitive interest rates and rapid, easy qualification.
These same platforms tend to offer members the opportunity to loan their crypto funds to earn interest as well.
So, it is a type of peer-to-peer (P2P) lending.
Advantages of Crypto-Backed Loans
Here are a few reasons to consider choosing a crypto-backed loan:
Borrow a currency or cryptocurrency of your choice.
Many platforms offer you a range of different options so that you can pick the cryptocurrency or fiat currency that fits your requirements.
Get approved fast and receive your funds right away.
Some platforms can offer loan approval within minutes of submitting your application. So, processing can be extremely fast. The speed with which your funds are disbursed after approval will depend on the currency you select, your location, and the platform. But it is common to receive them in no more than one business day. In some situations, you might even receive your funds instantly. So, if the situation is an emergency, this may be a faster and more reliable way to get the financing you need than a traditional personal loan.
You may not need perfect credit to qualify.
You can find platforms that do not even run a credit check. That means that bad credit or no credit is OK.
Choose a loan term that fits your needs.
You should be able to customize your loan term as suits your situation.
Pay a competitive interest rate.
You may find that more competitive interest rates are available through this type of financing than some traditional options.
Check the fees for the platform you are considering using. In some cases, they can be very low.
Refinance your loan in the future.
Depending on the platform you are using, you might have the option of refinancing later down the road.
There may be no prepayment penalties.
Some platforms allow you to pay back your crypto-backed loan in its entirety early without paying fees for doing so. That means that you can avoid paying the full interest.
An APR as high as 400% is not uncommon with payday loans. Traditionally, some borrowers turn to payday loans because they need money fast, and they do not have perfect credit. A crypto-backed loan steers you clear of predatory payday loans, providing you with the money you need at a reasonable interest rate.
Sometimes, just borrowing through a crypto platform allows you to earn token-based rewards.
Leverage investment opportunities.
It is common to borrow money on crypto platforms as part of an investment strategy. For instance, if you expect a rise in the price of BTC, you could furnish your own BTC as collateral, borrow money, buy additional BTC, and then sell it after its value increases. After paying off the loan, you may then find yourself with a nice additional profit. Borrowers use the same basic technique when going short. Depending on where you live and the tax laws for your region, this method may help you to avoid taxable transactions.
Keep in mind that advantages and features are not uniform from one crypto platform to another. For example, some platforms may let you refinance while others do not. Some may check your credit while others forgo a credit check and so on.
A Crypto-Backed Loan Might Be Right For You If…
This is one of the easiest ways to get rapid financing when you are in a rush.
You do not have a perfect credit score.
Whether you need a loan right away or not, bad credit can hold you back from qualifying for one through a traditional lender. But you should be able to qualify for a crypto-backed loan, and potentially or a more affordable rate as well.
You have the crypto you need to offer as collateral.
This type of financing does require collateral, so it is only appropriate if you have funds available for that purpose.
You want to avoid a cycle of debt.
That is where payday loans with their high interest rates usually lead. Crypto loans can give you an affordable alternative.
And of course lastly, it's possible that you want to invest in a cryptocurrency, but you are trying to steer clear of transactions that might trigger taxation and/or want to earn rewards to add to your profits in the process.
What Currencies Can You Borrow?
The currencies and cryptocurrencies you can borrow depend on the platform you choose for your crypto-backed loan.
To give you an example, if you are borrowing your money on Celsius Network, you can choose:
TUSD
GUSD
PAX
USDC
MCDAI
USDT ERC20
USD
BlockFi, a similar lending platform, lets you borrow:
Because there is so much variation, you will need to look around to find a platform that supports the currency you want.
Also, keep in mind that there may be differences from one platform to another in terms of what cryptos are accepted as collateral.
Celsius lists quite a few, including:
BTC
ETH
BCH
DASH
BSV
LTC
ZEC
ZLM
OMG
TUSD
GUSD
…and many more!
If, for whatever reason, you are unable to find a platform that accepts the crypto that you have for collateral, you could visit a crypto exchange and convert it first.
How Much Can You Borrow?
The amount you can borrow may depend on a variety of factors such as your collateral amount, the interest rate you are willing to accept, the platform you are using, and (potentially) your credit score.
What Interest Rates Can You Expect for a Crypto-Backed Loan?
On some platforms, we have seen interest rates as low as 1% APR. On others, interest rates start higher than that.
Keep in mind that you may or may not qualify for the lowest rate that a platform offers.
Some platforms also offer discounted rates to certain members (i.e. those who have invested in the platform's utility token).
Regardless, you can find much lower interest rates for crypto-backed loans than you can for, say, payday loans.
This makes crypto-backed loans a much safer and more affordable option in an emergency.
How Do You Pay Back Your Crypto Loan?
You will need to pay back the amount you borrowed in full along with interest due on your loan.
Crypto platforms may allow you to do this manually and/or automatically.
What Should You Know About Crypto-Backed Loans?
Collateral Requirements
The most important thing to understand about these types of loans is that a significant amount of collateral is necessary.
To give you an example, we can turn to Celsius Network. This platform makes it easy to calculate collateral requirements for various loan amounts.
So, let's say you want to borrow $15,000 in US Dollars.
Using the calculator, you can view the total interest, monthly interest, interest rate, and the required amount of collateral.
At the time of this writing, if you choose an interest rate of 1%, the calculator says that you need 1.2154 in BTC as collateral.
Yep, that comes out to $60,215.66 USD. Keep in mind, however, that if you choose a lower interest rate, you can also reduce the collateral requirement.
This might prompt the question, "But if I already have $60,000 USD, why would I want to put it up as collateral to borrow a much smaller amount?"
Here are a couple of possible answers:
Perhaps you are an investor, and you are looking for a way to increase your potential profits when buying or selling crypto. Taking out this type of loan may help you avoid additional taxation and could also help you earn rewards.
Maybe you need to borrow money to pay for something, but you do not want to take it out of your crypto account to do it. You want to hold that crypto as an investment, as you believe the gains in doing so will outstrip your losses through interest on the loan.
You have a large purchase you just are not prepared to pay for all at once. A quick crypto loan can cover it, and then you can pay it back over time as you feel comfortable. Indeed, some people may choose this option to help finance a major purchase such as a home or an automobile.
If you are thinking about taking out this type of loan yourself, you probably already can think of additional use cases.
The Rewards You Can Earn Depend on Your Platform. So Do Interest Rates, etc.
Every platform handles rewards, interest rates, and discounts in different ways.
For example, Celsius Network writes:
"When your crypto is locked as collateral against your loan, you are not earning interest on it. Instead, what is happening is that, you are paying interest on the dollars that you've borrowed and we have your crypto as collateral, so that is an asset that Celsius is holding on to… The reason why we are able to offer such low rates on USD loans and such high interest on transfers is partly due to the fact that we don't pay interest on locked collateral. As a customer, you can choose to either earn the highest rates on your coins or pay the lowest rates on your loans, but sadly you can't do both."
So, on this platform, you do not keep earning on your crypto collateral, but you do get rewarded in the form of lower interest rates.
On some other platforms, you might see the reverse. You might be able to continue earning on your collateral, but interest rates will not be as low.
Celsius has its own utility token, CEL.
If you pay off your loan with CEL tokens, you can receive a discount as high as 30% on your interest payments. So, that is another way in which the site rewards you for borrowing.
Alas, the potential downside is that not every borrower may not be able to purchase these tokens. You have to be an accredited investor in order to do so.
Because this requirement can be such a barrier, there are some crypto lending platforms that choose a different approach that does not involve utility tokens. That way, anyone should be able to receive the lowest interest rates.
An example of such a platform is BlockFi. This platform dispenses with the utility token system, and replaces it with a tiered interest rate structure for lenders and higher interest rates for borrowers.
That being said, the interest rates are still quite low overall. At the time of this writing, some borrowers may qualify for just 4.5% APR.
Since there are pros and cons regardless of the approach a particular platform decides to take, you will need to decide what will make the most financial sense for you based on your individual needs and goals.
Drawbacks of Crypto-Backed Loans
There are really not a whole lot of drawbacks for loans with crypto collateral, but we can think of a few:
High Minimum Loan Amounts:

On a lot of crypto platforms, the minimum loan amount starts out around $10,000 or $15,000. If that is significantly more than you want to borrow, you will end up having to tie up more collateral and pay more interest than you might like.

High Collateral Requirements:

Just as the high minimum loan amounts will not be convenient for all borrowers, nor will the high collateral requirements. Those requirements do mean that crypto-backed loans will always be most appropriate for investment purposes or for making major purchases. These types of loans will simply not be useful for those who lack financial means.

Margin Calls:

It is important to keep in mind that at all times, the price of crypto is fluctuating, which means that the value of your collateral is fluctuating as well. If it decreases too much, it is possible that you will face a margin call.
How to Borrow Money With a Crypto-Backed Loan
The specific steps to borrow money with this type of loan vary from one platform to the next, but following are the basic steps.
Register an Account

Start by opening an account on the crypto platform where you want to borrow money. You will need to provide your basic information, and then complete KYC identity verification.

Calculate Your Collateral Requirements

You will need to have collateral in your account to secure your loan. So, figure out how much you will need. Many platforms provide a calculator to assist with this.

Transfer Funds

Once you estimate the required amount of collateral, you can transfer your crypto funds to the platform.

Choose Your Loan Options

There will be a page on the platform that allows you to input the details for the loan you want. You will need to specify what type of crypto you want to borrow, what amount you want, what interest rate you desire, and what loan term you prefer.

Submit Your Request and Receive Your Funds

With your loan options selected and your collateral on the platform, you need only submit your request at this point and wait for it to be approved. After it is, you will receive your funds.
Where to Borrow Money Using Your Crypto as Collateral in 2021
Now that you know how crypto-backed loans work and what their benefits are, let's take a look at our top recommended crypto loan platforms.
Celsius Network is a London-based crypto alternative banking platform founded in 2017 by entrepreneurs Alex Mashinsky and S. Daniel Leon.

The platform uses CEL tokens to reward people who participate in its network.

Celsius Network crypto-backed loan features and benefits include:
Borrow with APR as low as 1%.
There are no origination fees for loans through Celsius Network.
No credit check is necessary to borrow money through this platform.
Celsius provides you with a convenient calculator that makes it easy to compute collateral requirements and interest.
Your request to borrow money may be processed in under a minute.
If necessary, the option exists to refinance your loan later.
Should you pay off your loan early, there is no prepayment penalty.
Interest rate discounts up to 30% are available for those who pay off their loans with CEL tokens.
Are Celsius Network Loans Right for You?
We would recommend Celsius Network for any borrower who is looking for a platform that offers the utmost transparency and ease-of-use.
Just keep in mind that you will get the lowest interest rates only if you are an accredited investor with CEL tokens.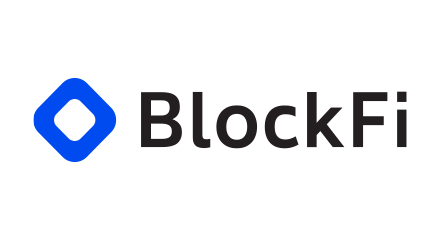 BlockFi is another crypto alternative banking platform. Zac Prince and Flori Marquez founded it in 2017, and it is backed by Coinbase Ventures, SoFi, Fidelity, and other institutions. Gemini Trust Company, LLC. is BlockFi's custodian.
BlockFi crypto-backed loan features and benefits include:
You may qualify for an interest rate as low as 4.5% APR.
It is easy to qualify for a loan on this platform. You do not require perfect credit.
If your collateral is ready in your account when you apply, you can receive your funds on that same business day. Sometimes, funds are disbursed in under two hours.
Are BlockFi Loans Right for You?
Like Celsius, we feel BlockFi is a great choice all around when it comes to ease-of-use, speed, and overall affordability, but we would recommend it especially to borrowers who do not want to use a platform with utility tokens.
Frequently Asked Questions About Crypto-Backed Loans
Q: Can you borrow US dollars?
A: When you have to make a payment for something fast, sometimes it is to an individual or institution that only accepts US Dollars.
So, you might be wondering whether you can only borrow crypto, or whether you can also borrow fiat currencies.
Some platforms do make it possible to borrow USD and other fiat currencies. So, yes, if that is what you need, it is available.
Q: Why borrow money with your collateral instead of just using your collateral for your purchase or investment?
A: The main reasons to borrow instead of using your own crypto include:
Earn rewards.
Enjoy advantages with respect to taxation.
Keep holding your crypto.
Finance major purchases without paying for them all at once.
Borrow the Funds You Need Now
Now you know how you can finance an investment or purchase without dipping into your crypto funds with the help of a loan secured to crypto collateral.

Still Looking for More to Read?

What do you do when you need to make a major purchase or investment, but you do not want to dip into your crypto funds to do it?