Fee Schedule
Deposit Method
Currency / Country
Fees
Bitcoin
MIN

.0001BTC
MAX (Day / Month)
unlimited
Withdrawal Method
Currency / Country
Fees
Bitcoin
MIN

.001BTC
MAX (Day / Month)
.001/unlimited
Leverage Trading Allowed
2x - 100x
Overview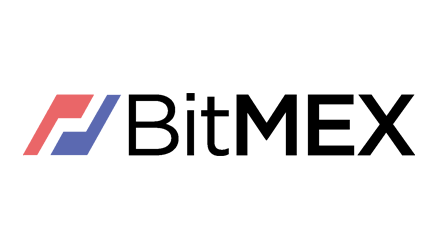 Company Name: HDR Global Trading Limited
Headquarters: Republic of Seychelles
Official Website: https://www.bitmex.com/
Established in: 2014
USA traders no longer allowed in 2019 (banned in 2018)
BitMEX is a trading site where you can deposit funds and withdraw profits in bitcoin and trade bitcoin and cryptocurrency derivatives. The company was founded in November of 2014. Since then, investors have traded a combined $26.5 billion. That amounts to more than a fourth of the total bitcoin market cap.
The name "BitMEX" is short for "Bitcoin Mercantile Exchange."
Who Should Use BitMEX?
BitMEX is recommended for the seasoned professional trader who would like to trade cryptocurrency futures and swaps. For the casual trader, the BitMEX interface will pose a steep learning curve. It is functional and provides some fantastic tools for planning trades, but is far from intuitive.
Is BitMEX Legit? Respected and Safe BTC Exchange?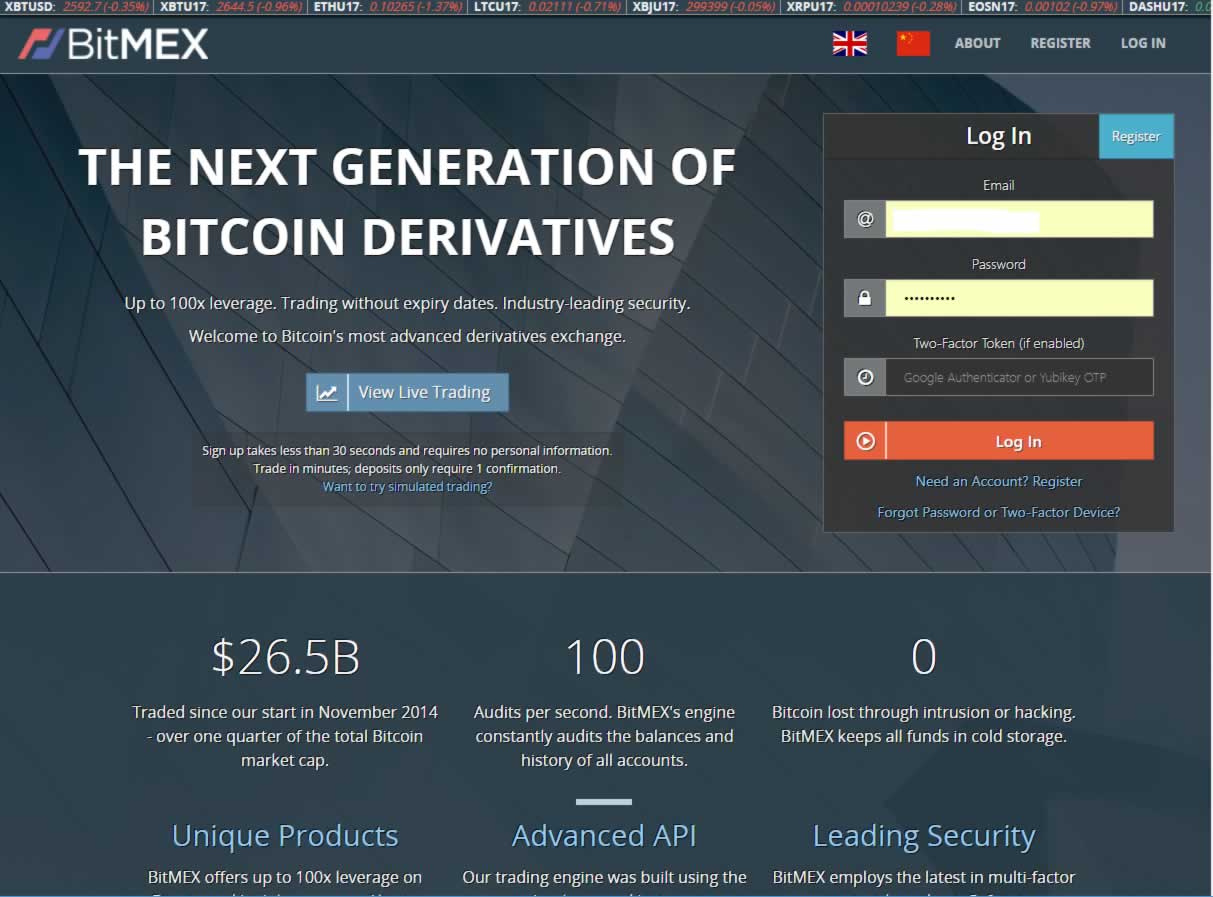 The financial professionals who put together BitMEX have more than 40 years of combined experience between them. This is a rare company which offers full bios on each of its founders. While HDR Global Trading Limited is not regulated by any financial authority, they are incorporated under the International Business Companies Act of 1994 of the Republic of Seychelles under registration number #148707.
If you look around for third-party reviews online, you will find that there are quite a few solid reviews posted by customers and review sites.
This leads me to say that BitMEX appears to be legit. They have also paid out bitcoin to us with no issues.
Full BitMEX Review – Facts, Details, and What You Should Know
This site is a bit different from many other trading sites out there in a couple of respects:
First of all, there is no way to deposit or withdraw in fiat currencies. You can only deposit and withdraw in Bitcoin.
Secondly, this site focuses on two main types of trading: futures contracts and swaps.
If that is what you are in the market for, you are in the right place. If you are looking for other types of trades, check out some of the other Bitcoin trading sites which we recommend.
How Can You Deposit and Withdraw From BitMEX?
The only way you can deposit and withdraw on BitMEX is using bitcoin. The minimum amount to deposit is the minimum amount to trade, which varies depending on the margin you are using as well as the product you are trading. As an example, for XBTUSD with an initial margin of 1%, the minimum amount is $0.01.
Clients are given a multi-signature address to deposit bitcoin, which is done to prevent theft—just one of the ways in which BitMEX goes above and beyond to protect client security.
There is no fee to deposit bitcoin at BitMEX. There are also no fees for withdrawals. BitMEX keeps things simple and affordable in this respect, so this is great. The downside of course is if you want to use other deposit and withdrawal methods.
Countries Accepted and Blocked
BitMEX does not maintain a full list of accepted and blocked countries. If the site is blocked in your country, you will see the following message when you attempt to register an account:
"At this time, BitMEX cannot serve customers in your country. You may still create an account, but you will be unable to deposit. If you wish to try simulated trading, please try our BitMEX Testnet."
In the past, there was some confusion over whether or not BitMEX accepts traders from the USA. I can now verify that USA traders are definitely blocked from using the site.
What Can You Trade?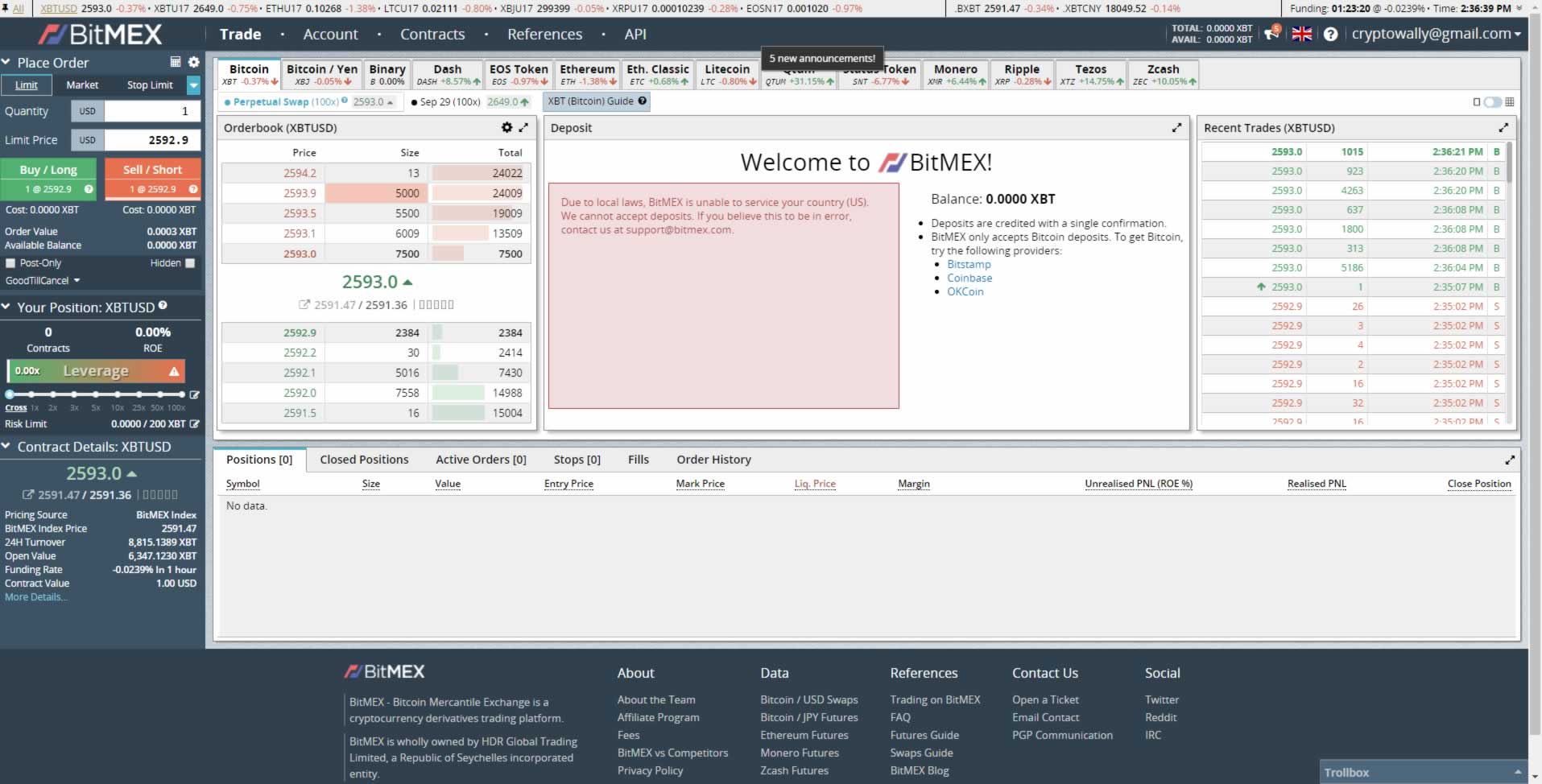 XBT (Bitcoin)
B (Binary)
XBJ (Bitcoin/Yen)
EOS (EOS Token)
DASH (Dash)
ETH (Ethereum)
ETC (Ethereum Classic)
QTUM (Qtum)
SNT (Status Token)
LTC (Litecoin)
XTZ (Tezos)
XMR (Monero)
XRP (Ripple)
ZEC (Zcash)
What Types of Trading Are Available?
On BitMEX, there are two types of trading:
Because these types of trading are not available everywhere, it is worth taking a moment to introduce and explain both of them.
Futures
When you purchase a futures contract, you are making an agreement to buy or sell a given asset in the future at a predetermined price. On BitMEX, you can leverage up to 100x on certain contracts. Note that this is denominated entirely in bitcoin.
When you are looking through the futures contracts which are available, you will notice that they are notated with expiry month codes and dates. So for example, ETHU17 is a futures contract on ETH/XBT. The month code "U" is for September, so this contract expires in September of 2017.
Swaps
Perpetual swaps are a lot like futures, except that there is no expiry date for them and no settlement. Additionally, they trade close to the underlying reference Index Price, unlike futures, which may diverge quite a bit from the Index Price.
If you are new to these types of trades, I highly recommend taking the following steps before you start trading live on BitMEX:
Start by reading through all the FAQ content and guides on the website. This is essential to learning your way around and understanding how these contracts work.
Visit the sandbox testing exchange provided by the site, located at https://testnet.bitmex.com/. There, you can register an account, deposit testnet bitcoin, and practice. Testnet bitcoin has no value—it is essentially demo currency, and the sandbox testing exchange is basically a demo account. Train up there until you are ready to go live with real bitcoin.
You should also consider availing yourself of the chat box which shows up on the trading platform in the lower right-hand corner of the screen. This lets you ask your questions in public so that other users can get back to you. There are generally quite a few people online at any one time, and many members are willing to help out newcomers.
Account Levels
When you sign up for BitMEX, there is only one standard type of account. This means that all users enjoy the same great features.
User Interface
My impression of the BitMEX user interface is that it is very professional, and was designed to be as simple and streamlined as possible. Ironically, this may make it a bit opaque to users who are relatively new to futures contracts and swaps. But then, this platform was not really designed with newbies in mind.
On the platform across the top, you can see the assets which are available. Click on any one of them, and you can pull up the relevant chart and view the expiry information (represented through the month codes).
The charting software is great. There are plenty of indicators you can use along with other charting tools to plan out trades. If you want, you can pop it out into another window.
At the bottom, you can view your positions, both closed and open, your active orders, stops, fills and order history. Note that there are fees for trading; you can view them here.
Security
BitMEX takes security very seriously, and has taken quite a few steps to ensure that client data and funds are fully protected:
The company has pioneered multisignature deposit and withdrawal addresses to ensure the safety of customer funds. Deposits and withdrawals are all individually hand-checked by employees, and private keys are never stored in the cloud. Deposit addresses are externally verified to make sure that they contain matching keys. If they do not, there is an immediate system shutdown.
Multiple forms of authentication are required to access every BitMEX system.
The BitMEX trading engine was written in kdb+, the same toolset and database used by major banks.
Full risk checks are placed on every single trade, deposit, withdrawal, and settlement. If anything is awry, the entire system is brought to a halt.
You have the option to activate PGP encryption on automated emails.
You also can choose to activate two-factor authentication on your account.
All funds are kept in cold storage.
I am very impressed not only by all of these security measures, but also by how focused BitMEX is on them. It is clear to me that keeping client funds safe is one of BitMEX's top priorities at all times.
Customer Support
BitMEX makes customer service available to traders 24/7. There is a comprehensive knowledge base where you can look up answers to common questions, and if you do not find what you are looking for, you can submit a support request ticket. You also can ask for help on Weibo, Wechat, IRC, Twitter or Reddit.
I have seen multiple users mention that customer support on BitMEX is fast, friendly and reliable, and that the team is consistently helpful. I certainly get the vibe looking around the website at all the resources provided that this is indeed a company that cares about its users. Regular news and updates are posted and show up in the upper right-hand corner of the platform. BitMEX is very actively involved at all times, and is constantly working to improve the site's offerings.
Pros & Cons
Designed for professional traders
Only futures and swap BTC trading online today
Steep learning curve for new traders.
Verification
Types of Verification
Government ID, Multiple / SSN
Verification Process
BitMEX does have a policy which requires you to verify your identity and submit documentation. This information will be checked against third party databases.
Withdrawal Process
There are no fee's for deposits. For withdrawals, Bitmex does not charge a fee but there is a small BTC network fee that varies based on the volume of the network.
Frequently Asked Questions
What wallet does BitMex use?
They use a multi-signature wallet stored offline that requires multiple signatures in order to spend or send funds.
Final Thoughts on BitMEX
BitMEX is one of the most innovative Bitcoin trading sites I have seen to date. As a matter of fact, I would argue that BitMex is the best bitcoin exchange for day trading on the market right now.
If you are a newbie to futures, you will probably struggle with the learning curve, but once you learn the ropes, you will have discovered an excellent investment platform providing unique products and exceptional security and support.
Experienced futures and swaps traders will find themselves feeling right at home. I recommend Bitmex to the pro's and advise the newer traders to look elsewhere.