Fee Schedule
Deposit Method
Currency / Country
Fees
Overview
June 2022 Celsius "Pauses" Withdrawals! – Do NOT USE
Looking for a site where you can borrow or loan cryptocurrencies? Celsius Network is an innovative platform that makes it fast and easy to do either. With competitive rates, incredible accessibility, and a solid reputation, Celsius offers an alternative to traditional lending institutions.
Company Name: Celsius Network Limited
Headquarters: London, UK
Official Website: https://celsius.network/
Established in 2017
I've become a big fan of this site for its simplicity and transparency. I know you probably have a lot of questions about Celsius, especially if you are new to loaning or borrowing crypto.
In this review, I am going to lay out all the details for you. Let's talk about who is behind Celsius, what services this platform offers, licensing and regulation, how to get started, and more.
What is Celsius?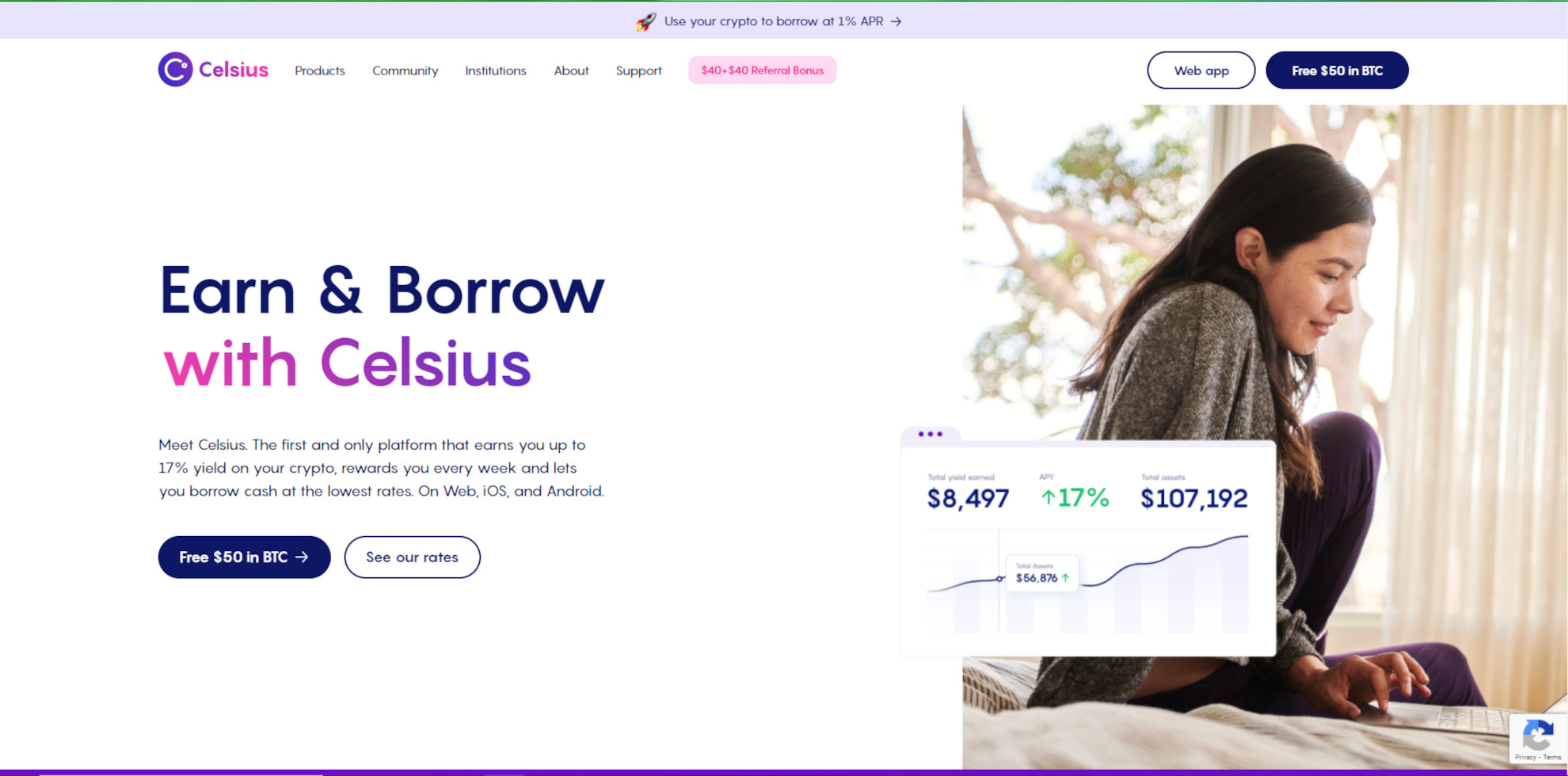 Celsius Network is a platform where you can loan or borrow cryptocurrencies. If you loan crypto, you can earn interest.
Describing its services, Celsius writes, "Celsius is proud to provide a platform of curated services that have been abandoned by big banks – things like fair interest, zero fees, and lightning quick transactions. Our goal is to disrupt the financial industry, one happy user at a time, and introduce financial freedom through crypto."
In other words, Celsius strives to be a kind of replacement for a traditional bank — but better!
Who Should Use Celsius?
Celsius may be right for you if:
You are looking for fast, easy approval for a crypto loan with a competitive APR
You want to earn passive income from crypto by lending to others
You want to make crypto payments for products or services
You want to accept crypto payments for products or services
You are an accredited investor (not necessary to use the site, but if you want the best rates, this is important)
Celsius Network Background
Entrepreneurs Alex Mashinsky and S. Daniel Leon founded Celsius Network in 2017. Apparently, they were sitting in a coffee shop, and wrote up their initial ideas on a napkin.
Mashinsky is particularly well-known, as he has founded some other notable companies as well. Some of these include VoiceSmart, GroundLink and Arbinet.
Their Initial Coin Offering for CEL Tokens took place in 2018, and that same year, they launched the first version of the Celsius app. By December, community assets totaled more than $50m, and they had achieved $100m in coin loan origination.
The company has grown by leaps and bounds over the past few years. There are more than 200 employees at Celsius, with five offices around the globe.
Since its inception, here are some of Celsius Network's stats:
$8.20B in loans processed
Over 808,000 community members
$15,593,703,414+ in community assets as of June 18th, 2021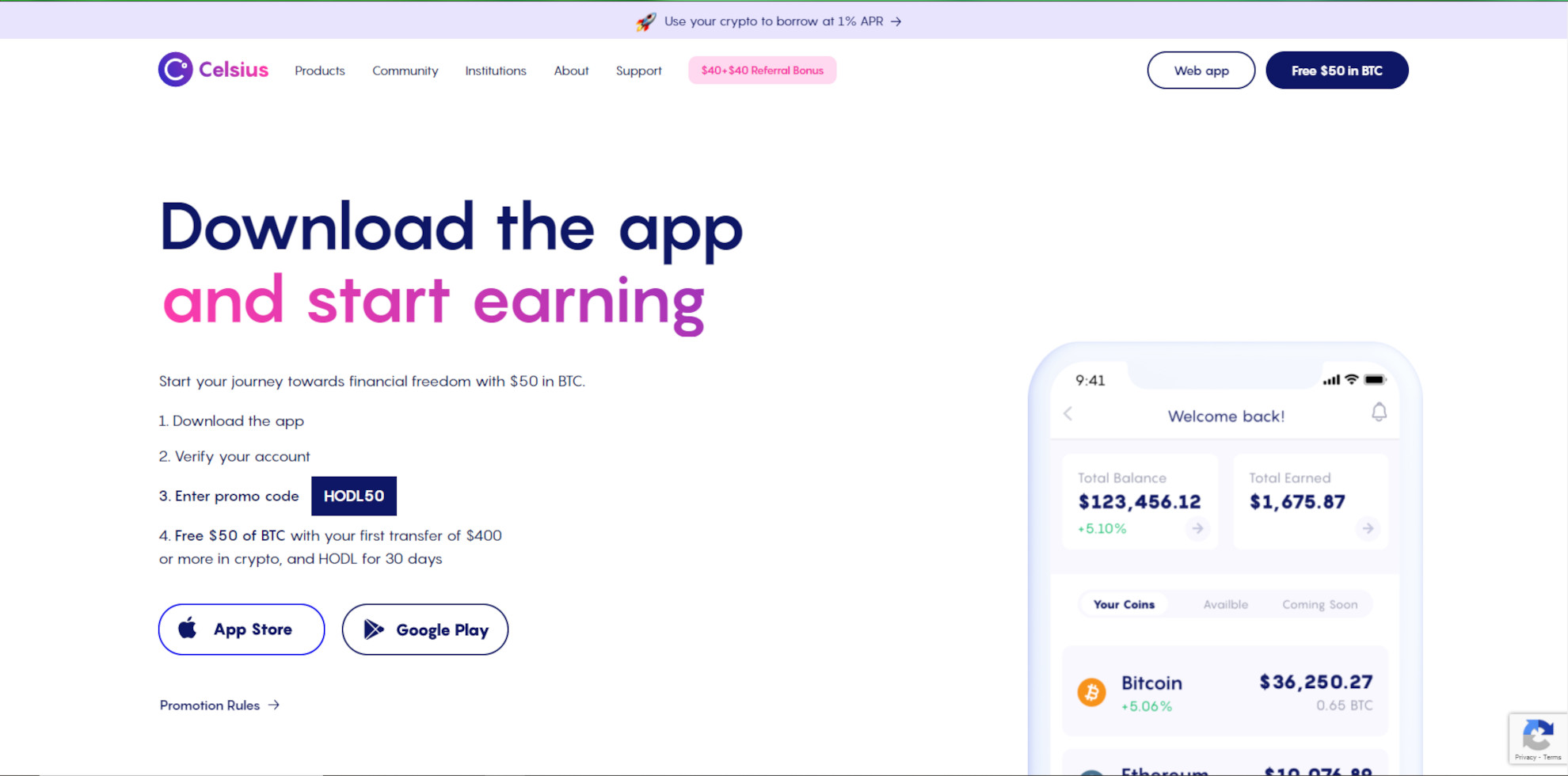 Does Celsius Appear Legit?
Is it safe to use Celsius for your crypto loan needs? Definitely. If the above background and stats were not enough to convince you, let's take a look at the security and regulatory information.
Celsius declares, "Celsius takes compliance very seriously. We have a robust AML program with a knowledgeable team of veteran AML professionals that are Certified Anti-Money Laundering Specialists (ACAMS)."
On the "Why Trust Celsius?" page on its website, Celsius lists the following legal registrations:
ISO 27001: April 2021
Companies House: February 2020. Company: 1119050
Delaware C: February 2018. Company: 6748208
FinCEN MSB: March 2018. Company: 31000170534951
SEC Regulation: September 2020. Company: 021-370838
SEC Regulation – April 2018. Company: 021-311253
There are links on that page that take you to the registration pages on the respective regulators' websites, so you can check it all out for yourself if you feel like it. Suffice to say, it is all in order.
Celsius also lists a few other steps it takes to maximize transparency:
Through a partnership with Horizon Labs, Celsius is offering Proof of Community. All customer information remains completely confidential.
Third-party verification of company assets is offered through the Chainanalysis Reactor tool.
There are weekly AMAs with Alex Mashinsky.
Also, there is an active Celsius subreddit that at the time of this review is overwhelmingly positive in general.
More About Celsius Security
In their white paper, Celsius describes what it does to keep customer data safe. The paper explains, "We will use bank-grade security to keep our members' assets and data safe. From multi-factor authentication, to encryption, to private-key double vaults, and more. Our software is designed with security in mind."
Celsius Network really goes above and beyond to ensure total legitimacy and transparency. I feel confident that my funds are safe and my info stays private. I also feel I can trust them to only employ ethical lending practices.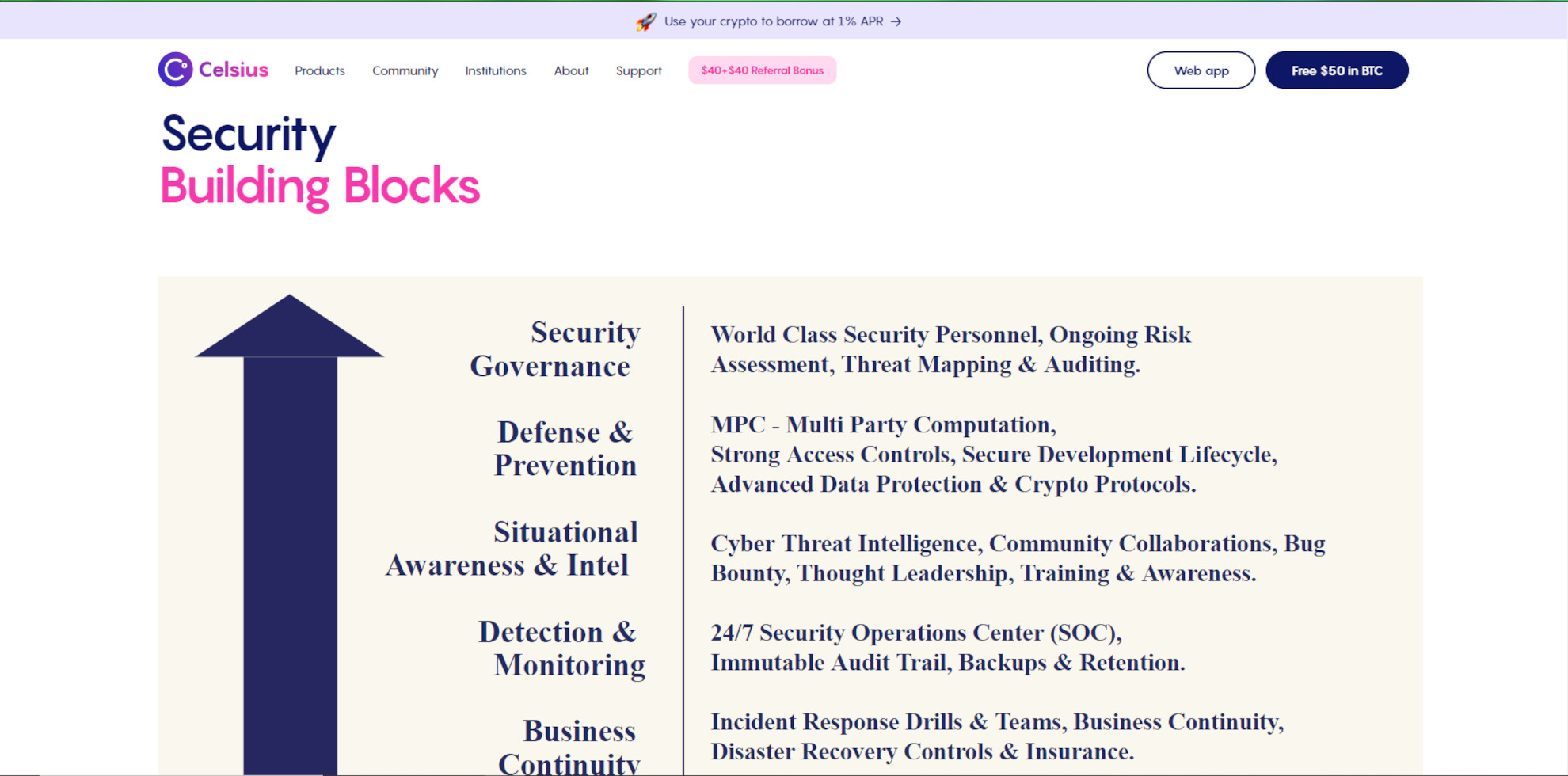 Full Celsius Review – Facts and Details You Should Know About This Bitcoin Loan Company
Okay, now that we have dished out the details on Celsius Network, let's go into more detail about the services and solutions that are available through this crypto platform.
What Services Does Celsius Offer?
There are four products available at Celsius Network:
Borrowing
Earning
Send and Receive
CEL Token
Let's take a detailed look at each of them to explore their benefits.
Borrowing
Celsius works hard to make both borrowing and lending advantageous for users of its platform. Here is what you can expect if you decide to borrow crypto using Celsius: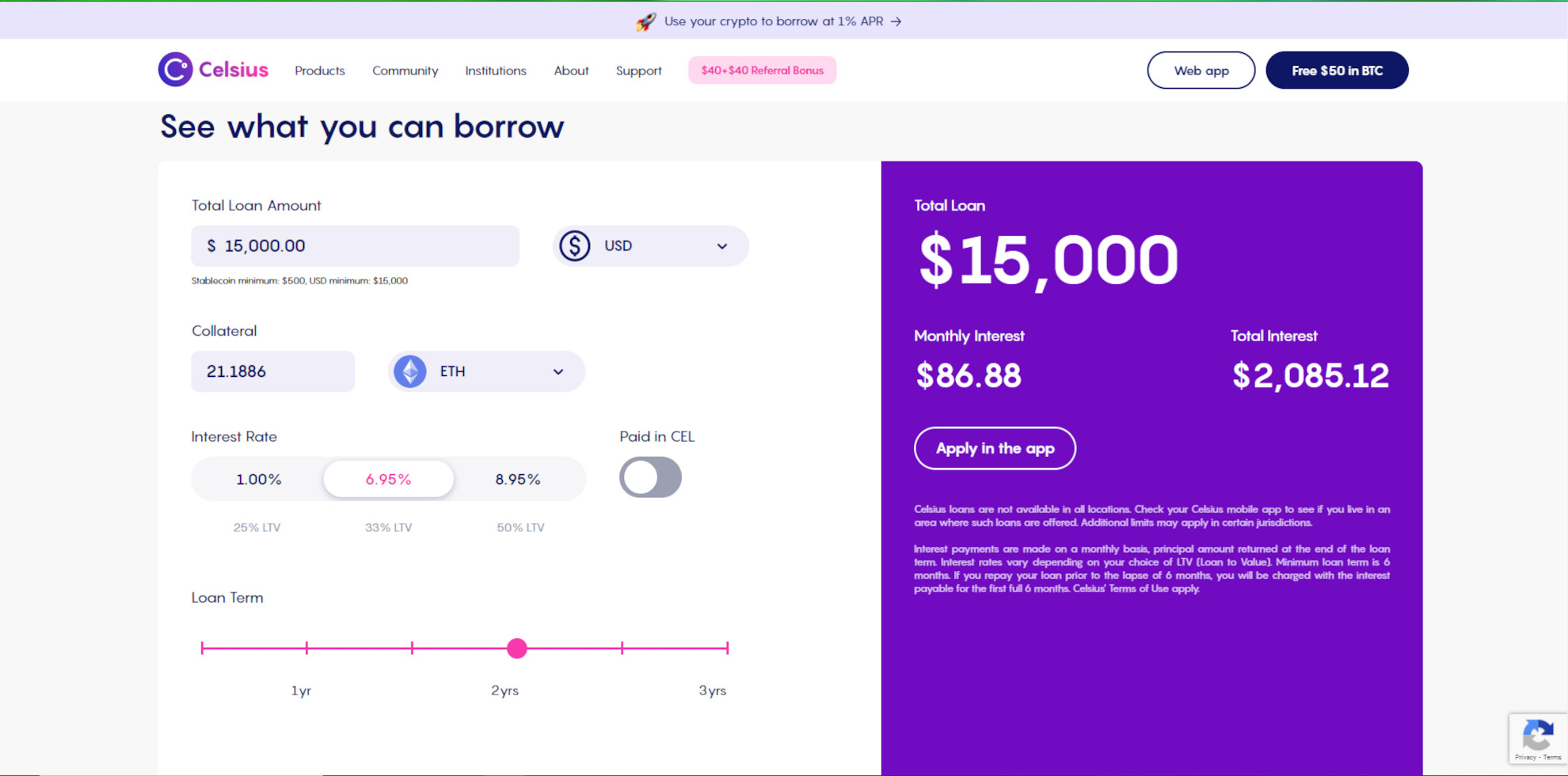 As low as 1% APR
No origination fees
Zero credit check
Options to refinance
If you want a higher LTV, you can opt to borrow at a higher interest rate.
So, for example, say I want $500 in USDC and select a collateral amount of 0.0575 BTC.
For 1% APR, the LTV is 25%. But you can raise the LTV as high as 50% with an interest rate of 8.95%. Loan terms up to 3 years are available.
The monthly interest adds up to $0.42 at a 1% APR, and the total interest is $5.04. As you can see, that is impressively affordable. I also love how it runs the calculations for you so that you know exactly what to expect at a glance.
Where I selected USDC, you can also select TUSD, GUSD, PAX, USD, MCDAI, or USDT ERC20.
Along with BTC, numerous other collateral cryptocurrencies are supported. Some of these include ETH, DASH, LTC, ZEC, OMG, PAX, EOS, BAT, and many others. In fact, there are over 40 in all!
There are only four steps to apply:
Choose whether you want to borrow dollars or stablecoins, and input your desired amount.
Offer up collateral.

You get to decide what type of coins to use. If you have a current balance, you can use that, or you can submit a transfer if you do not have enough in your account. Pick your interest rate as well.

Decide how long you want your loan to last.
Submit your request and await approval.
The benefits of borrowing money through Celsius include:
The process is ridiculously fast and easy. Since the platform does the math for you, it is also transparent.
Low APRs are available, keeping borrowing affordable.
There is no credit check, so bad credit and no credit are okay. They also will not impact your APR.
You can tailor the interest rate, collateral and loan term to your needs.
You can extend your loan later if you need to, or close it early. You will not be penalized if you close the loan early.
You can choose numerous cryptos to borrow and use as collateral.
Requests may be processed in just 30 seconds. If you applied to borrow Stablecoins, you should see them in your wallet right after approval takes place. You will need to wait for a wire transfer if you requested to borrow USD. Generally, it will take no more than one business day to receive your funds if you are in the US.
If you use CEL tokens to pay off your loan, your interest will be discounted 30%.
Are there any drawbacks?
You do need collateral to put up.
If you want a high discount on a loan interest rate, you will need to be holding significant CEL (more on this later).
Impressed? I am too. Every time I have borrowed money through the platform, it has been almost effortless.
Earning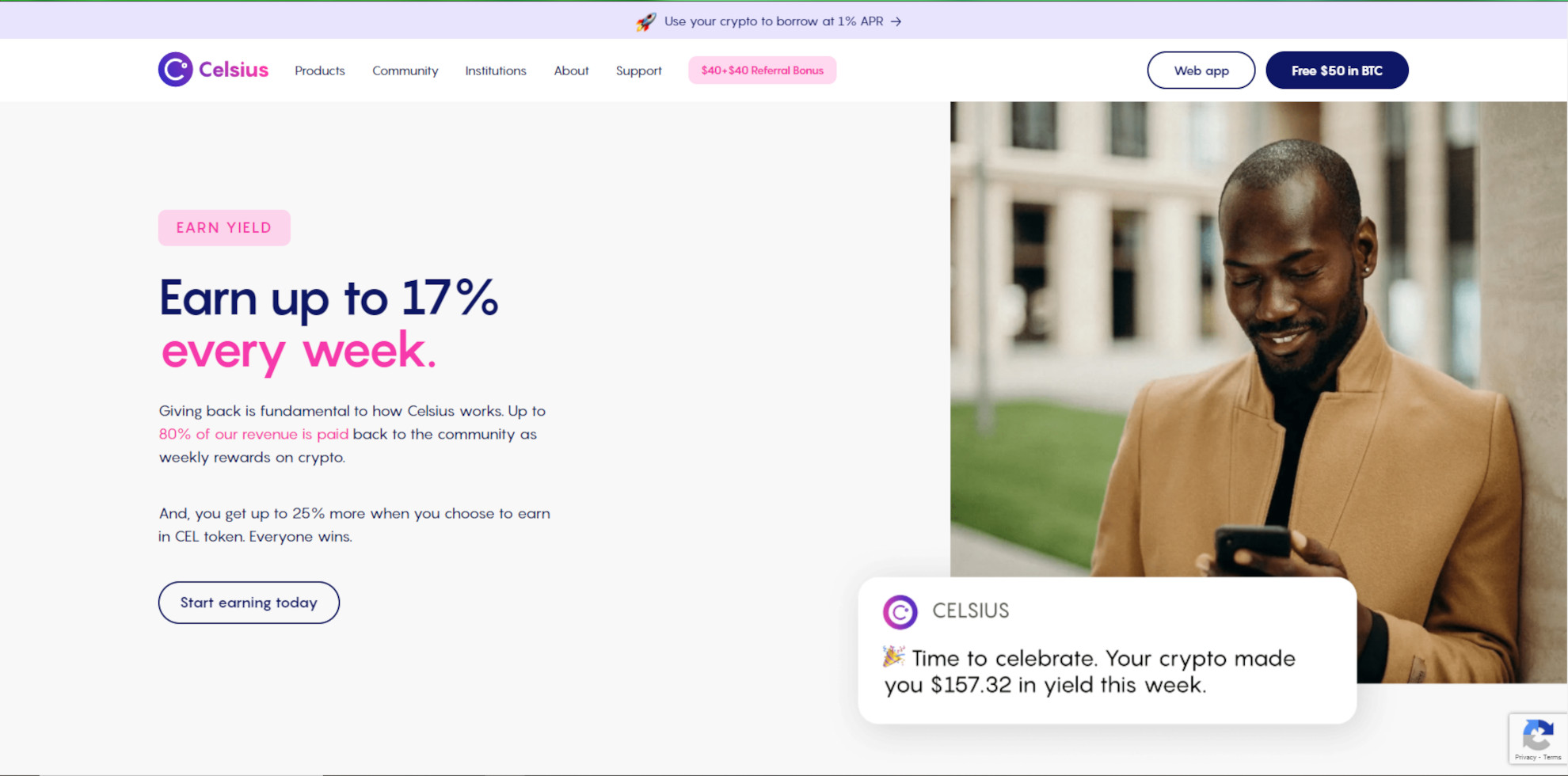 Let's talk about earning through Celsius! If you have crypto just sitting around, you can loan it out and collect interest. How much? Up to 17.78% APY.
Now, what I really like about Celsius is that there is no risk to you if you want to loan money. This differs from a lot of P2P lending platforms I have checked out in the past.
The Celsius white paper explains, "Members who lend coins on the Celsius Network will be protected by the Celsius lending protection pool (funded by our fees). Any defaulted lending or coins lost will be insured through our protection pool and coin values will be restored immediately. The Celsius wallet will show our cash deposits every day which will also be audited by an outside accounting firm several times a year."
You can transfer Stablecoins, cryptocurrencies, and gold tokens to Celsius and start earning interest. These include USDC, TAUD, TGBP, ZUSD, PAXG, BTC, ETH, CEL, SNX, MATIC, AAVE, and so many more.
A handy calculator offered by Celsius gives you an idea what you could expect to earn based on current rates (do not forget that rates fluctuate).
For example, say I have $5,000 in BTC just lying around. If I want to transfer it to Celsius for 5 years, I would earn $1,816 with an APY of 6.20% based on current rates. If I left it with Celsius for the next 20 years, it would add up to $12,269.
Frankly, that is not a bad payout at all for something that is almost risk-free thanks to the lending protection pool. It certainly is better than any CD account you will find.
Of course, holding crypto is never actually risk-free, since crypto itself is so volatile. So, just keep that in mind. If a member defaults on a loan, you will not lose money, but if the value of the crypto itself plummets, you will.
The benefits of lending money through Celsius include:
It is easy to calculate what you could potentially earn.
You can lend numerous different cryptocurrencies and Stablecoins.
The APY can range up above 17%, so you can make some solid earnings.
You will get paid every week.
The Celsius lending protection pool ensures that even if other members default on their loans, lenders themselves will not lose money.
Any drawbacks?
To get the highest rewards, you will need to be holding significant CEL (I will come back to this).
I've been very happy with my earnings through Celsius so far. And the protection pool does a lot to give me peace of mind!
Sending and Receiving (Pay and Get Paid)
Need to accept crypto payments, or want to send a crypto payment? That is yet another handy service Celsius offers, called "CelPay."
Here is how it works if you want to send money:
Select your recipient.
Input the amount you want to transfer.
Send the money. You have the option to add a note.
The benefits of sending money through Celsius include:
There are no fees for transferring crypto through Celsius.
Transfer speeds are fast.
It only takes a few clicks to send money.
Any drawbacks?
You can only transfer funds between Celsius users.
CEL Token
As a Celsius user, you can purchase CEL Tokens, or you earn them. Celsius Network uses CEL Tokens to inject value into the network in a way that rewards participants.
The more CEL you hold at any time, the higher you will rank in the Celsius Network rewards program tiers. Levels include Bronze, Silver, Gold, and Platinum.
The higher your tier, the bigger you bonus rewards and loan interest discounts are.
Benefits of CEL Tokens include:
Discounts as high as 25% when borrowing money through Celsius Network.
Earn as much as 4.86% APY in CEL when you hold crypto on this platform.
Boost your earnings rates by as much as 25%.
Any Drawbacks? Yes.
Okay, now I want to circle around to what I mentioned before I would talk about—that the highest rewards and discounts go to customers who hold significant CEL.
At first glance, this is hardly a "drawback." It is simply a rewards program with regular loyalty tiers.
But here is my question for you. For the last two years, has your income been $200,000 or more—or do you have a net worth of $1,000,000, not counting your primary residence?
If you answered "yes," good for you—you can apply to become an accredited investor in the US.
But if you answered "no," you are out of luck—you cannot become an accredited investor.
The reason this matters is because of the fine print in the Knowledge Base over at Celsius Network: "US Users – CEL purchases are available via the OTC desk, for accredited investors only."
So, you cannot buy CEL Tokens if you do not have this status.
This does not mean that you cannot use Celsius Network's services—you can. You can still take advantage of fast, easy loan approval, a quick and convenient fee-free transfer service, and the earn program, but you cannot enjoy the benefits of holding CEL without the financial resources to become an accredited investor.
Coming Soon: Credit Cards
Celsius has another product coming soon, which is a credit card. As always, you'll be able to earn through the platform when you lend crypto to other users—but you will be able to earn when you spend using the credit card as well.
Even though you cannot yet get a Celsius credit card, as of the time of this writing, you can sign up on the waitlist.
I highly recommend this, since it gives you a chance to be among the first customers to get the card when it rolls out. Plus, there are going to be some exclusive prizes for people who join the wait list, and you will enter for a chance to win when you sign up.
Benefits of the Celsius credit card will include:
No ATM fees
No annual fees
No fees for foreign transactions
No late payment fees
Flexible payment options
Earn rewards when you HODL and when you spend
Does Celsius Have a Good Reputation?
Yes. This is a solid crypto platform that receives positive reviews. Even over at reddit where there is a dedicated Celsius forum for users to share info. Mostly users are singing the praises of the company. They like it's transparency, the high returns it pays out, and the leadership and vision behind the network.
Pros of Celsius:
There is no minimum balance, and no fees for origination, minimum balance, or transfers.
Celsius supports a large selection of cryptocurrencies and Stablecoins.
The loans that Celsius offers are easy to qualify for, regardless of your credit score, and can be approved and disbursed rapidly to applicants.
If you choose to lend crypto through Celsius, you can earn at competitive rates. You also have the peace of mind of knowing that there is protection for your funds should a borrower default.
Celsius is working on expanding its services and offering new financial solutions, such as a credit card.
The business model for this network is one that gives back to participants.
Celsius is legitimate, operates legally, and protects funds and data with ironclad security.
This platform's transparency and support are hard to beat.
Cons of Celsius:
The best rewards and discounts are reserved for those who hold significant CEL. Alas, you must be an accredited investor to purchase CEL. That is a requirement that will be prohibitive for many prospective users.
Celsius Network FAQ
Is Celsius legit, licensed, regulated, and legal?

A: Yes. It is regulated by the SEC and Companies House. Scroll back up to our section on legitimacy for more information.

What is the verification process at Celsius?

A: To verify your identity, you will need to tell Celsius your legal full name, your address, your Tax ID, and the country of your citizenship. You also will have to share a photo of a government-issued ID. Note that the tax ID requirement is specific to US users. If you are located elsewhere, you do not have to do this.
The provider that handles identify verification for Celsius is Onfido. You may have gone through their process before while signing up for other popular services such as Orange or Couchsurfing.

Will the IRS know if I am earning on Celsius Network?

A: Yes. If your earnings exceed $600 for the year, Celsius will file a 1099-Misc. So, make sure you are accurately reporting your income to the IRS.
Final Celsius Thoughts
Celsius seeks to be an all-in-one alternative to a traditional bank, providing you with the chance to lend, borrow, and transfer crypto.
While the accredited investor requirement for purchasing CEL will be an impediment for some users, everyone who joins Celsius Network can enjoy incredible transparency, convenience, and flexibility. Zero fees, great rates, and a smart business model that gives back to users should herald a bright future for Celsius.
Ready to apply for an easy-qualification crypto loan, or start earning on the Celsius platform? Click on this link to get started now!
Pros & Cons
Strong interest rates on crypto deposits
Very reasonable fee's
Fast withdrawals to your cold wallet
Costly and challenging to get your bank account set up
Credit card fee's are high to buy crypto
Verification
Types of Verification
Government ID, Selfie, Email, Multiple / SSN
Verification Process
Frequently Asked Questions
Is Celsius Legit?
The short answer is yes, they appear to be legit at the time of this review. There are current active threads on the celsius subreddit here https://www.reddit.com/r/CelsiusNetwork/
What are the interest rates for crypto at Celsius?
They change based on market conditions. You can see the current rates here: https://celsius.network/rates/