Fee Schedule
Deposit Method
Currency / Country
Fees
Bank Transfer / SEPA
MIN

$100
MAX (Day / Month)
$10k / $100k
USD, EUR, RUB
USA, EU, RU, UK, CN, IN, AU, NZ
Credit Card
MIN

$20
MAX (Day / Month)
$300 / $1000
USD, EUR, RUB
Worldwide (a few countries excluded)
3.5% + $0.25
Near Instantly
Withdrawal Method
Currency / Country
Fees
Visa
MIN

$20
MAX (Day / Month)
$500
Mastercard
MIN

$50
MAX (Day / Month)
$500
Bank Transfer
MIN

$250
MAX (Day / Month)
$10000
Crypto Capital
MIN

$100
MAX (Day / Month)
$10000
Overview
Company Name: CEX.IO LTD
Headquarters: London, UK
Official Website: https://cex.io/
Established in: 2013
CEX.IO is a London-based bitcoin exchange platform founded in 2013. Originally the company actually was operating as the first cloud mining provider. Now it is a cryptocurrency exchange with more than a million active traders. The exchange actually offers two main services:
Buy and sell bitcoins
Bitcoin trading
This makes it an excellent all-in-one solution for those looking for a multifunctional platform for bitcoin.
Who Should Use CEX.IO?
Is CEX.IO the right platform for you? Consider using this site if you fall into one of the following categories:
You are looking for a quick and easy way to buy or sell bitcoin. On this website you can do it in a matter of just a few clicks.
You are looking for a bitcoin trading platform with low commissions ranging from 0% to 0.2%.
You want to get into auto-trading for bitcoin or other decentralized currencies (such as Ethereum). CEX.IO provides a few different API solutions for auto-trading, called REST API, WebSocket API, and FIX API.
Is CEX.IO Legit?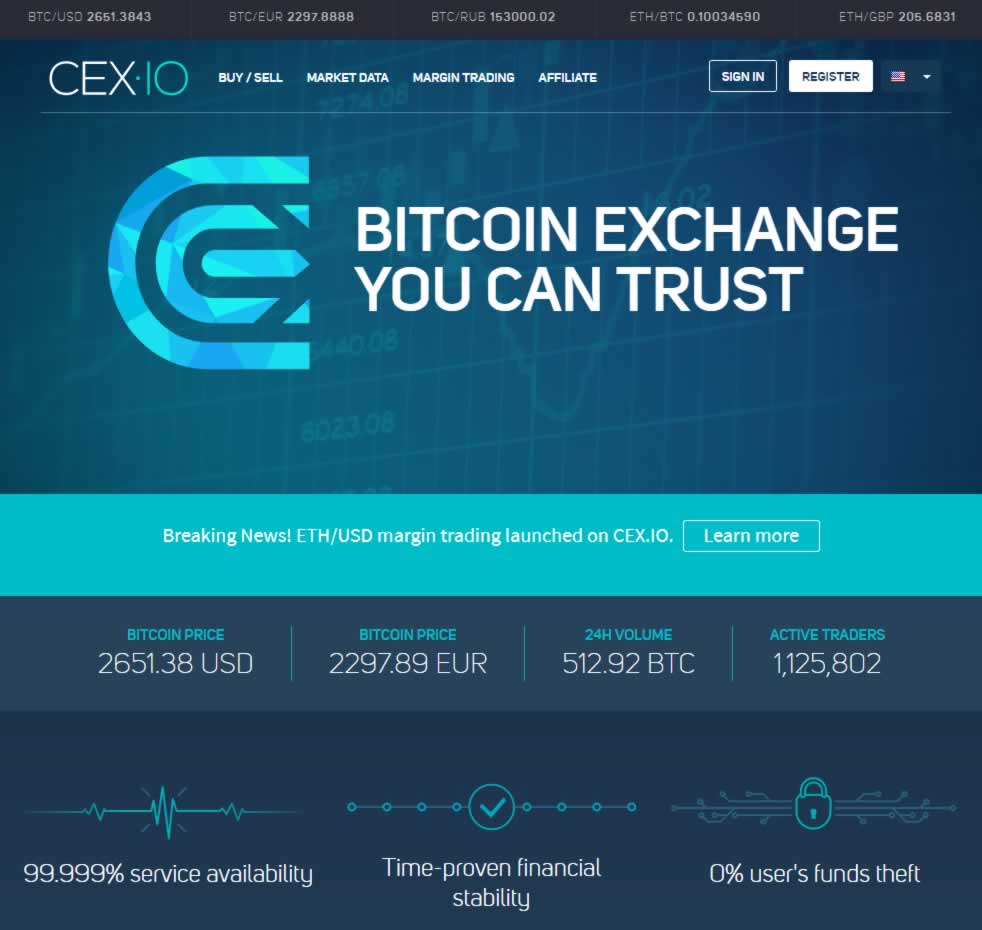 You can find all of the legal information on CEX.IO here. If you scroll down to the bottom, you can view the company's trademark and certificate of incorporation. The company has also registered with the Financial Crimes Enforcement Network (FinCEN) at the Department of the Treasury in the US and the Information Commissioner's Office (ICO) in the UK.
Further, CEX.IO has a PCI DSS certificate, which means that they can be trusted with the storage and transmission of your payment card data. They also follow KYC and anti money laundering policies and employ two-factor authentication through Google Authenticator to provide extra account security.
If you do your research, you will also discover quickly that CEX.IO is a very well-known company with a strong reputation. Consider for example that in 2014, the Gash.io mining pool of CEX.IO was responsible for contributing more than 42% of all bitcoin mining power globally.
So can CEX.IO be trusted? It appears to us as a yes but there are comments and ratings at the bottom of this view with a very different opinion. Whether all of those ratings and comments can be trusted is up to you.
This is a solid company which is trusted by a massive user base, and which has taken the proper steps to ensure the security of customer data and financial information.
Full CEX.IO Review – Facts, Details, and What You Should Know
Now that you know a bit more about CEX.IO, let's take an in-depth look at what this bitcoin exchange has to offer.
How to Buy and Sell Bitcoin at CEX.IO
Buying bitcoin is extremely fast and easy on this website. Start by opening an account and verifying it, and then deposit funds. You can choose from USD, EUR, GBP, or RUB.
Then, head to the Buy/Sell page. Here you will see an extremely simple platform for purchasing and selling bitcoin.
To buy, just click on the "Buy" tab. On the left, you will see BTC (bitcoin) and ETH (Ethereum). On the right, you will see USD, EUR, GBP, and RUB.
Select the cryptocurrency you want on the left, for example BTC. Then select the currency you want to pay in on the right, for example USD. You will then see an assortment of offers available to you, for example, "Get 0.0376 BTC for $100." Every so often, the page will be refreshed and the offers will be recalculated. Prices are based on Fill-or-Kill (FOK) orders.
If you prefer, you also have the option to enter in an amount and a price in the custom input field below. You can then hit "Buy."
Selling works the same basic way. Click on the "Sell" tab, and you will again see cryptocurrencies on the left and regular currencies on the right. Let's say that you have BTC to sell and you want to convert to USD. Select BTC and USD and a number of offers will be displayed. You can select one or enter in a custom amount. Hit "Sell" and you will sell your bitcoins and receive US dollars in return for them.
Account Levels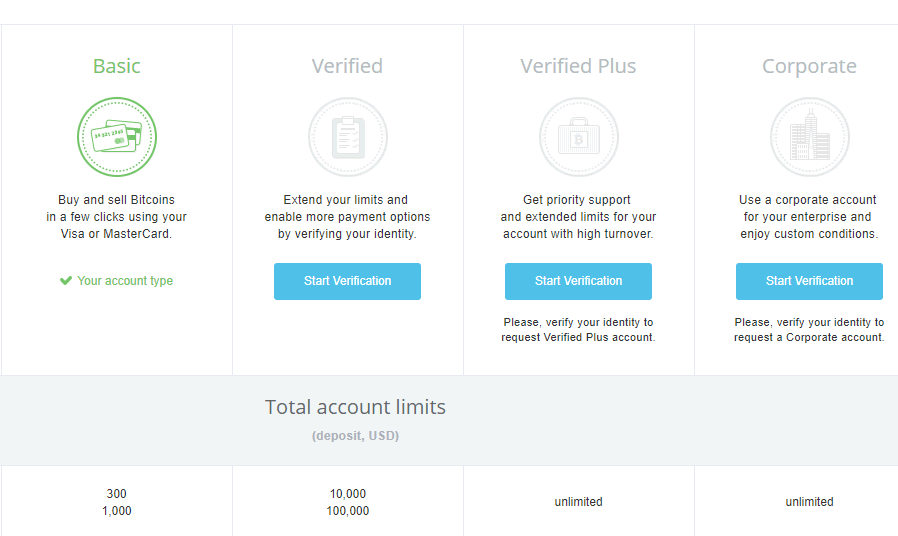 While you are on the page for payment methods, you will notice that there are four different account tiers on CEX.IO:
Basic: This is a tier which allows you to buy and sell bitcoins using a credit or debit card. As you already know, the limits are low.
Verified: This is the tier you move up to once you submit your paperwork to verify your identity. This extends your limits as previously discussed and also expands the payment options available to you.
Verified Plus: At this tier, you can receive extended limits, higher turnover and priority support. This account is available upon request once you are verified.
Corporate: This account is designed for enterprise users and allows you to "enjoy custom conditions." Once again, you need to verify your identity and then make your request.
Countries Accepted and Blocked
CEX.IO serves customers around the globe, but there are some notable restrictions for withdrawals for different methods.
Countries restricted for credit card payments: Iceland, North Korea, Iran, Syria, Vietnam.
Countries restricted for bank transfer payments: Afghanistan, Democratic Republic of the Congo, Côte d'Ivoire, Eritrea, Ethiopia, Guinea-Bissau, Haiti, Iran, Iraq, Kenya, Liberia, Libya, Guinea, São Tomé and Príncipe, Somalia, Sudan, Syria, Tanzania, Tunisia, Turkey, Vietnam, Yemen, Zimbabwe, Nigeria.
Countries restricted for CryptoCapital payments: Afghanistan, Democratic Republic of the Congo, Côte d'Ivoire, Eritrea, Ethiopia, Guinea-Bissau, Haiti, Iran, Iraq, Kenya, Liberia, Libya, Guinea, São Tomé and Príncipe, Somalia, Sudan, Syria, Tanzania, Tunisia, Turkey, Vietnam, Yemen, Zimbabwe, Nigeria.
There are also some additional requirements for users in certain countries. For example, USA customers are allowed to use CEX.IO, but they do have to complete full identity verification before depositing or withdrawing.
Needless to say, if you are located in one of the restricted countries and there is no payment method available to you, you will not be able to make use of CEX.IO. So long as at least one acceptable payment method is offered to you, you can trade and buy and sell bitcoin on this website.
What Can You Trade?
The following pairs are available to trade on CEX.IO:
BTC/USD
BTC/EUR
BTC/GBP
BTC/RUB
ETH/BTC
ETH/USD
ETH/EUR
GHS/BTC
What Types of Trading Are Available?
There are three ways to trade the pairs listed above on the CEX.IO platform.
Place a limit order: If you are familiar with Forex, this is just like a FX limit order. You specify an amount and a price and wait for your order to be executed.
Place a market order: This is just like a market order in Forex. It is the "buy now" or "sell now" option.
Trade on margin: This is like margin trading in Forex as well. When you trade on margin, you are able to control a larger amount of money than you actually possess, which in turn allows you to pull in bigger profits than you could normally. The catch is of course that you could feasibly end up losing all your money. On the plus side, this company has a risk-preventing system which guarantees that you will never have a negative value in your account as a result of trading on margin. USA traders may not trade on margin.
User Interface
The interface for CEX.IO is extremely simple and straightforward. You already know how Buy/Sell works. The trading interface is just as clear-cut. Across the top, you will find the different pairs. Select one, and scroll down to take a look at a chart of the pair's recent performance.
If you click on the "Chart" button, this gives you a chart in a separate window which is more detailed and which allows you to draw trend lines and indicators.
Returning to the platform, you can view market depth below the simple chart. Scroll past that and you can select Limit, Market, or Margin trading. The trading tickets are right below those tabs. Underneath those, you can view Buy and Sell Orders, Active Orders, and your Trade History.
If you have any background with Forex, all of this will be incredibly easy for you to pick up. If you do not, you should still find it pretty intuitive, and there are plenty of comprehensive articles on the CEX.IO website to help you learn the ropes. There is a mobile app available if you want to trade on the go.
Security
I have actually already talked a bit about security at CEX.IO. Just to review, here is what this company does to ensure that your data remains private:
You are given the opportunity to select Two-Factor Authentication (2FA) to use with your account.
CEX.IO is registered with the ICO in the UK, which means that they comply with the ICO's strict rules regarding data privacy protection.
The company also has a Level 3 PCI DSS (PCI Data Security Standard) certificate. Cardholder data is always encrypted.
When you submit your photos to verify your identity, those are encrypted using separate encryption keys as well.
Customer Support
Since this review has been updated, we actually have some great news in that department!
At one time there was only an option to get support via email. As of now, not only is the email option still available but so is a live chat option as well as telephone support.
Hopefully you do not ever need to talk to someone in customer support, but if you do, the options are there for you now!
Pros & Cons
Established reputation
Deposit / Withdraw fiat
Stop loss trades are guaranteed
Never wind up negative with margin trading
No customer service phone number
No margin trading for USA residents
Verification
Types of Verification
Government ID, Selfie, Email, Phone
Verification Process
As just mentioned, CEX.IO follows Know Your Customer (KYC) and Anti Money Laundering (AML) regulations. This does mean that you are not 100% anonymous when using CEX.IO. Law enforcement agencies can access information about you (as well as other users). This is now par the course with legitimate bitcoin exchanges.
This means that you will have to verify your identity if you want to conduct certain transactions, such as withdrawing fiat funds or increasing payment limits.
Here are the documents you will need to provide:
Information from a passport, ID card, or driver's license
Basic personal information
Residential and permanent addresses
Document scans
A selfie with an identity document
Proof of residency
Once you have provided this information and documentation, your account status will be upgraded to verified, and then you will be able to use the full suite of features available on CEX.IO.
Limits & Liquidity
According to bitcoinity, CEX.io is the 9th ranked exchange in terms of their efforts to track actual open orders across all exchanges.
There is somewhere between 27,000 BTC traded per month at the time of this review. For comparison, the largest exchange, Bitfinex is somewhere around 650,000 btc exchanged every 30 days.
You can find good liquidity to trade EUR, USD and RUB for BTC.
Deposit Limits
Withdrawal Process
How Can You Withdraw From CEX.IO?
If you have a Basic account, you can buy and sell bitcoins with a daily withdrawal limit of $500, or a monthly withdrawal limit of $2,000.
If you verify your account, you can boost those limits significantly. The daily withdrawal limit becomes $10,000 and the monthly withdrawal limit becomes $100,000.
That being said, each of the payment and withdrawal methods offered by CEX.IO has different limitations, which you should view here.
Frequently Asked Questions
What ID requirements does CEX require?
It depends on your level of verification. If you are from the USA you are required to verify your identity to buy any bitcoin.
Anything Else Noteworthy About CEX.IO?
Some of the best features of CEX.IO are found in the finer nuances of how trading operates. For example, you already know that the company guarantees you will never wind up with a negative balance from margin trading. There are some other nice features as well. Your stop loss is guaranteed as well, and the rollover fee is charged only under specific circumstances.
Final Thoughts on CEX.IO
CEX is a quality and simple all-in-one solution for buying, selling and trading Bitcoin and Ethereum. While there are some minor drawbacks (like the lack of a customer service telephone number), this website is well-established, popular and reputable. They offer a streamlined user interface, plenty of liquidity and an array of great features for easy bitcoin transactions.