Fee Schedule
Deposit Method
Currency / Country
Fees
Crypto
MIN

Varies (low)
MAX (Day / Month)
Varies (high)
Credit Card
MIN

$15
MAX (Day / Month)
$500
.5% + 5% for CC processing
10-30 Mins
Overview
Changelly Review
Company Name: Changelly
Headquarters: Prague, Czech Republic
Official Website: https://changelly.com/
Established in: 2013
Changelly is a cryptocurrency exchange founded in 2013 and based in Prague. The team that created it was the same one that created the MinerGate bitcoin mining pool. Over the past few years, the service has undergone a number of updates and transformations. Changelly is a bit different from other exchanges you may have experience with, as I will explain shortly.
Who Should Use Changelly?
Changelly is a site you should consider joining if you are looking to increase your anonymity and security while you are trading Bitcoin and other cryptocurrencies. Using this site may also increase your profits. Changelly is powered by a robot which in turn is connected to major trading platforms such as Bittrex and Poloniex. In real-time, the robot makes bids and asks across a set of cryptocurrency trading platforms, and then provides you with the best rates. This is quite an innovative idea, and can vastly improve your trading experience.
Is Changelly Legit?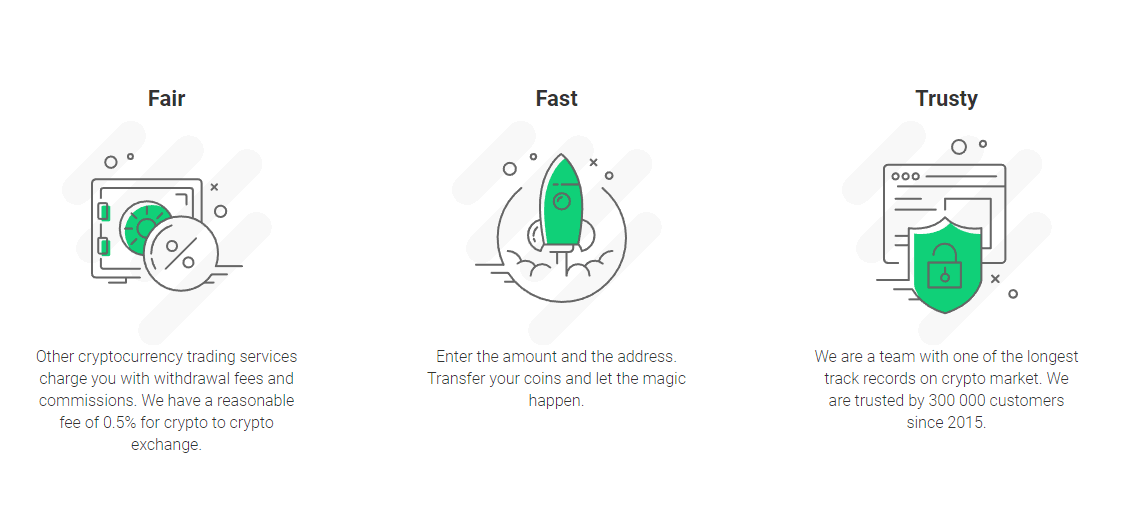 There are more than 100,000 users on the platform, and if you search around, you will find plenty of positive reviews.
Some of Changelly's users are quite well known, for example Bitcoin entrepreneur Charlie Shrem.
MinerGate has been around for some time, and has a strong reputation, so naturally Changelly does as well as they are from the same group.
So yes, we can feel confident saying that Changelly is legit.
Full Changelly Review – Facts, Details and What You Should Know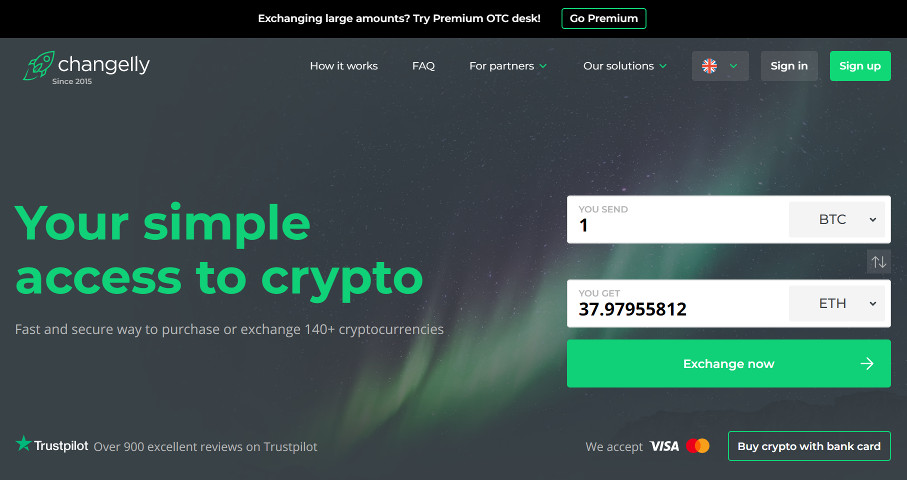 Now that you know what Changelly is and a little bit about how it works, let's take a more detailed look at the features and benefits which you can expect if you open an account on the site.
How to Buy Bitcoin at Changelly
First, you need to set up your account, which you can do by entering in your email address (this is absurdly easy; there is literally nothing else you have to fill out, and you do not even need to check for confirmation in your inbox).
You also will need to have a wallet address on another site, as Changelly does not offer wallet addresses.
Once you have that set up, you can buy Bitcoin on Changelly.
To do this, just head to the homepage.
You will see a caption that says, "Transfer from one wallet to another within seconds. It's that simple."
Below that are two boxes where you can enter amounts and select currencies of your choice. The currency you have (and wish to exchange) goes on the left, and the currency you are buying goes on the right.
After you select the amounts and currencies you want, click the green "Exchange!" button.
This will take you a page where you can review the transfer details. Note that there is a minimum transfer amount for each currency (for example $30 USD).
You can then click on the green "Next" button.
You then enter the recipient wallet address (the address where you want the Bitcoin deposited). Check everything over again, and proceed. At this point, your transaction will be created, and a wallet address and QR code will be generated.
This is the address that you use to send the money you want to exchange.
Head to the wallet that you use, and insert this address into the relevant field. If you are on a mobile device when you access your wallet, you can ignore the address and just use the QR code instead.
After your money is received by Changelly, the transaction will be finalized and you will receive the currency you requested (i.e. Bitcoin) in return.
Transactions on Changelly may take some time—anywhere from 5 minutes to half an hour in most cases.
On occasion, it may take longer to receive your Bitcoin. You will then be furnished with a receipt containing an output transaction hash.
Note that while there are minimum transaction requirements, there are no maximum limits.
You also should note that Changelly does charge fees for all transactions amounting to roughly 0.5% of the transaction volume.
One more very important thing to be aware of is that Changelly does not fix currency rates.
That means that if you are trading in volatile currencies (which cryptocurrencies generally are), the final amount you end up with may not be what you initially expected.
The platform can only make estimates.
Some variance is expected.
Even so, you may still find yourself with better rates than you would get if you were dealing only with a single exchange.
How Can You Deposit and Withdraw From Changelly?
You can deposit (buy) bitcoin and crypto's with credit cards, bank debit cards or other crypto's.
No deposits are stored on Changelly.
Changelly simply operates as a conduit to turn one of those into another (change them, one could say).
Your money is stored in your Bitcoin wallet or your ethereum wallet depending on what you buy.
Countries Accepted and Blocked
I could find no references at all to blocked countries, so it seems anyone is free to use Changelly, regardless of nationality or location.
There are some special limits on initial transactions if you choose to use bank card payments and you are located in any of the following countries:
USA
Australia
Canada
Russia
Belarus
Ukraine
Armenia
Georgia
Kazakhstan
There are actually limits imposed on initial transactions in all countries, however. You can find more information in the FAQ. In any case, the limits only apply when you are getting started.
What Can You Trade?
Currencies you can buy and sell on Changelly include:
• BTC
• ETH
• XMR
• ZEC
• DASH
• XRP
• ETC
• LTC
• DOGE
• FCN
• AMP
• ANT
• BAT
• BCC
• BCN
• BNT
• CVC
• DAR
• DCR
• DGD
• EDG
• EOS
• EXP
• GAME
• GBYT
• GNO
• GNT
• GUP
• LBC
• LSK
• LUN
• MAID
• MLN
• NAV
• NBT
• NLG
• NXT
• PAY
• PIVX
• POT
• QCN
• QTU
• RADS
• REP
• RLC
• SNGL
• SNT
• STR
• STRAT
• SWT
• SYS
• TIME
• TRST
• USD
• WAVES
• WINGS
• XAUR
• XDN
• XEM
As you can see, this is an outstanding selection.
What Types of Trading Are Available?
This is not a traditional exchange.
There is no trading interface with charts and such—this is simply a system for finding and receiving the best rates at other exchanges.
So there are no trade types per se. You are just buying and selling cryptocurrencies and fiat currencies.
Account Levels
There are no account levels on Changelly either.
Changelly was designed to be streamlined, simple, and sophisticated. A
ll exchange features are available to you as there really are not a lot of bells and whistles.
Along with the basic exchange system which I have already described, the site offers a few different tools to developers:
Instant exchange API: This is a white label product which you can use if you want to add Changelly exchange functionality to your own service.
Exchange widget: This is an embeddable widget which you can add to your own pages.
Payment button: This, like the exchange widget, is a tool you can embed on your site. It creates a button which says "Pay with Altcoins" and which enables said transactions.
User Interface
To say that Changelly's user interface is "minimalist" is to make a massive understatement. This site is the essence of simplicity. Navigating through transactions is fast and easy, and the site offers amazing transparency as you go along, even providing you with reminders that final amounts may vary from estimates and so on. As to the terms of service page, it has to be one of the shortest and simplest I have ever seen.
Security
Security is a big deal to Changelly—it was one of the reasons that the service was founded in the first place. Changelly prevents users from having to create accounts on other platforms such as Poloniex or Bittrex, which helps them to maintain their privacy and the security of their funds.
You can set up optional two-factor authentication on Changelly for your user account. Your account is also secured by HTTPS. You never need to confirm your email address at any point. All your funds are stored in your wallet.
So in short, if you like the idea of trading at some of the major Bitcoin exchanges, but you do not like the idea of opening an account on those sites and verifying your identity, Changelly offers you a way of working around this.
Customer Support
There isn't really a "contact" page on Changelly, but if you head to the "About" page, you will see that you can email the customer service team at support@changelly.com. I have also found that they can be contacted on Twitter, and on Reddit.
It would be nice if they would make live chat or telephone support available, but I cannot say I am particularly surprised that both are absent. Anonymity is obviously a big deal with this company, and this is supposed to be a quick and easy solution for securing the best rates, and little more than that. So customer service appears to be all right, though not necessarily the best.
Pros & Cons
Fast and easy to exchange bitcoin, ethereum and dozens of other cryptos.
Has USD/EUR > Crypto
No Paypal
No crypto > fiat
Anything Else Noteworthy About Changelly?
Out of all the Bitcoin services I have reviewed online, I have to say that Changelly is one of the most innovative ones. While many exchange platforms look like they offer great services, there is no denying that the anonymous nature of dealing in cryptocurrencies may make you leery of signing up on a lot of sites. Changelly is a great alternative for those who want to keep things simple, private and anonymous.
Final Thoughts on Changelly
For the most part, I am impressed with what I have seen of Changelly. Could the site use some improvements? Sure, it would be nice for example if there were real-time customer service. But all in all, this looks to be a superb service which can greatly streamline your Bitcoin trading, making transactions fast and easy while preserving your anonymity and giving you access to the best rates.