Fee Schedule
Deposit Method
Currency / Country
Fees
Credit Card (Visa/MC)
MIN

$10
MAX (Day / Month)
$5000
Bank Wire
MIN

$20
MAX (Day / Month)
Depends on geography
Withdrawal Method
Currency / Country
Fees
Overview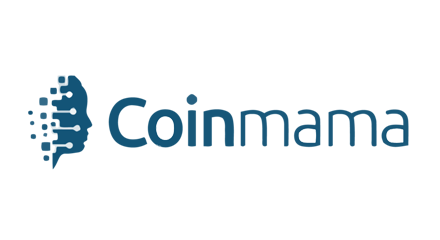 Company Name: CoinMama
Official Website: http://www.coinmama.com
Headquarters: Virgin Islands
Established in: 2013
Buy bitcoin directly from CoinMama, not a third party
CoinMama At A Glance
You can buy bitcoins from hundreds of brokers. CoinMama is arguably the most popular because they make the process so easy.
If you have a Visa or MasterCard, you're in business.
This broker caters to folks who have a credit card or debit card, and want to purchase bitcoins fast without hassles. They charge slightly higher fees for the convenience (we'll get to this in a few moments). But if you don't mind paying a premium, you'll be hard-pressed to find an easier way to get your hands on bitcoins.
This CoinMama review will cover every important aspect of the broker, both the good and bad. By the time you finish reading it, you'll know whether CoinMama suits your preferences.
Is CoinMama A Legitimate Bitcoin Broker? (Yes)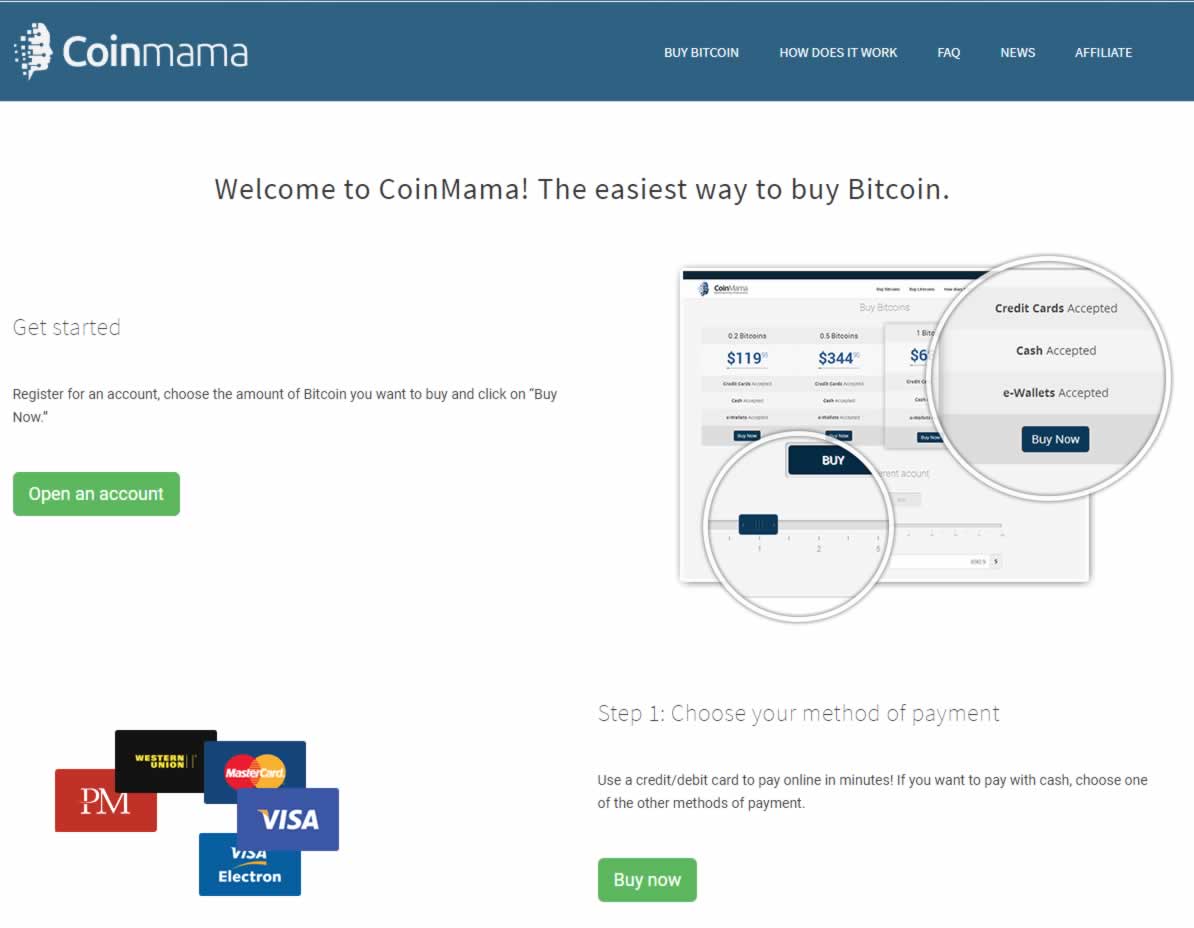 When it comes to buying cryptocurrencies, the broker's reputation is everything. The last thing you want to do is get tied up with a fly-by-night operation. Not only will your personal details be at risk, but so too might your bitcoins. More than a few people have had their bitcoins stolen by fraudulent brokers.
CoinMama launched in 2013, and has since gained a reputation among experienced Bitcoin buyers as a safe, honest, and trustworthy broker. They're licensed and regulated in select jurisdictions worldwide, making them a secure place to purchase BTC.
You'll find some folks complaining about the service on Reddit and BitcoinTalk.org. (Bear in mind, that's the case with most brokers.) Some have complained that CoinMama are slow in processing their purchase requests. Others have complained that they've declined purchases, or have been incommunicado regarding them. But if you read through the complaints, you'll find that CoinMama is on the up and up.
For example, they've had to suspend purchase requests due to excessively high trading volume in past. That's a security measure, not an indication of shenanigans.
Another example: one user on BitcoinTalk complained that he (or she) sent CoinMama money via Western Union and had not received his bitcoins after three days. It turned out the problem wasn't CoinMama's fault. Western Union was closed for a holiday.
In short, CoinMama has a solid reputation you can trust.
How To Buy Bitcoins At CoinMama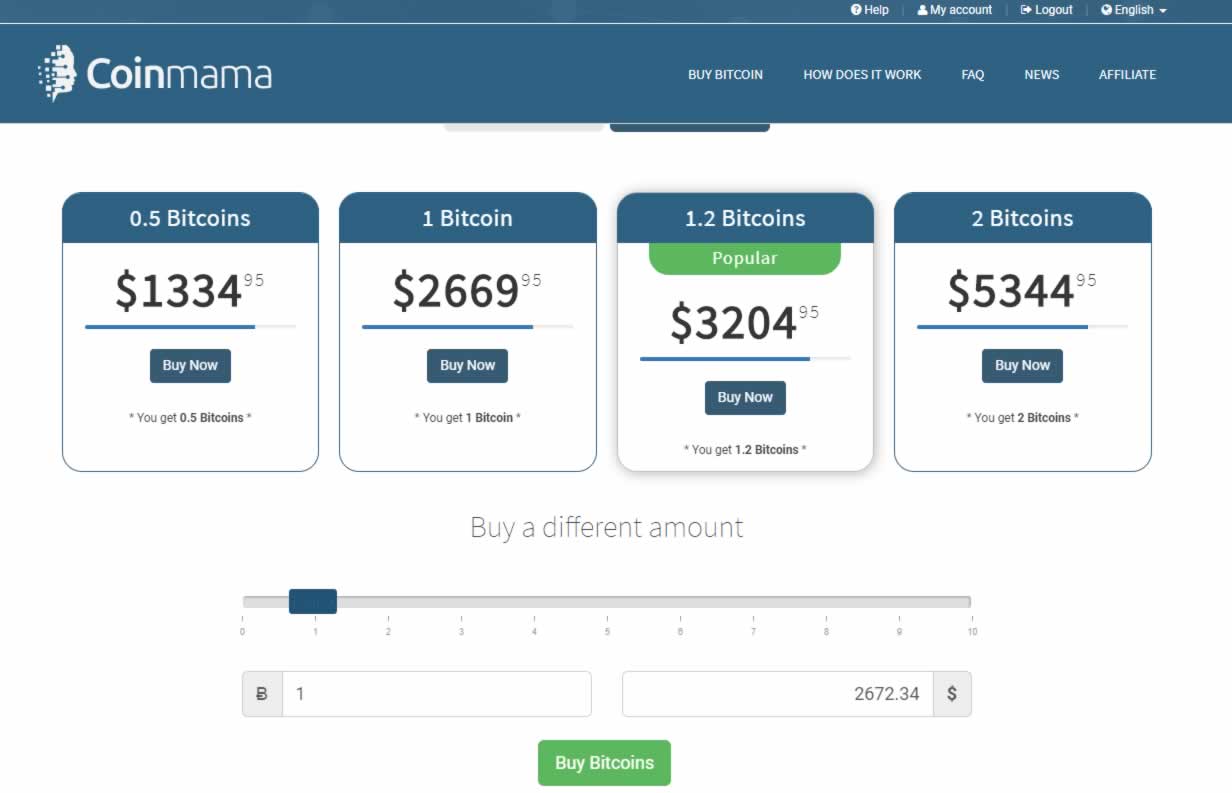 You'll find a button labeled "Buy Bitcoins" on the home page. When you click that button, you'll be taken to a page that displays prices in four increments: 0.5 bitcoins, 1 bitcoin, 1.2 bitcoins, and 2 bitcoins.
These prices change every 10 minutes to reflect current market value. Each of these four options is accompanied by a "Buy Now" button.
Alternatively, you can type in the precise number of bitcoins you want to purchase, and the corresponding price will be shown to the right. Or you can use a slider feature to the same effect.
The prices include a 5.90% fee. If you use a credit card or debit card, you'll be charged an additional 5% by CoinMama's payment processor (Simplex).
5.90% is relatively high compared to the fee charged by other bitcoin brokers. For what it's worth, it's lower than what CoinMama charged in the past. So it's moving in the right direction.
If you make your purchases during normal business hours, you'll receive your bitcoins as soon as CoinMama have verified your payment and wallet address. If you purchase outside of business hours, you may have to wait up to three days depending on the circumstances.
How To Store The Bitcoins You Buy At CoinMama
You do not store bitcoins here.
You need a wallet to store your bitcoins. CoinMama does not provide this service. They'll send your BTC to any wallet address you provide. But they won't store them for you.
You have a lot of options when it comes to obtaining a wallet. Some wallets are cloud based while others reside on your computer, phone, or tablet. Some are small computers in and of themselves (they're known as "hardware wallets" and look like zip drives). Some are free while others cost a nominal amount.
It's important to use one that has a good reputation.
Trezor and Ledger Nano S are solid hardware options. Breadwallet, Greenwallet, and Electrum are good choices if you want your wallet to reside on your device (phone, desktop, etc.). Blockchain and GreenAddress are good options if you want to keep your bitcoins in the cloud.
How To Withdraw The Bitcoins You Buy At CoinMama
You automatically withdraw your bitcoins to your wallet. You buy bitcoin with credit card and get sent bitcoin instantly. You are paid out in bitcoin.
On CoinMama, there is no way to turn bitcoin into fiat currency. When you withdraw bitcoins, converting them from BTC to your preferred currency, you don't do it from CoinMama. CoinMama are merely the broker from which you buy bitcoins (although you'll probably be able to sell them there in the future).
You need to find a Bitcoin exchange that allows you to sell your BTC to others, much like you would sell stocks. Two popular options are Coinbase and Bitstamp. Both are easy to use. All you have to do is create an account, deposit the bitcoins you'd like to sell, and place a sell order.
Once you've sold your bitcoins, you can transfer the money directly to your bank account. Both Coinbase and Bitstamp will allow you to transfer funds in USD or EUR. Coinbase charges a 1.49% fee on the amount you sell. Bitstamp charges a 0.09% fee with a minimum fee of $15. Withdrawals usually take between two and four days to arrive.
CoinMama Jurisdictions (Where Does CoinMama Operate?)
Currently, you can use CoinMama in 226 countries, from Afghanistan to Zambia. It's worth noting that CoinMama adhere to prescribed sanctions lists. That means if a country shows up on a sanctions list maintained by the US Office of Foreign Assets Control (OFAC), United Nations, European Union, or UK Treasury, CoinMama will not operate there.
Which USA states are allowed / not allowed?
Within the U.S., CoinMama operates in the following 22 states:
– Arizona
– California
– Colorado
– Florida
– Illinois
– Indiana
– Kansas
– Kentucky
– Massachusetts
– Maryland
– Michigan
– Missouri
– Montana
– Nevada
– New Jersey
– New Mexico
– North Carolina
– Pennsylvania
– South Carolina
– Tennessee
– Texas
– Virginia
Which states does Coinmama not allow?
The other ones not listed above. Georgia is included which is where I am located.
How Easy Is CoinMama To Use?
It's incredibly easy to purchase bitcoins at CoinMama. That's one of the reasons they're so popular. All you need is a credit card or debit card. As long as you have a wallet set up, you can buy them whenever you want, confident that your purchases will go through.
It's fast. It's simple. And there are no obstacles aside from the verification requirements at various purchase volumes (see above).
If you don't want to use a credit card or debit card, you can always send cash via Western Union. It's more of a hassle, but a good option for folks who don't have cards, or don't want to use them.
When you visit CoinMama, you'll notice that the UI is simple and intuitive. Not one element is confusing or ambiguous. That makes for an ultra-easy buying process.
Security And Privacy
CoinMama store your personal data on secured servers, and use high-level encryption and authentication measures, to ensure your money and details are safe.
Having said that, even with impeccable security, no online platform is 100% secure. So make sure you keep your private key (similar to your email password) PRIVATE.
Customer Support Options
If you have an issue that needs to be resolved, or a question about your account, you can reach out to a support rep at CoinMama in three ways:
live chat
email (support@coinmama.com)
opening a help desk ticket.
This is an area that I think CoinMama can improve. Folks on Reddit and BitcoinTalk.org have noted that it sometimes takes CoinMama more than one business day to respond.
Also, CoinMama's business hours are Sunday through Thursday, from 11:00 p.m. to 7:00 a.m. PDT. That can make it difficult to connect via chat if you're in the U.S.
I'd also like to see a phone number added to the support options. Sometimes, it's easier to pick up the phone than send an email or open a help desk ticket. It'd be nice if CoinMama offered phone support for their customers.
Two Noteworthy (But Easy-To-Overlook) Details About CoinMama
First, CoinMama has an affiliate program. If you have friends who need a place to buy bitcoins, you can send them to CoinMama and earn a referral bounty every time they do so.
Second, CoinMama refuses to store customers' credit card information on their servers. That's a boon when it comes to security. Note that their payment processor (Simplex) might store your credit card number to streamline future transactions.
Pros & Cons
Fast and easy way to buy bitcoin the first time.
Designed for newbies to bitcoin.
Accepts people from most countries
No phone customer support.
Verification
Types of Verification
None, Government ID, Selfie, Email, Multiple / SSN
Verification Process
CoinMama – Account Creation And Verification Requirements
Creating an account is simple. You just need to provide an email address, first and last name, and create a password.
Buying bitcoins involves a couple more steps, depending on the amount you buy. CoinMama have four verification levels:
Level 0 – you can purchase up to $150 with your credit card or up to $500 via cash (using Western Union) with nothing more than a phone number and physical address.
Level 1 – you can purchase up to $10,000 as long as you provide a government-issued ID (e.g. driver's license).
Level 2 – you can purchase up to $50,000 if you provide a utility bill, bank statement, or selfie of you holding your government-issued ID.
Level 3 – you can purchase up to $1 million with face-to-face recognition from a notary or attorney.
The low verification requirement at Level 0 is one of the reasons many people favor CoinMama.
Withdrawal Process
There are no additional fee's to withdraw your bitcoin. Simply enter your bitcoin address and once your purchase is approved by CoinMama they send the bitcoin to your address provided.
Frequently Asked Questions
Does CoinMama store my bitcoins?
No - CoinMama.com does not provide a wallet for you to use. They send bitcoin to your wallet.
Does CoinMama link up buyers and sellers?
No - you purchase bitcoin directly from CoinMama's inventory.
Final Thoughts On CoinMama – Why Our Rating?
I like CoinMama a lot. They have a solid reputation, have proven to be trustworthy, and have made the process of buying bitcoins drop-dead simple.
I also love that you can buy up to $150 at a time without showing proof of identification.
And when you manage to get a support rep on live chat – those business hours make it difficult! – the support is typically professional and helpful.
Having said that, there are a few things I'd like to see in the future.
First, I hope CoinMama lowers its fees. There are cheaper ways to buy bitcoin.
Second, I'm looking forward to the day when I'm able to sell bitcoins through their service (they claim the feature is coming soon). And third, it'd be great to have the ability to buy (and sell) a variety of cryptocurrencies, including Litecoin, Ripple, and Dash.
Bottom line: CoinMama is a legit, safe, and user-friendly service that deserves your attention if you're looking for a place to buy bitcoins.