Fee Schedule
Deposit Method
Currency / Country
Fees
Every Method Imaginable
MIN

$1.00
MAX (Day / Month)
Varies
Overview
LocalBitcoins At A Quick Glance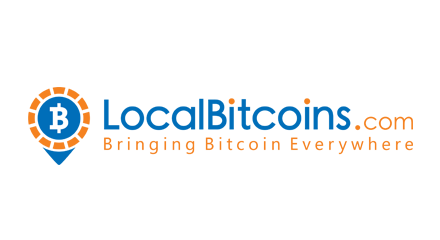 LocalBitcoins.com is an ideal place to buy and sell bitcoins if privacy is your main concern. It's a peer-to-peer (P2P) marketplace that allows you to buy and sell BTC online or in person. Transactions can be made via credit card, fiat currency, and cash. Everything depends on what you and the person you're trading with agree upon.
Buying and selling BTC peer-to-peer gives you more flexibility.
You can use bank transfers, other cryptocurrencies, U.S. dollars, yen, euros, etc.
It also ensures fast transactions. There are more than 1,000,000 registered users on LocalBitcoins.com. It's easy to find folks who are willing to trade according to terms you deem acceptable.
Buying and selling locally allows you to trade bitcoins without being hampered by cumbersome rules set by exchanges.
You can find buyers and sellers who live close to you, and meet them at your local Starbucks to conduct trades.
Or you can deposit into their bank account and they send you the bitcoin without ever meeting. With LocalBitcoins.com you have control of how and who you deal with.
Is LocalBitcoins A Legitimate Peer-To-Peer Bitcoin Exchange Service?
Yes, LocalBitcoins is a reputable service. It's the largest of its kind, and has earned a reputation as the "go to" P2P bitcoin marketplace for folks who value privacy.
Having said that, it's still possible to fall victim to scams if you're negligent or too trusting. LocalBitcoins sets up buyers and sellers for a fee. While the service itself is legit, the individuals you trade with may prove to be of dubious character. So it pays to be wary.
It's like using Match.com to meet people. The service itself is trustworthy. But you shouldn't openly trust every person you meet on Match.
It's worth noting that because LocalBitcoins.com is a P2P marketplace rather than an exchange, it doesn't fall under FinCEN (Financial Crimes Enforcement Network) purview. So doing due diligence is largely up to you. Bitcoins are held in escrow at LocalBitcoins until payment is received by the seller. Once payment is confirmed, they're released from escrow to the buyer.
It's a safe, smooth way to trade.
You'll find very few complaints about LocalBitcoins.com on Reddit and BitcoinTalk.org. Dour comments are usually reserved for individuals who attempt to scam other traders rather than the service itself.
LocalBitcoins.com – How To Create An Account
You need three things to set up at account:
an email address
username
password
That's it. Just visit Localbitcoins.com and create your account right now.
It's also a good idea to verify your account with both SMS verification and ID verification. SMS verification will allow you to see a greater volume of advertisements. ID verification will make you appear more reliable and honest to buyers.
The latter is especially important when you're getting started on LocalBitcoins since you'll lack a reputation score. Verifying your ID will make others more inclined to trade with you.
Verification Requirements
LocalBitcoins doesn't adhere to KYC protocols. That understandable since you're not buying or selling bitcoins from the service. It's just the middleman who matches you with trading partners, and provides an escrow account for transactions.
So, do you need a government-issued ID to trade on LocalBitcoins? It depends. A lot of sellers will require real-name verification before they'll agree to sell to you online. The most common method of verification is a government-issued ID. Some sellers will accept a utility bill that has your name on it.
Why do sellers require this? To protect themselves from fraudulent payments.
To be clear, you can refuse to verify your name. But you'll severely limit the number of people who'll be willing to sell to you online through LocalBitcoins.
How To Buy Bitcoins At LocalBitcoins
Once you've created an account, look for advertisements posted by BTC sellers. There are thousands to choose from. You can filter ads according to which sellers accept U.S. dollars and which are located in the U.S. You can also filter ads by the type of payment accepted (cash by mail, Paypal, Moneygram, etc.).
When you find a promising seller, click the "Buy" button to the right of the ad's Price/BTC. You'll be taken to the seller's ad, where you can view the details. You'll see the seller's location, feedback score, and the minimum and maximum trading limits. You'll also see the terms of the trade.
Here's an example of a current ad posted by a bitcoin seller:
"Contact hours: Mon-Sun 08:00-22:00
Meeting preferences: McDonalds, Starbucks, or Panera
This advertisement is for a cash trade for bitcoin. We will meet at a McDonalds, Starbucks, or Panera (or another public area that we agree upon) to do the deal. Can meet most days, simply text me and we can set up a meeting.
Other forms of payment besides cash will not be accepted. Bitcoins will be transmitted instantly."
If the terms are to your liking, type in the amount you'd like to purchase, and click the "Send Trade Request" button.
LocalBitcoins will transfer bitcoins from the seller's wallet to an escrow account when a trade occurs. After you've paid for the bitcoins, click the "I have paid" button. As soon as the seller verifies receipt of your payment, LocalBitcoins will release your bitcoins from the escrow account and place them into your wallet.
Buying and selling BTC is free. However, users who place advertisements on LocalBitcoins are required to pay a 1% fee on each trade. So if you're buying, you can avoid this fee by responding to sellers' ads.
Transactions are instant, though it can take up to an hour to get everything squared away. That's a conservative estimate. Transactions are often completed in minutes.
If you're moving bitcoins between your LocalBitcoins wallet and another wallet, you'll be charged a small transaction fee. The amount of the fee is continually adjusted to reflect network congestion.
How To Store Your Bitcoins
LocalBitcoins will set you up with a free wallet on-site. The wallet is safe and secure, and allows you to make quick transactions. It can be used like any Bitcoin wallet; you can send bitcoins to any address, and receive them by giving the sender your LocalBitcoins receiving address.
If you only buy or sell BTC every now and then, you'll probably want to use this wallet as nothing more than a temporary depository for your bitcoins. You might use it in the same way you use Paypal. You (hopefully) wouldn't let thousands of dollars sit in your Paypal account. You'd transfer it out.
Having said that, if you're an active trader, you might make more use of your LocalBitcoins wallet. That's just smart money management. If you're constantly transferring bitcoins back and forth from another wallet, you'll get pummeled by transaction fees.
Occasional traders might benefit from keeping most of their bitcoins in another wallet, either in the cloud, on their phone or computer, or on a separate hardware wallet (e.g. the Ledger Nano and Trezor).
Local Bitcoins Jurisdictions (Where Does LocalBitcoins Operate?)
As the largest peer-to-peer Bitcoin marketplace, it shouldn't come as a surprise that LocalBitcoins operates in practically every country and territory. It boasts operations in 248 countries and 14,745 cities throughout the world. Whether you live in the U.S., are an expat in Costa Rica, or backpacking through Bangladesh, you'll have no problem buying and selling bitcoins.
How Easy Is LocalBitcoins To Use?
In a word, extremely.
If you want to buy bitcoins, all you have to do is look through sellers' ads and find those that cater to your preferences. Want to meet the seller at your local McDonalds? No problem. Want to buy online using your Paypal account? Again, no problem.
If you want to sell bitcoins, all you have to do is create an ad with your terms. Buyers will find you. Just remember that, as the advertiser, you'll be on the hook for the 1% trading fee. Alternatively, you can look through buyers' ads to find someone to sell to.
Everything about the service is intuitive, and nothing is left to chance. LocalBitcoins also provides a helpful FAQ section that contains simple instructions, links to easy-to-follow guides, and even video tutorials. Things are laid out so well that you probably won't need to use these resources. But they're there if you need them.
Security
LocalBitcoins uses a number of features to keep your money and your data safe. First up, it's reputation feature. Every buyer and seller has a reputation score. This score results from the feedback left by others after each completed transaction. Use this feature to find traders who have a stellar track record. They're unlikely to abscond with your money.
You can also enable two-factor authentication for your account. This is a system whereby you're required to provide two things to prove your identity before you're allowed to access your account. An example is an alphanumeric code that must be typed in using your phone. Two-factor authentication is a useful security measure.
When you buy and sell on LocalBitcoins, the bitcoins are placed into an escrow account. This is another layer of protection against scams and charlatans. As noted earlier, the bitcoins are locked down until the seller verifies that he or she has received payment from the buyer.
In the event you experience a problem with a trade, LocalBitcoins will help you to resolve it (see Customer Support Options below). Also, many questions can be answered by posing them to other customers on the LocalBitcoins forums.
Customer Support Options
LocalBitcoins relies heavily on a support ticket system. If you have a question about your account, want to report a user, or need help with a particular transaction, you're required to create a support ticket.
Tickets are generally resolved or responded to within 24 hours. Response time during the weekends may be a bit slower than during the week due to limited staff.
Choosing A Seller At LocalBitcoins
If you intend to buy bitcoins, here are few quick tips for protecting yourself from fraud:
Buy from sellers who have been around awhile. You want to see at least 12 months of trading history.
Deal only with sellers who have high feedback scores. 100% is ideal. 98% is acceptable.
Deal only with sellers who have completed at least 100 trades.
Do not use Localbitcoins as your bitcoin wallet. Once you have bitcoin there withdraw it to your own wallet where you control your keys.
Stick to these simple guidelines, and your trades (and your money) should be safe!
Pros & Cons
Private buying options
Largest P2P Bitcoin Exchange
Works everywhere
Prices are higher
Not a great place to buy with credit cards.
Verification
Types of Verification
None
Verification Process
Some sellers require identification. Many sellers do not require any form of ID. LocalBitcoins.com is a fantastic place to privately purchase btc.
Frequently Asked Questions
Do you meet people in real life?
You can. There are search filters for people willing to meet you locally and exchange bitcoin for cash. Or you can use the service online and deposit cash to a bank and get bitcoin without meeting in real life. You have the option.
Why are prices higher than I see at other exchanges?
Privacy for you, speed for you and risk for the bitcoin seller.
Final Thoughts On LocalBitcoins
I'm happy to give LocalBitcoins my unwavering seal of approval. It's a great service for those who want buy and sell quickly and privately online, or want to do it face to face. Transactions can be completed within minutes, an escrow account is used for added protection against fraud, and the 1% fee (paid by advertisers) is lower than the fees you'll find at major exchanges. Moreover, you have more than 60 payment methods you can use to purchase bitcoins.
Keep in mind, the exchange rate won't always be favorable. So don't jump at the first seller who's willing to trade with you. Look through several ads that meet your criteria, and compare the corresponding price/BTC rates.
Also, it's important to keep your eyes open for scams. Just as with buying and selling items on eBay, not every user is honorable. Be wary, and use the tips above to choose buyers and sellers you can trust.