Fee Schedule
Deposit Method
Currency / Country
Fees
Bitcoin
MIN

.001btc
MAX (Day / Month)
unlimited
Bitcoin
Worldwide (no USA)
DASH
MIN

.001
MAX (Day / Month)
unlimited
DASH
Worldwide (a few countries excluded)
Withdrawal Method
Currency / Country
Fees
Bitcoin
MIN

None
MAX (Day / Month)
None
BTC
Worldwide (some countries excluded)
DASH
MIN

None
MAX (Day / Month)
None
DASH
Worldwide (some countries excluded)
Leverage Trading Allowed
5x up to 222x
Overview

Company Name: SAS Global Trading Limited
Headquarters: British Virgin Islands
Official Website: https://Whaleclub.co
Established in: 2016
On Whaleclub, you can trade cryptocurrencies, Forex, metals, stocks, and bonds, and you can do it all with Bitcoin or Dash.
If you have experience with retail trading online, you know that there are a lot of inconveniences and hassles that go with the territory. Deposits and withdrawals can be slow and expensive. Execution can be slow and unreliable. There may be issues involving regulations and territories. Basically, a lot of different factors can stand in the way of a smooth trading experience, even though retail trading sites were designed to make trading easy and accessible.
Whaleclub is a website which was created to solve some of these problems.
Because you are trading with a cryptocurrency of your choice, a lot of the hassles that plague traders at traditional fiat-based websites are avoided altogether. Deposits can be near-instantaneous, you get low-latency execution, and there are spreads as low as 0.0001.
Who Should Use Whaleclub?
If you want a private way to trade crypto or to use bitcoin to fund your trading you should consider joining the WhaleClub. Whaleclub is a great choice if you are looking for a website for trading FX, commodities, stocks, and bonds, and happen to have a lot of your money in Bitcoin.
But you might also consider it if you are fed up with the expenses and hassles associated with trading on other retail sites. Because Whaleclub is so affordable, fast and accessible, it may even be worth it for you to go out and buy Bitcoin (if you don't already own some) simply so you can trade here.
Is Whaleclub Legit? Is Your Money Safe at Whale Club?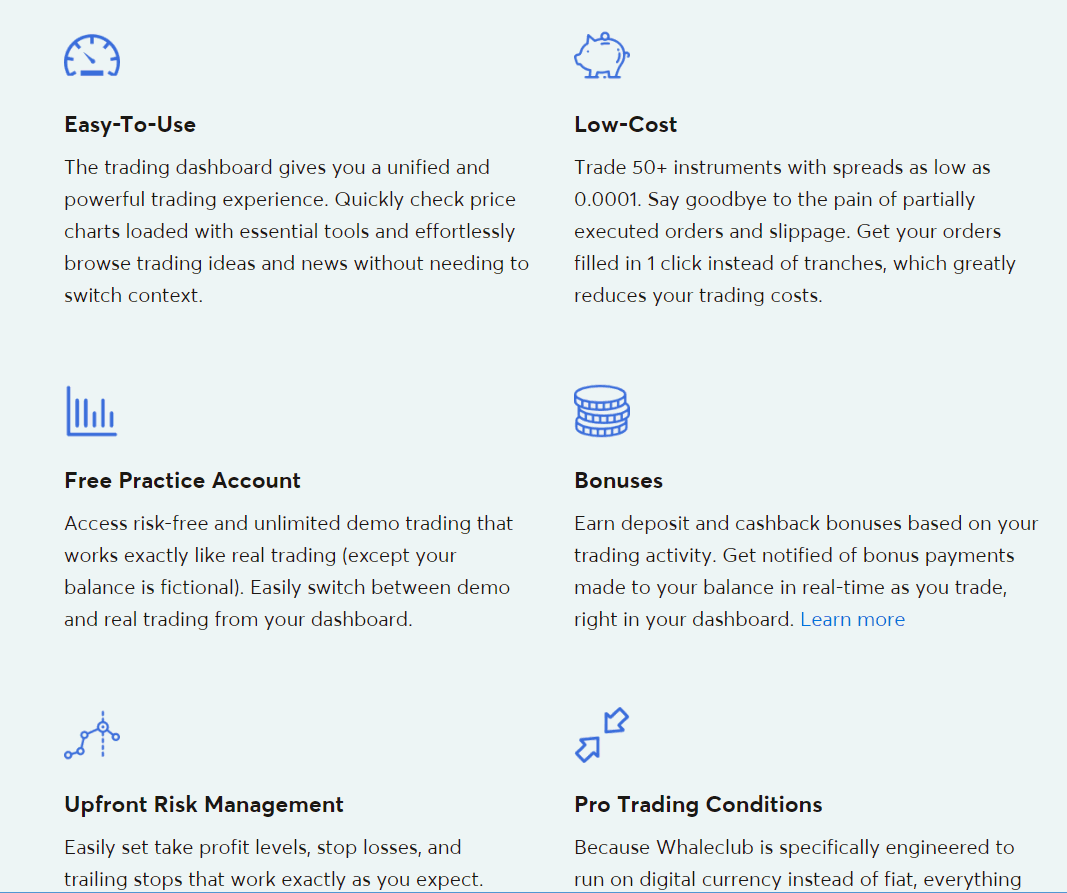 Yes, Whaleclub is legit.
If you look at the user agreement on the website, down at the bottom there is a statement that the business is governed under the laws of the British Virgin Islands under the International Business Companies Act of 1994, and that furthermore, "You submit to the non-exclusive jurisdiction of the courts located in the British Virgin Islands for the resolution of any disputes." In other words, if you have a dispute, in theory you can take the company to court and receive fair arbitration from BVI authorities.
There is an email address specifically for regulatory compliance issues, so you can contact compliance@whaleclub.co with specific questions. Unfortunately, Whaleclub does not take customers from the USA.
You can also look up Whaleclub independent comments online (like at the bottom of this review), and you will see that the company has received dozens of great reviews from traders around the world. Finally you can reach the executive team at their linkedin profile.
Full Whaleclub.co Review – Facts, Details and What You Should Know
Now that you have been introduced to Whaleclub, let's take a closer look at what they have to offer traders.
What Types of Trading Are Available?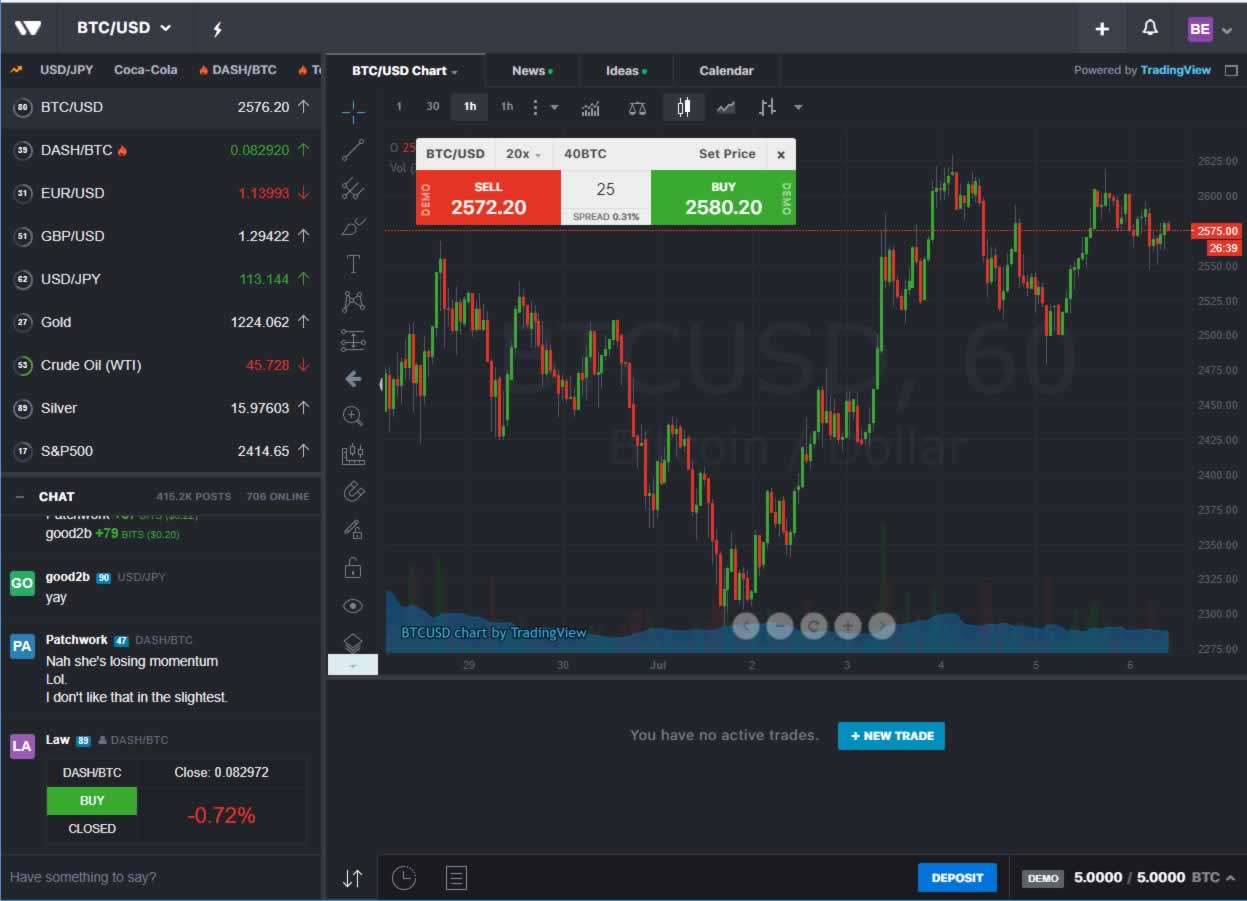 As mentioned earlier, on this site, you can trade currencies, commodities, stocks, and indices (the full list is below). So there are plenty of opportunities here for traders in a variety of niches to make money.
Account Levels
There are no account levels on Whaleclub. The only types of accounts are real accounts and practice accounts.
When you register an account, you are immediately granted a demo account. You are then given the chance to walk through a quick tutorial right on the platform itself. I highly recommend doing this. It is interactive, takes only a couple of minutes, is actually the best how-to tutorial I have seen anywhere for a trading platform. By the time you are done with it, you should know exactly what you are doing.
Of course, that does not mean your strategies are sufficient to profit, which is why it is important to practice. Thankfully that is easy to do on Whaleclub, since you have that demo account all set up and ready to go the moment you log in the first time.
User Interface
In most respects, the user interface on this site is awesome. Again, the quick and easy tutorial makes it a breeze to find your way around. Opening and closing trades is almost absurdly easy. You can set a stop loss and a take profit, and you can close out of a trade manually anytime. You can do all of this in just a few clicks.
Actually, the simplicity of this interface and process rivals that of a binary options trading platform, but the functionality is akin to a traditional Forex platform. It is amazing to finally see a trading site get this right.
So where does the trading platform go wrong? Well, there is one thing wrong with it, and that is that it can be a little slow. If you click on a position to open the ticket for example, it sometimes hangs for a moment. Obviously this is not ideal. Though you can close your trades in a single click without even opening the ticket windows, which is great.
You can trade on margin if you want. What if you make a bad trading decision and you lose your account funds? Whaleclub uses a liquidation system which closes all your active positions so that you won't end up with a negative balance.
The only thing I didn't figure out while I was touring the platform was how to place a limit order, but Whaleclub definitely offers them, as there are FAQ pages detailing their use.
Security
What does Whaleclub do to protect the security of your funds?
Customer funds are kept in cold storage.
No software or automation is used in conjunction with withdrawal processing. All of it is handled manually.
All keys are GPG and AES-256 encrypted and are kept on offline computers.
All servers run the latest software, include DDOS protection, and feature automatic backups.
You have the option of setting up 2-factor identification.
Rate throttling systems and captchas prevent brute-force attacks.
All site traffic is encrypted.
Employees are subjected to background checks before they are hired, and undergo intensive training in security. They also all use multi-factor device authentification.
This system has proven its efficacy. Since the company launched the site, there have been zero security breaches of any kind.
Customer Support
The biggest drawback I can find with Whaleclub is the fact that there seems to be no easy way to reach the company. There is a comprehensive Help Center with articles and answers to questions, but no live chat or telephone number.
If you need help, visit the whaleclub homepage and at the bottom there is a 'contact us' link. This link opens up a help ticket submission screen where you can send them a message explaining what is going on and what issue you are having.
What Can You Trade?
The trading platform offers the following trading choices.
Market Order
Limit / Stop Order
Take Profit Order
Stop Loss Order
Trailing Stop
You can also utilize leverage of up to 222x on certain pairs.
Here are the trading pairs available:
BTC/USD
DASH/BTC
ETH/BTC
ETH/USD
LTC/USD
XMR/BTC
AUD/USD
EUR/GBP
EUR/JPY
EUR/USD
GBP/USD
NZD/USD
USD/CAD
USD/CHF
USD/CNH
USD/JPY
USD/MXN
USD/TRY
Crude Oil (Brent)
Crude Oil (WTI)
Gold
Gold / EUR
Gold / Silver
Natural Gas
Silver
Silver / EUR
US 10Y T-Note
US 2Y T-Note
US 5Y T-Note
US T-Bond
FTSE 100
NASDAQ
Nikkei 225
Russell 2000
S&P500
Alphabet
Amazon
Apple
Coca-Cola
Facebook
Goldman Sachs
JP Morgan
Netflix
Petrobras
Snap
Starbucks
Tesla
Twitter
Countries Accepted and Blocked
Traders from more than 190 countries are allowed to participate on Whaleclub. The United States however is blocked, as are some other countries where trading is restricted in some way.
We can basically extrapolate from this to assume that any country where trading laws are particularly strict may be excluded. You can email customer service to ask whether your country is allowed or not.
Bonuses
Bonuses
When you make your first deposit on Whaleclub after registering on the site, you become eligible to receive a 30% match bonus. You can qualify for this bonus regardless of whether you are depositing Bitcoin or Dash. There is no maximum amount.
This bonus is added to your balance in a gradual fashion based on the volume that you trade. In fact, you receive the payments on trades which you lose, so it is essentially a 30% refund on those trades, until you have received the full amount of the bonus. Anytime you are given bonus money while trading, a green Cashback notification will display in the lower right-hand corner of the trading platform.
Now, what is really cool about this bonus is that there are no strings attached. There are no turnover requirements. Any time you want to withdraw your money, you can, complete with the released amount of the bonus. Doing this does not cause you to lose your remaining bonus eligibility either, even if you withdraw all the funds in your account.
Why is this so noteworthy? Well, if you have traded on other websites which give out bonuses, you probably have noticed that they tend to be problematic. Most of the time, there are huge turnover requirements before the bonus is your money, and sometimes these requirements also tie up your own funds. You do not have to worry about this issue when you trade on Whaleclub.
Pros & Cons
Anonymous
Prices are transparent - no hidden fee's.
Free practice account
Customer service only via support tickets.
No USA traders allowed.
Verification
Types of Verification
None
Verification Process
Whaleclub does not require you to verify your identity at any time, because only cryptocurrency deposits and withdrawals are used.
If you have traded on websites which are fiat-based, you know the drill—before you trade or withdraw funds, you usually have to submit a slew of documents which prove your identity. While this is quite routine, it is a time-consuming process, and one which makes many traders uncomfortable.
Withdrawal Process
You can only deposit and withdraw from WhaleClub with bitcoin or dash. Easy, low fee's and no limits.
Frequently Asked Questions
Can you buy bitcoin at Whaleclub?
No, this site is for trading only. You must purchase your Bitcoin somewhere else and then make a deposit (see our other reviews—there are a few sites we recommend for this purpose).
How do you withdraw?
Withdrawing could not be simpler. You just click on "withdraw" in the top right-hand section of your trading dashboard menu. You can then withdraw as much money as you want from your account. There are no withdrawal limits whatsoever.Withdrawals are processed manually throughout the day. While this may cause a brief delay, there is a good reason for it, and that is to keep automation out of the process, thereby securing your funds against hackers. Plus, this is still quite fast compared to withdrawals at traditional fiat-based trading sites, which often take days to complete.There are small withdrawal fees: 0.001BTC for Bitcoin withdrawals and 0.01 Dash for Dash withdrawals.
Is digital currency converted to fiat?
No, everything is stored as digital currency only. It never becomes fiat.
Final Thoughts on Whaleclub
Aside from the lack of customer support channels, I am very impressed with everything I have seen with Whaleclub. The user interface is amazing, the tutorial is excellent, and the features and functionality are great. It is clear to me that depositing, withdrawing and trading here are easy and affordable. The impression I get is one of transparency and simplicity. Even the bonus policy seems fair and reasonable. If you have been looking for the ultimate streamlined trading solution, Whaleclub may just be it.