Fee Schedule
Deposit Method
Currency / Country
Fees
Credit Card (Visa/MC)
MIN

€25
MAX (Day / Month)
€1000
Built in buy price
Near Instant
SEPA
MIN

€25
MAX (Day / Month)
€1000
Built in buy price
Near Instant
Withdrawal Method
Currency / Country
Fees
SEPA
MIN

€25
MAX (Day / Month)
Varies on account levels
Up to 5%
Same day processing
Multiple (see content)
MIN

€25
MAX (Day / Month)
Varies
Overview
BitPanda.com Review
BitPanda.com At A Glance
If you live in the UK or Europe and would like to acquire bitcoins with a credit card, BitPanda may be one of your best options. The service caters to UK and EU residents, and boasts a large variety of payment options, easy ID verification, and fast delivery.
That's not to suggest the exchange is perfect. There's room for improvement, which we'll detail in a few moments.
Having said that, BitPanda is a safe, legitimate bitcoin exchange that's easy to use, particularly if you're just getting started with cryptocurrencies.
This 2019 BitPanda review will cover every important aspect of the service, from its payment methods and fees to its security and customer support.
BitPanda – Legitimate Bitcoin Exchange Or Not?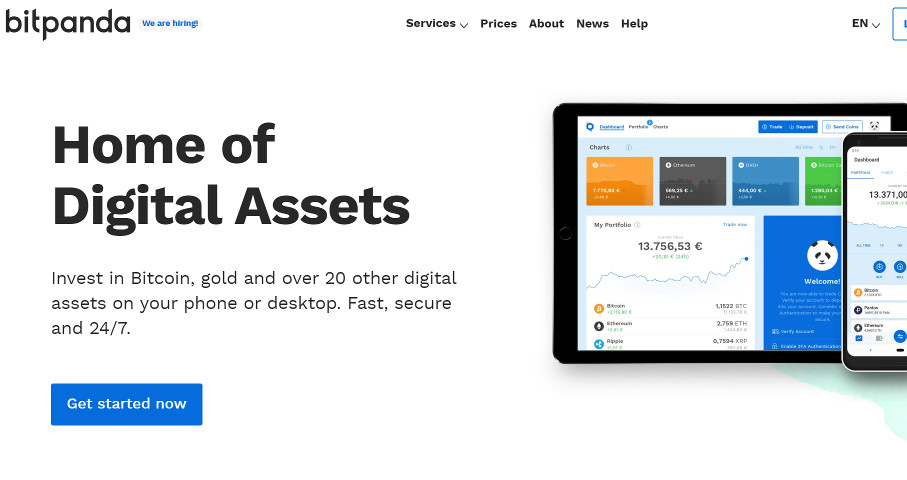 The parent company that oversees BitPanda (Coinimal GmbH) was launched in 2014. That qualifies the company as one of the "old guard" in the bitcoin trading space. A lot of new exchanges are popping up these days, and they pose concerns due to their lack of trading history.
If you search for customers' comments on Reddit and BitcoinTalk, you'll find the overall sentiment about the company is fairly positive.
This is the opposite of what our reviewers are saying here on BestBitcoinExchange.com though.
The reviews so far on our site are complaints and warnings.
Many folks praise BitPanda for its fast delivery and responsive support. Note that a few complain that its delivery is slow and its support is non-responsive. But these seem to be isolated cases. The consensus on these forums is that BitPanda is a trustworthy, reliable bitcoin exchange.
Even when problems surface, customers seem happy with the company's efforts to resolve them. Here's an example comment from a BitPanda user on BitcoinTalk:
"Wow! The order was almost immediately completed and they even gave me a 5 eur voucher for my next order for the delay!"
Bottom line: BitPanda has a good reputation among cryptocurrency fans.
How To Create An Account At BitPanda
It's easy to create an account. All you need is an email address and password. It took me less than 20 seconds, and that includes waiting for the confirmation email from the company and clicking the included link to verify my new account.
Easy peasy.
The service supports two-factor authentication (2FA) as part of its "know your customer" (KYC) procedure. After you've created your account, you'll be asked to provide your mobile number. A 6-digit SMS pin number will be sent to your phone, after which you're asked to enter it on the site.
BitPanda has several account levels, each with its own verification requirements. We'll discuss these in more detail below. For the moment, it's worth noting that you can buy up to 50 EUR worth of bitcoins daily with nothing more than a verified email address and verified mobile number.
How To Buy Bitcoins At BitPanda
When you're ready to buy bitcoins, log into your account and click the button labeled "Buy" at the top of your screen. You'll be asked to select between bitcoin and other digital currencies (Ethereum, Dash, and Litecoin are the most popular along with 30+ others).
You'll also need to choose a payment method. BitPanda makes buying bitcoins easy by giving you a lot of options:
Visa or MasterCard (credit card or debit card)
NETELLER
Skrill
SOFORT-Transfer
GIROPAY / EPS
SEPA
Redeem Voucher
Of the above methods, use of a credit card is the most common and convenient. But if you don't have a credit card (or debit card with the Visa or MasterCard logo), all is not lost.
Bitcoins are purchased in Euros (25 EUR is the minimum amount), and each transaction is accompanied by multiple fees.
One of the downsides to BitPanda is that the service doesn't show the precise percentage you're required to pay in fees for each transaction. The fees are included in the transaction price. It's worth noting the fees are partly dependent on the payment option you choose.
For example, you'll pay less if you buy bitcoins via SEPA and Giropay than you'll pay if you buy them with your credit card.
Despite the lack of transparency (pdf), you can figure out the aggregate fee percentage without much effort. All you have to do is check out the BTC/EUR exchange rate at BitStamp, and compare it to the BTC/EUR rate you'll pay at BitPanda. The difference represents the fees.
Depending on your payment method, expect to pay up to 5% per transaction. That figure puts BitPanda somewhere in the middle when comparing fees across all bitcoin exchanges.
Your newly-acquired bitcoins are placed into your BitPanda wallet (more on wallets below) soon after your payment is confirmed. If you use NETELLER, Giropay/EPS, Soffort, or a voucher, your bitcoins will show up in your wallet within seconds. If you pay via SEPA, it may take up to one business day. If you pay with a credit card, it might take a bit longer.
Where To Store Bitcoins Purchased At BitPanda
BitPanda provides a wallet for your bitcoins. You can use it like any wallet, transferring bitcoins in and out as you wish. Having said that, it's not a good idea to keep your bitcoins in the wallet provided by BitPanda.
The reason involves the private keys. You don't control them. And anyone who DOES control them can potentially steal your bitcoins. So, if BitPanda is hacked and the hacker gets ahold of your private keys, expect your funds to be stolen with little hope to retrieve them.
Fortunately, you have a lot of better options.
For example, you can use a cloud-based wallet. Personally, I like the ones offered at BreadWallet.com and GreenAddress.it, but there are many others (SpectroCoin, Airbitz, etc.).
You can also use a desktop wallet. These wallets reside on your computer. Solid options with good security include Armory, Electrum, and Bitcoin-QT.
Finally, if you want state-of-the-art security, it's difficult to go wrong with a hardware wallet. These wallets are essentially small computers in and of themselves. They look like flash drives or smartcards. Great hardware options include the Trezor or Ledger Nano S.
How To Withdraw Bitcoins From BitPanda
You can withdraw bitcoins from your BitPanda wallet at your leisure. All withdrawals are processed in EUR.
BitPanda offers four payout methods. The amount of time required for you to receive your funds depends on the method you choose. Following are your four options, along with their respective time frames:
SEPA (same day)
Amazon.de Voucher Code (up to 30 minutes)
NETELLER (10 to 30 minutes)
Skrill (10 to 30 minutes)
Fees are dependent on the payout method, and included in the transaction price.
BitPanda Jurisdictions (What Countries Does BitPanda Support?)
BitPanda operates throughout Europe, and supports nearly every country in the EU. In fact, it was created by three individuals who saw firsthand how difficult it was for EU residents to buy bitcoins in select jurisdictions. Their goal was to fix that problem.
To that end, here are some of the countries BitPanda supports:
Austria
Belgium
Bulgaria
Croatia
Cyprus
Czech Republic
Denmark
Estonia
Finland
France
Germany
Greece
Hungary
Ireland
Italy
Latvia
Liechtenstein
Lithuania
Luxembourg
Malta
Monaco
Netherlands
Norway
Poland
Portugal
Romania
Slovakia
Slovenia
Spain
Sweden
Switzerland
United Kingdom
You'll notice that BitPanda doesn't operate in the U.S., Canada, India, Japan, and other notable territories. The service was designed for, and geared entirely toward, UK and EU residents.
*You can sell bitcoins on BitPanda from around the world. You can also purchase them at BitPanda if you live in Europe.
Account Levels And Verification Requirements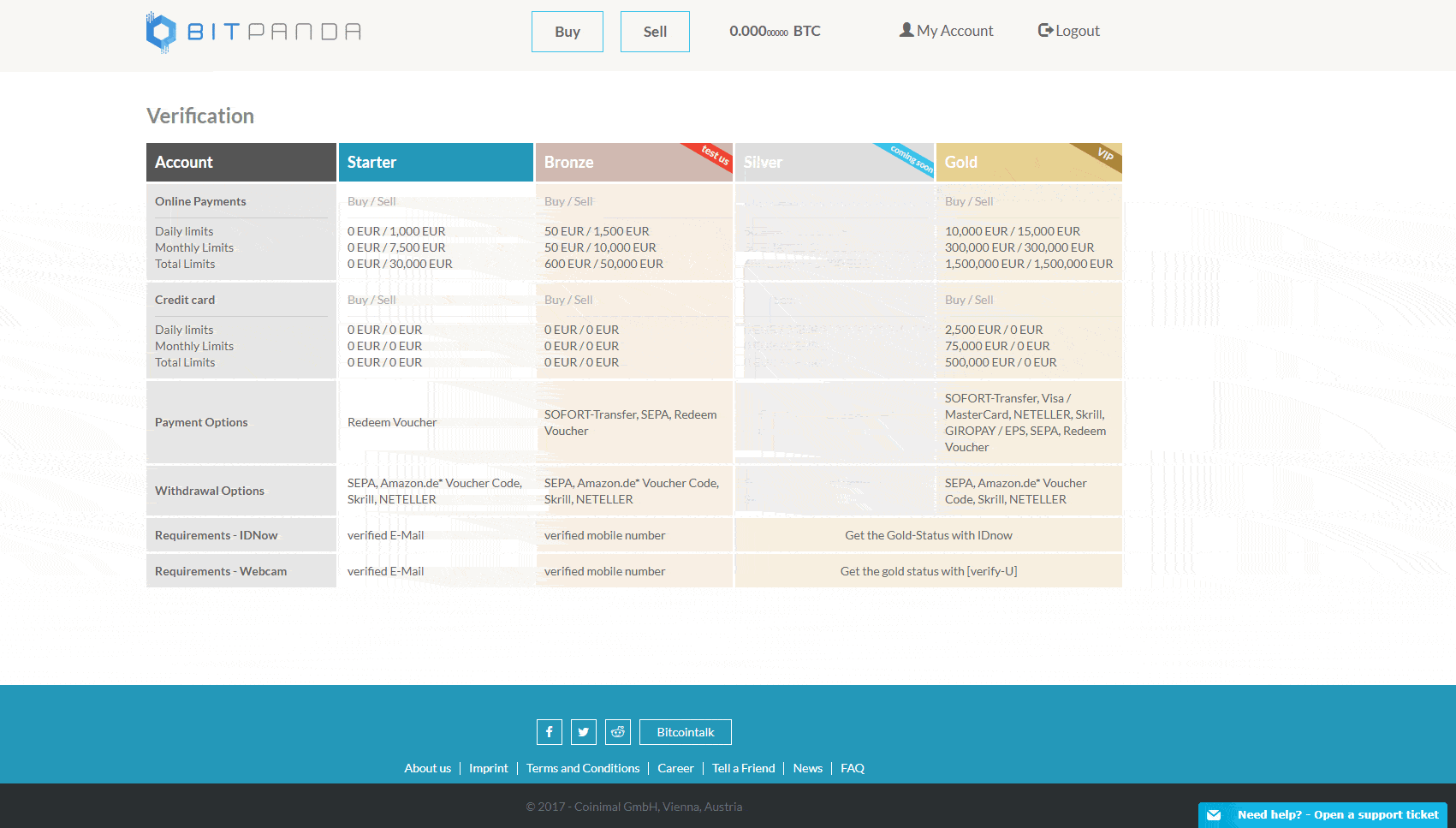 There are currently three account levels, each with progressively more stringent ID verification requirements. A fourth level is expected to be introduced in the near future.
Following is a breakdown of each existing level, along with their respective purchase and sale limits.
Starter Level
Daily limits – Buy / Sell = 0 EUR / 1,000 EUR
Monthly Limits – Buy / Sell = 0 EUR / 7,500 EUR
Total Limits – Buy / Sell = 0 EUR / 30,000 EUR
ID requirement: verified email
Bronze Level
Daily limits – Buy / Sell = 50 EUR / 1,500 EUR
Monthly Limits – Buy / Sell = 50 EUR / 10,000 EUR
Total Limits – Buy / Sell = 600 EUR / 50,000 EUR
ID requirement: verified mobile number
Gold Level
Daily limits – Buy / Sell = 10,000 EUR / 15,000 EUR
Monthly Limits – Buy / Sell = 300,000 EUR / 300,000 EUR
Total Limits – Buy / Sell = 1,500,000 EUR / 1,500,000 EUR
ID requirement: government-issued ID (e.g. passport) confirmed with IDNow or via video using verify-U.
BitPanda has promised to introduce a Silver level. This level will offer purchase and sale limits that fall between those afforded to customers at the Bronze and Gold levels.
Is BitPanda Easy To Use?
The interface at BitPanda is completely intuitive. Every action, from registering your account to submitting a purchase order for bitcoins, is seamless thanks to everything being laid out in a natural, straightforward manner.
Once you log into your account, you'll see an easy-to-navigate page with major features listed on the lefthand side. For example, click "Dashboard" to see the status of your transactions as well as your purchase and sale limits based on your account level.
Buying and selling bitcoins is simple thanks largely to the sleek interface. Every element is user-friendly to the point that even first-time visitors will have no problem navigating the site.
Security At BitPanda
As noted above, BitPanda uses 2FA to protect its customers' accounts. It's the primary security protocol used for low-limit purchases and sales (i.e. transactions on accounts with Starter or Bronze status). Although this security measure is a good start, it's far from impenetrable. Accomplished hackers can still get in if they possess enough savvy and persistence.
BitPanda requires customers to meet more rigorous ID verification requirements before they can purchase and sell higher volumes of bitcoins (i.e. Gold status).
Customer Support Options At BitPanda
If you have a question about your account, or you're having problems with a particular transaction, BitPanda requires you to open a support ticket. Response time is usually one business day, but there have been reports of delays.
Another option is to email BitPanda at office@coinimal.com.
I don't recommend this approach unless you've already submitted a support ticket and haven't yet heard back. The reason is because it's unclear how emails sent to this address are handled by the company. Are they given a high priority or allowed to sit in BitPanda's inbox for days on end?
An Important Note To Keep In Mind About BitPanda
I mentioned this earlier, but it bears repeating. You're not limited to buying bitcoins at BitPanda. You can also buy (and sell) Ethereum, Dash, and Litecoin and any of the other 30+ they currently support.
You may not be interested in these other digital currencies at the moment. But you may become interested in them down the road. BitPanda can support your needs when that happens.
Pros & Cons
Fast and easy way to buy bitcoin for the first time.
Verification
Types of Verification
Government ID, Selfie, Email, Phone
Verification Process
Limits & Liquidity
Your buying limits depend on your account level.
Frequently Asked Questions
What are the fee's?
The fee's are built in to your buy price. What you see for the purchase price is what you pay for the bitcoin.
Final Thoughts on BitPanda.com
BitPanda is incredibly easy to use for buying and selling small volumes of bitcoins. All you need to do is verify your mobile number. Buying and selling larger volumes is less convenient due to BitPanda's strict ID verification requirements. But that's going to be the case at most legitimate Bitcoin exchanges.
Having said that, if you live in Europe and want an easy way to buy bitcoins with a credit card, you'll find BitPanda to be a solid option. It's easy to use, imposes reasonable fees, and provides a variety of payment and payout options.
In my opinion, there are two areas that have room for improvement. First, BitPanda should make its fees more transparent. Second, I'd love to see them offer a support phone number, and even a chat feature for customers.
Would I use BitPanda for buying and selling bitcoins? If I lived in the UK or EU, definitely!