Fee Schedule
Deposit Method
Currency / Country
Fees
Gift Cards (amazon)
MIN

$5
MAX (Day / Month)
N/A
All major currencies
Virtually Everywhere
Overview
Paxful.com At A Glance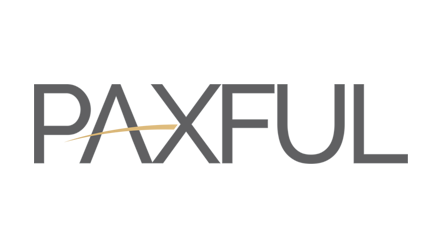 Company Name: Paxful
Official Website: https://paxful.com/
Headquarters: Wilmington, Delaware
Established in: 2015
You'll want to check out this bitcoin exchange if you have gift cards and want to buy bitcoin with them.
Paxful accepts over 300 forms of payment.
They are the best bitcoin exchange for amazon gift cards (and all gift cards for that matter).
For example, suppose someone gives you a $50 Starbucks gift card. Since you never go to Starbucks, the money is just sitting there. You can use the $50 to buy bitcoins at Paxful.com.
This exchange is a bit like LocalBitcoins.com in that you're able to buy bitcoins from private sellers (peer-to-peer). All you have to do is find a seller whose terms are agreeable to you. Then, reach out and make the transaction happen.
This service isn't perfect. That'll become clear as you read this Paxful cash-for-bitcoin review. But the service has enough going for it that you'll want to consider using it if you have gift cards that are burning a hole in your pocket.
Can You Trust Paxful.com With Your Cash And Bitcoins? Is Paxful Legit?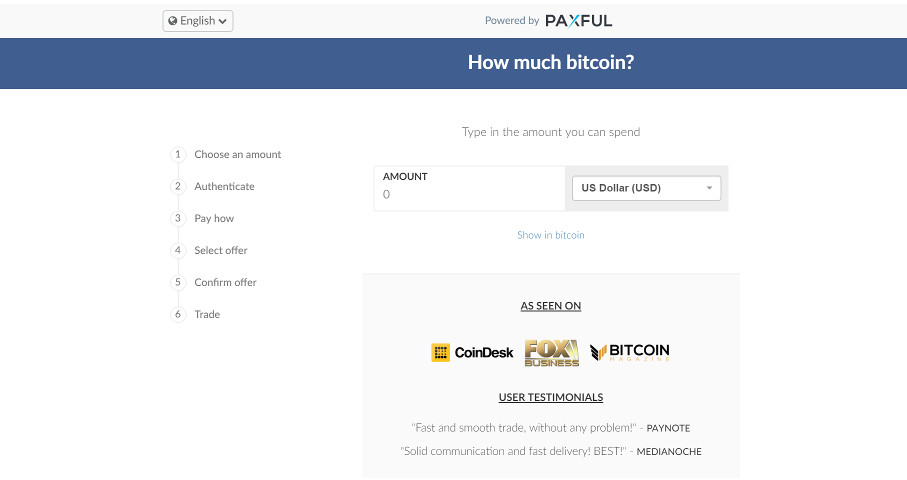 Paxful is a relatively young service, having launched in 2015.
While it has a track record, it's a limited one.
So, caution is warranted.
Additionally, there have been mixed reviews among the cash-for-bitcoin crowd at places like Reddit and BitcoinTalk.org. Some folks have been scammed, losing their cash to fraudulent sellers.
These victims are understandably angry. But their unfortunate experiences aren't a reflection of Paxful's integrity.
They're a reflection of a few sellers' integrity (or lack thereof). It's like buying something on eBay. If the seller fails to ship the goods, it doesn't mean eBay is a scam. It means that seller is untrustworthy.
Paxful.com is a legitimate, honest, peer-to-peer bitcoin exchange. The key, as with anything involving money and other people, is to use caution.
We'll talk more about this in a few moments.
The short answer is that by all accounts Paxful is a legit bitcoin exchange that competes with P2P bitcoin marketplaces like LocalBitcoins.com
How To Create An Account At Paxful
There are two ways to create an account.
First, you can create one immediately upon visiting Paxful.com.
You'll be asked for an email address. You'll also need to choose a username and password.
The second way is to register your account after you've found a suitable bitcoin seller.
Instead of registering when you arrive, you can immediately start perusing sellers' offers. When you find one that seems promising, and decide to purchase bitcoins from that particular seller, you'll be prompted to register before proceeding.
After you create your account, you'll receive a "Welcome Email" (it arrives in seconds). This email will contain a short FAQ section, along with a number of important links. One of those links is for the purpose of confirming your email address. This is part of Paxful's verification procedure.
Another link in the "Welcome Email" is labeled "Secure your account with 2FA." 2FA stands for 2-factor authentication. When you click that link, you'll be directed to a page on Paxful.com that asks you to set SMS verification. Note that you'll need to download an app called Google Authenticator to your phone. It's free and available for Android and iOS.
You'll also be asked to select answers two security questions.
Security Examples include:
– What city were your parents married?
– What was your major in college?
– What is the nickname of your oldest child?
– What was your first teacher's name?
You don't need to provide a source of funds to create your account. But you'll need to do so at some point before you buy bitcoins.
All in all, it's a very straightforward process.
How To Buy Bitcoins At Paxful.com
As I noted above, you have over 300 options for funding your Paxful bitcoin purchases. On your account dashboard, these options are separated into four main categories:
Gift cards
Cash deposits
Online transfers
Debit/Credit cards
When you select any of the above four categories, you'll be presented by a list of offers from sellers accepting that form of payment.
For example, if you select "Gift Cards," you'll see hundreds of sellers accepting iTunes gift cards, Amazon gift cards, Walmart gift cards, etc.
If you select "Cash deposits," you'll see offers from sellers accepting Western Union, MoneyGram, and Bitcoin ATM.
You don't need to upload an ID to buy bitcoins with gift cards or cash deposits.
But you DO if you intend to buy BTC with online transfers (Paypal, Skrill, etc.), debit cards, or credit cards.
*Regarding fees, here's the good news: Paxful doesn't impose any on buyers.
It only imposes them on sellers.
**Here's the bad news: sellers are allowed to charge a percentage fee to convert your gift cards funds into cash.
For example, suppose you have a $100 Starbucks card.
A seller could, at his or her discretion, charge you a 25% fee, which means you'll receive $75 worth of bitcoins when using your card.
Sellers charge varying fees.
You'll see the fees displayed in the list of sell offers, under the column "to pay – on the dollar." This column is sorted with the lowest fees on top.
When you buy bitcoins on Paxful, the bitcoins are placed into an escrow account.
Once your payment is confirmed, your bitcoins are released to you. This might happen instantly or it can take up to a few hours. It depends on your chosen payment method.
How To Store Bitcoins Purchased On Paxful
Remember, if you have any significant amount of bitcoin get yourself a quality hardware wallet (Trezor). Don't keep bitcoin on any exchange, Paxful included.
However, for quick in and out transactions, you're assigned a wallet as soon as you register your account and confirm your email address.
The question is, should you use this wallet for long-term storage of your bitcoins? No.
First, the wallet has relatively good security – as good as you'll find at most bitcoin exchanges. Two-factor authentication helps. So does Paxful's encrypted servers.
Second, you can use this wallet to store your bitcoins, send them, or receive them. All you have to do to receive them is provide the sender with your wallet QR code or bitcoin address.
Having said that, there are much better wallets out there. They offer stronger security and more features, and are therefore better for long-term storage. Here are several good options:
Cloud-based wallets:
– GreenAddress.it
– SpectroCoin.com
Mobile wallets:
– BreadWallet.com
– MyCelium.com
– AirBitz.co
Desktop wallets:
– Electrum.org
– BitcoinArmory.com
Hardward wallets:
– LedgerWallet.com (the Ledger Nano S is popular)
– Trezor.io
Any of the above will do the job, and do it well. I recommend choosing one from the above list to serve as your main wallet.
How To Withdraw Bitcoins From Paxful
You can withdraw bitcoins from your Paxful wallet to your bank.
Or you can send them elsewhere, such as another wallet (e.g. BreadWallet) or a retailer that accepts bitcoins for payment (e.g. NewEgg.com).
Paxful allows you to withdraw in either bitcoins or U.S. dollars. It charges no fees for withdrawals.
But you should expect to pay a small miner's fee on every transaction. This fee, given to miners on the blockchain, is currently set at 0.0008 BTC.
Paxful Jurisdictions (What Countries Support Paxful?)
As noted earlier, Paxful.com is a peer-to-peer Bitcoin exchange.
This aspect all but eliminates jurisdictional barriers.
You can use the service to buy bitcoins whether you're in the U.S., UK, India, Japan, Mexico, South America, or practically anywhere else in the world. The key is finding a seller who's willing to work with someone residing in your country.
If you live in the U.S., you won't have a problem.
Nearly all sellers are receptive to U.S. buyers. The pickings are slimmer if you live in Russia or China.
Some sellers add Russia and China to their "disallowed countries" list. This prevents their offers from being shown to folks residing in those countries.
Is Paxful.com Easy To Use?
I've found the user interface to be completely intuitive, and suspect that most other people will, too.
Every important feature is clearly labeled. So there's no confusion regarding how to get started, whether you want to buy bitcoins or sell them.
Within your account dashboard, you'll find easy-to-read buttons that'll direct you to where you need to be to buy BTC, send or receive them, or set up 2-factor authentication. There's also an ever-present "Help" button that leads to a comprehensive FAQ section.
If you DO have questions about where to find something, you can reach out to customer support (more on this in a moment) or ask for help in Paxful's support forum.
Security At Paxful.com
Paxful has solid security measures in place to safeguard the bitcoins in your wallet. These include SMS verification, 2-factor authentication, security questions, and heavily-encrypted servers.
Keep in mind, these measures, which are standard at the most reputable bitcoin exchanges, aren't impenetrable. A talented, motivated hacker can still potentially get into your account. This is the reason I recommend using an off-site wallet for long-term storage of your bitcoins.
Paxful also has a review system, similar to ones used at eBay and Amazon. You can tell, at a glance, how many transactions a seller has completed, as well as the number of positive and negative comments left by buyers. Use this system to your advantage; it's a good way to identify trustworthy and reliable sellers. Beware of those who have received a lot of negative feedback.
Paxful Customer Support Options
There are a number of ways to get in touch with someone at Paxful. The first, and arguably best, approach is to email the company at help@paxful.com. Expect a response within a couple hours.
You can also use the chat function. You'll find the trigger button that launches the chat feature at the bottom right of your screen at all times. The problem with chat is that it can take a long time to get a reply. That means you may have to sit around waiting for help.
My advice is to reach out via email and describe your question or problem is precise detail. That'll prevent having to communicate back and forth, wasting time in the process.
Another option is to call Paxful on the phone. Their number is 1-865-272-9385. As you might imagine, this tactic is more effective during regular business hours.
Finally, you can reach Paxful through their Facebook page.[1] Expect to receive a quick response. But the jury's still out on how helpful the response is likely to be. After all, Facebook isn't Paxful's primary support platform.
Pros & Cons
Available virtually everywhere.
300+ payment options
Established sellers to choose from.
Frequently Asked Questions
Do you buy directly from Paxful?
No, Paxful is not a broker but a P2P exchange. You are buying from individual sellers. Paxful acts as a security blanket (escrow) to make sure both you and the seller are protected in the transaction.
Do you have to provide ID?
No and yes - it depends on how you buy and who you buy it from. Gift cards can be anonymous but credit cards and debit cards require ID in most cases. Some sellers require more ID than others. You can see which sellers require ID and which do not by scrolling through the existing offers.
Final Thoughts On Paxful.com
Overall, Paxful is a great service. As a buyer, the fees imposed by the exchange are minimal (you just need to pay a nominal miner's fee). Plus, you can purchase bitcoins using any of over 300 payment methods. That's astounding.
In my opinion, there are three challenges with buying bitcoins through Paxful. First, there seems to be a high number of dubious sellers on the site. You can avoid them by only purchasing bitcoins from reputable sellers (the ones with a lot of positive feedback).
Second, responsiveness from Paxful's support desk is a bit slow. It's great that they offer a chat function, but sitting around for 20 minutes waiting for someone to reply is frustrating.
Third, some of the sellers charge usurious fees, particularly when it comes to gift cards.
Bottom line: if flexible payment options are important to you, and you're willing to do a modicum of due diligence on sellers, I recommend you check out Paxful. It's a solid P2P bitcoin exchange that rewards the cautious buyer.