Your Ultimate Guide to Setting up a Swanbitcoin Account
As promised, keep scrolling down if you just want to check out an update shortly after this was written, followed up by a 6 month update!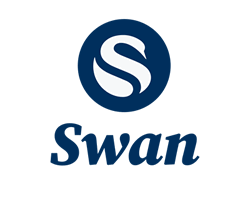 It doesn't matter if you are a regular reader here or someone that's brand-spanking-new to the site. You'll probably fall into one of two camps. The returning reader probably wonders something once in a while, whereas the new reader probably has the same though immediately upon landing and just looking around:
"Just how legitimate is 'bestbitcoinexchange'? Do they actually use these goods and services themselves or are they just trying to sell me something in the long run?" and they would be right to do so!
Well, we can promise that we do actually use these things that we're trying to hawk over here, and there's not much else we can do except for just bring you along while we set up our own accounts and services over at Swanbitcoin and let you see what it's like for yourself!
Starting from today (and updating as need be), we're going to tell you a bit about who they are, followed by starting up a new account over at Swanbitcoin and do some light investing and all the while bringing you along step by step and then do a full review. So come along! Let's get on this!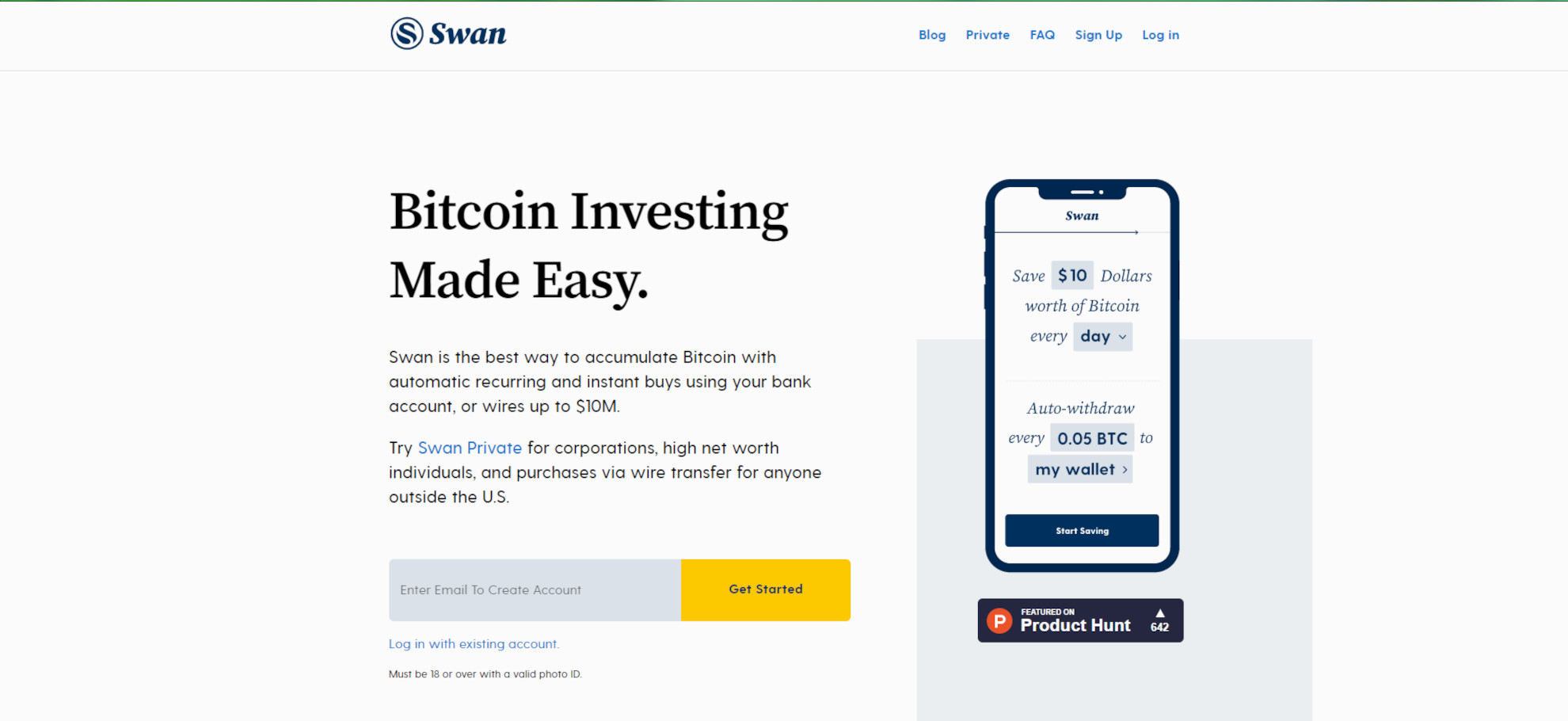 Who or What is Swanbitcoin?
Swanbitcoin, (hereafter known as just Swan) is a site that would like to tout the following tidbits, (these are all coming from their site front page as well as their FAQ section).
Swan is the best way to accumulate Bitcoin with automatic recurring and instant buys using your bank account, or wires up to $10M.
Swan is a recurring Bitcoin purchase plan to help you save value in Bitcoin. We believe that Bitcoin is the best savings vehicle that exists and that Bitcoin will become exponentially more valuable in the coming years.
With Swan, you can make one-time purchases funded either via a wire or Instant ACH. You can also sign up for a recurring plan with Swan and select how much money you want to save in Bitcoin and how frequently (every day/week/month).
We then automatically pull funds from your bank account and buy Bitcoin for you. We do not know when the price will be high or low, so we just buy consistently.
After your purchases are completed, you can withdraw your Bitcoin manually or you can set up an auto-withdrawal plan that automatically withdraws Bitcoin to your own wallet.
Okay, so it's looking as though Swan is the kind of site where you can go and buy some bitcoin, but unlike pretty much every other exchange out on the market, bitcoin is the only crypto you can buy there. However, that's not really the point of your Swan account either. While it's true that you can go to Swan and just flat out buy some bitcoin, the idea here is that you aren't buying great big chunks at once, but rather a set-it-and-forget-it investment account that's just going to keep purchasing bitcoin on your behalf until you tell them to stop.
I personally believe that one cannot have too many savings or investment accounts so I'll give them a try! Let's get started off making our account!
Some Quick Fine Print
Of course there's some fine print going on over at Swan so let's just get it out of the way! The bullet points here are directly from their site.
You can pause or cancel your recurring deposit plan at any time
Well, that's good. It's nice to know that if a problem occurs, say the car won't start or the stupid dog ate something bad and needs to go to the vet, you can just pause for a week or two to get your finances back in order and continue, or just cancel the service if you decide that it's just not for you.
Prepaying your fees for the year gives you our lowest rate
Naturally, there are going to be fees. It's nice that you can save some dough and just pay them all at once if you feel this is a service you're going to keep using for a bit.
You can update your recurring contribution at any time and pay the difference in fees
"I want to keep doing this but I need to start spending a little less" or "I'm doing great right now and I kind of want to up the amount I've been investing". Either of those things can happen in life so it's good to know that it can be changed at any time.
Bitcoin purchases of $2500 a month or less will be available for withdrawal after 10 days. If your bank transfers bounce the bitcoin will be returned
Makes sense. Funds need to clear and if your deposit bounces they're not going to up and give you money/coin anyway!
This last point is paraphrased a little bit, but it come down to this: You can always skip setting up a recurring account and just flat out buy come bitcoin at any time.
"Screw it! Just give me a couple hundred bucks worth right now!"
Well, looks like you could do that if you really wanted to!
Signing up at Swanbitcoin
Signing up over at Swan is super easy, I really cannot think of a way that they could've made it any easier.
Enter your email address, easy enough from the gate. It should go without saying that this is all part of your personal finances here. Use your real, main, email address. Don't go and use a gamertag email or some other throwaway that you may forget over time.
Immediately after this you'll be given instructions to go and check said email and click on the verification link. Once you do that you'll be given a 4 digit passcode and taken back to Swan. Enter in this 4 digit code and it's time to enter in some more information.
Now you're going to enter in your phone number (easy enough) and then click on one of the buttons that correlate to your situation. You'll have the following options:
Yes, I have a SSN, text a link for US verification
No, I do not have a SSN, text a link for international verification
I would like an account for a corporate treasury, trust, checkbook IRA, or other entity
Choose whatever fits your needs. I entered in my SSN and was on my way to the next step.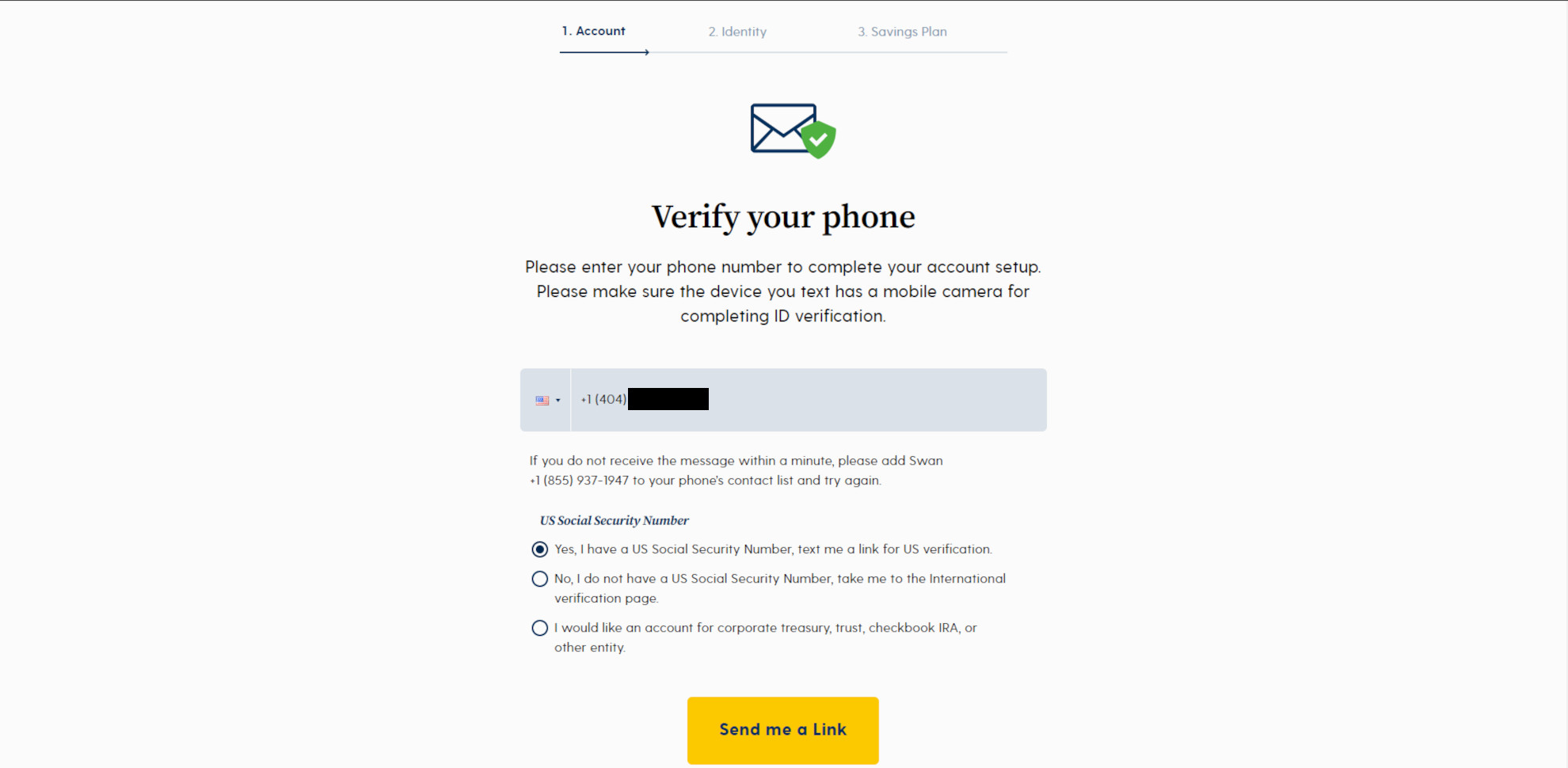 Immediately after this step you are asked to reconfirm your phone number via a link that was sent your way by text. The next few steps are going to be done on your phone.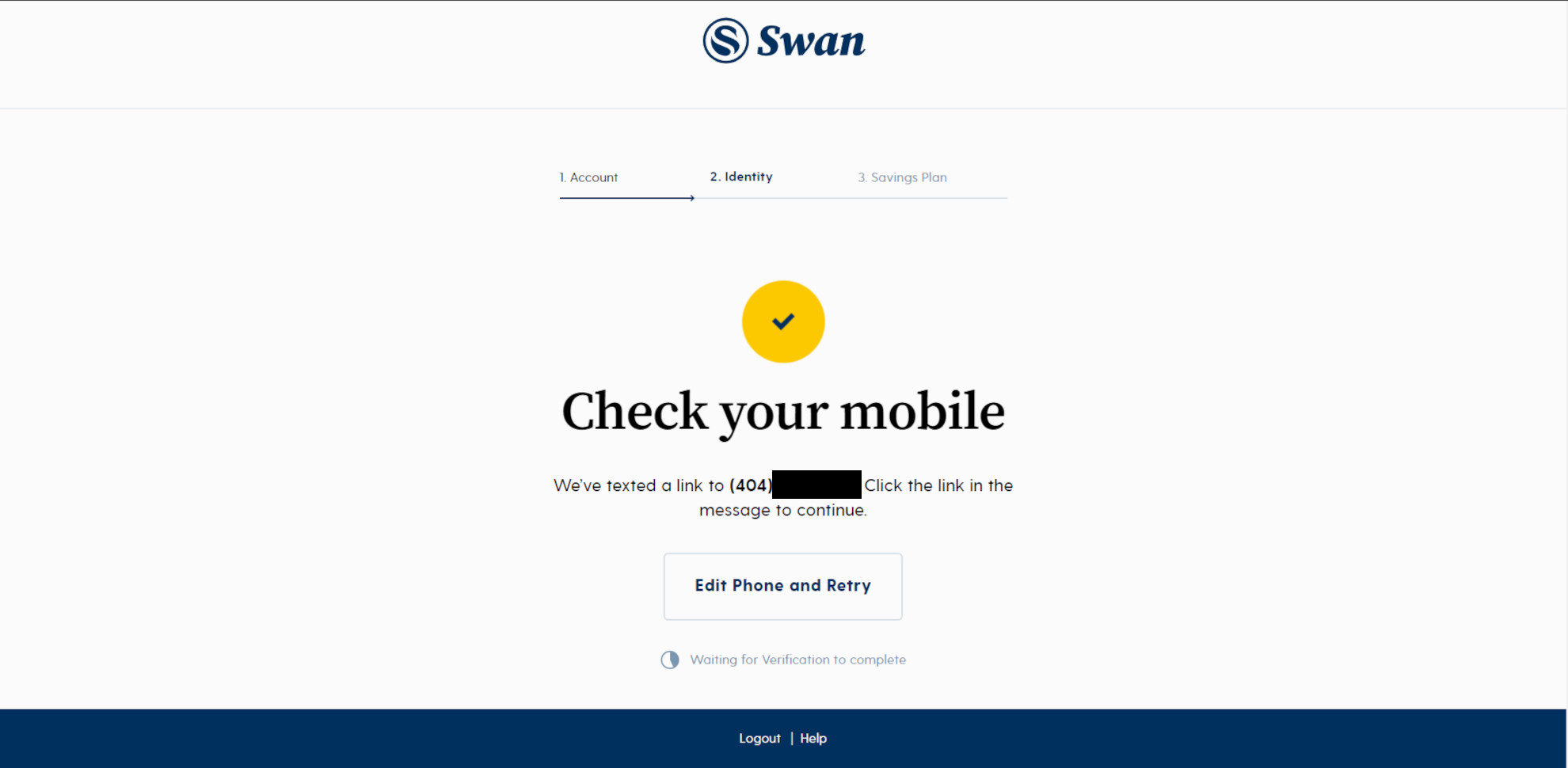 Now, You're going to be asked to take a picture of your ID. Make sure that you get the front and back, all corners are in the pictures, lighting is good, lettering is clear. If you went with either of the "do not have a SSN" steps, I have no idea what happens from there.
Once you have taken a couple pictures of your ID you will be asked to take some photos of yourself. Selfies as the kids call 'em nowadays. This will be as simple as looking at your camera and lining up yourself in the outline and moving your head slightly when the camera tells you to. Admittedly, I had a hard time with this but I think it was just an easy fix with a lighting issue. I was having a hard time until I turned on my desk lamp and got a little more light action going on and then everything worked out just fine.
Getting Started with Swanbitcoin
Now that all of your information is entered, you're all ready to go and decide what you want to use Swan for!
Right away you are presented with a screen that is pretty self-explanatory. The words state,
"Save _ Dollars Worth of bitcoin Every _ "
with the options for you to fill in the 2 blanks there. You can type in almost whatever amount you would like to buy in the first blank spot, and on the other blank you will fill it in with "day", "week", or "month".
Note that $10 is the minimum amount you can enter and there are no decimals, just whole dollars here. If there is a maximum we don't know what it is. This is my real account and I didn't want to enter something in just to experiment and ruin myself.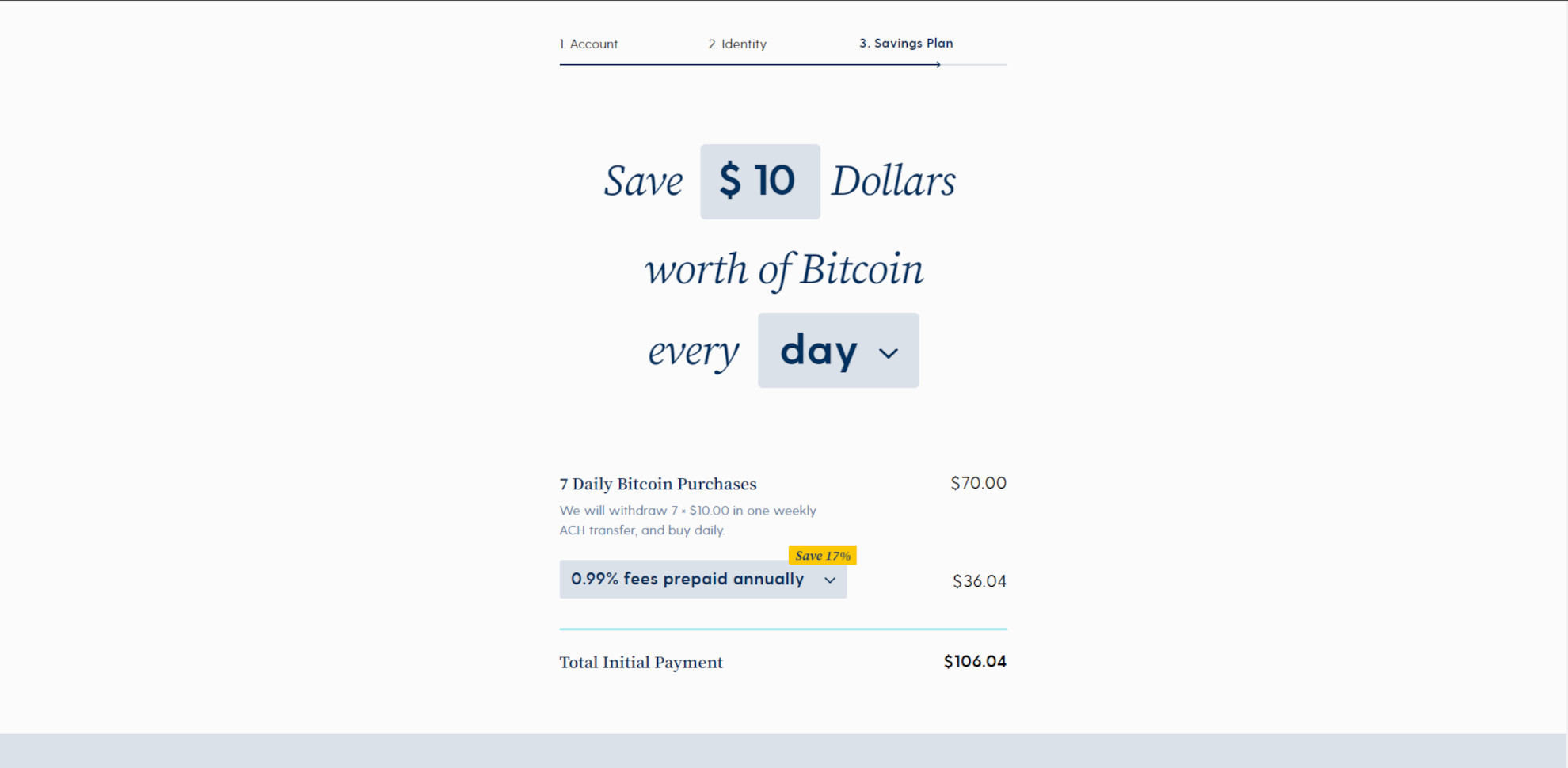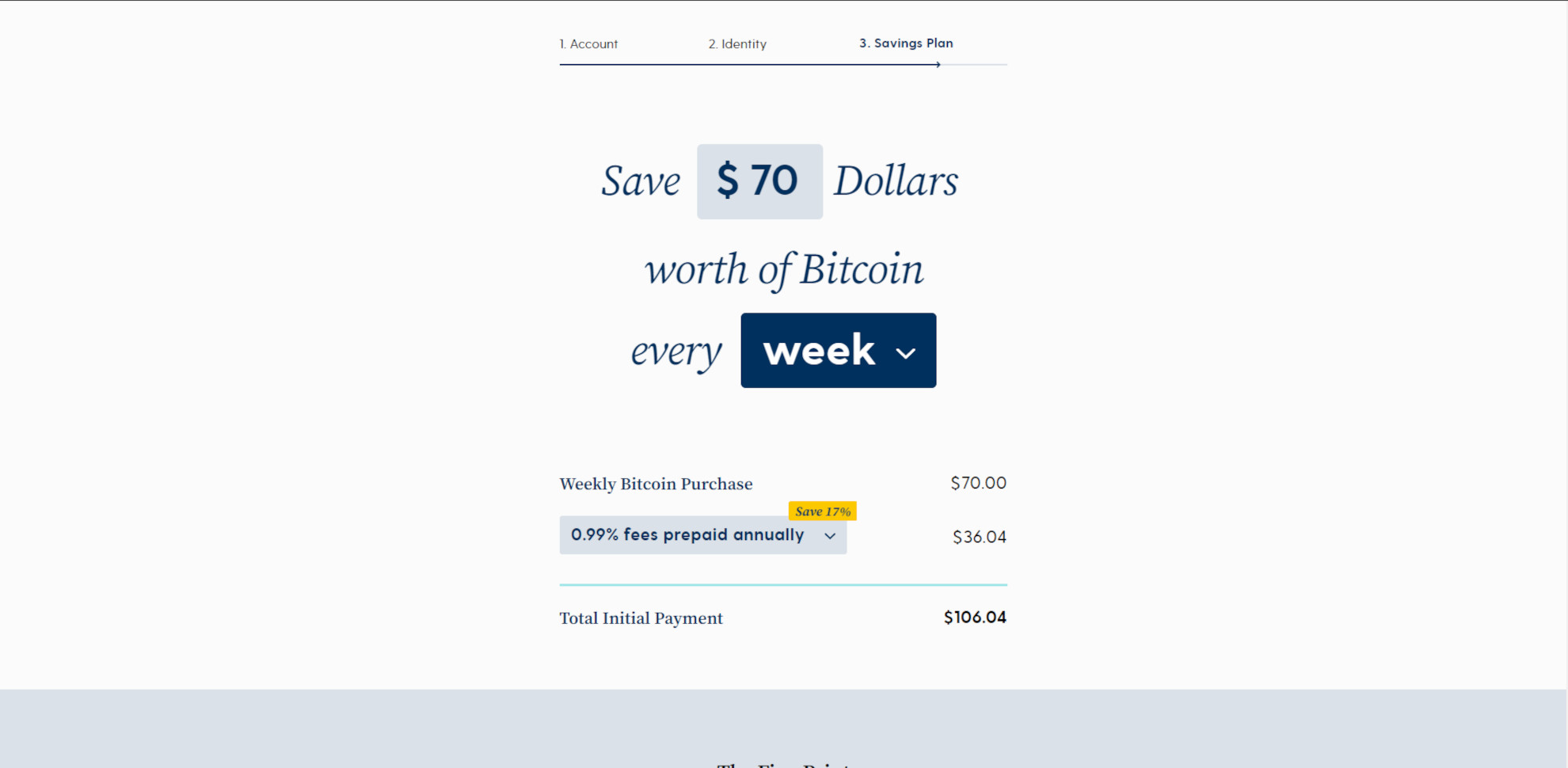 Take a look at the two images just above and you'll see something. You'll see that you are going to be charged an amount for fees, (makes sense) but those fees luckily don't change just because you want to do some purchasing at different times. Whether you want to buy every day or the same amount over a week for example, those fees stay the same price. You can also pay a little more in fees but not buy the whole year at once.
I bit the bullet and just paid the annual fees right away. I also went with the option to buy $10 a day, daily, so right away I was looking at a total of $106.04. Not horrible for an investment.
The screen will now change to show you what you have agreed to and you just need to click on a couple of agreement boxes, as below.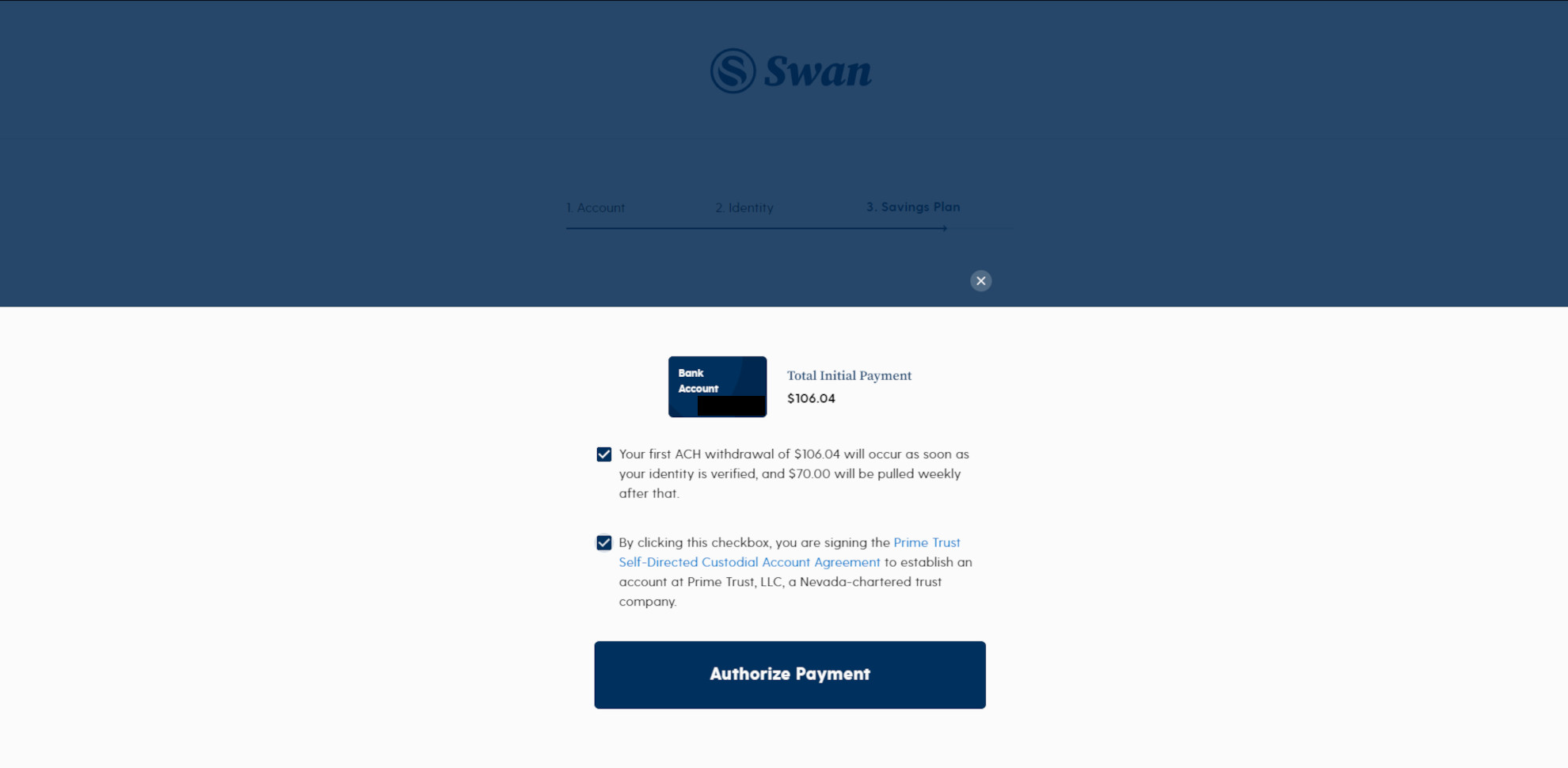 Looking at the image just above there we see that (in the case of what I had set up) my first ACH withdrawal of $106.04 will be taken out as soon as my identity is verified and an additional $70 will be taken out weekly after that.
The other checkbox says that I understand that I am signing the Prime Trust Agreement blah blah blah, and I'm good to go!
Where Does the bitcoin Go?
Now a good chunk of what Swan is offering is not only the "auto-buying" of bitcoin on your behalf, but also auto-withdraws.
While setting up all of your stuff and your info, you're going to be presented with a slider. On this slider you'll choose how much of your bitcoin you would like to be auto-withdrawn. The choices seem to be:
Weekly, (no matter how much BTC you have)
0.01
0.025
0.5
As for me? I went with the auto-withdraw when I have 0.025 BTC ready to go. Combined with my $70 a week, you can say that I'm not in for the long haul, but not really for the little haul either. I guess you can say that I'm in it for the medium haul.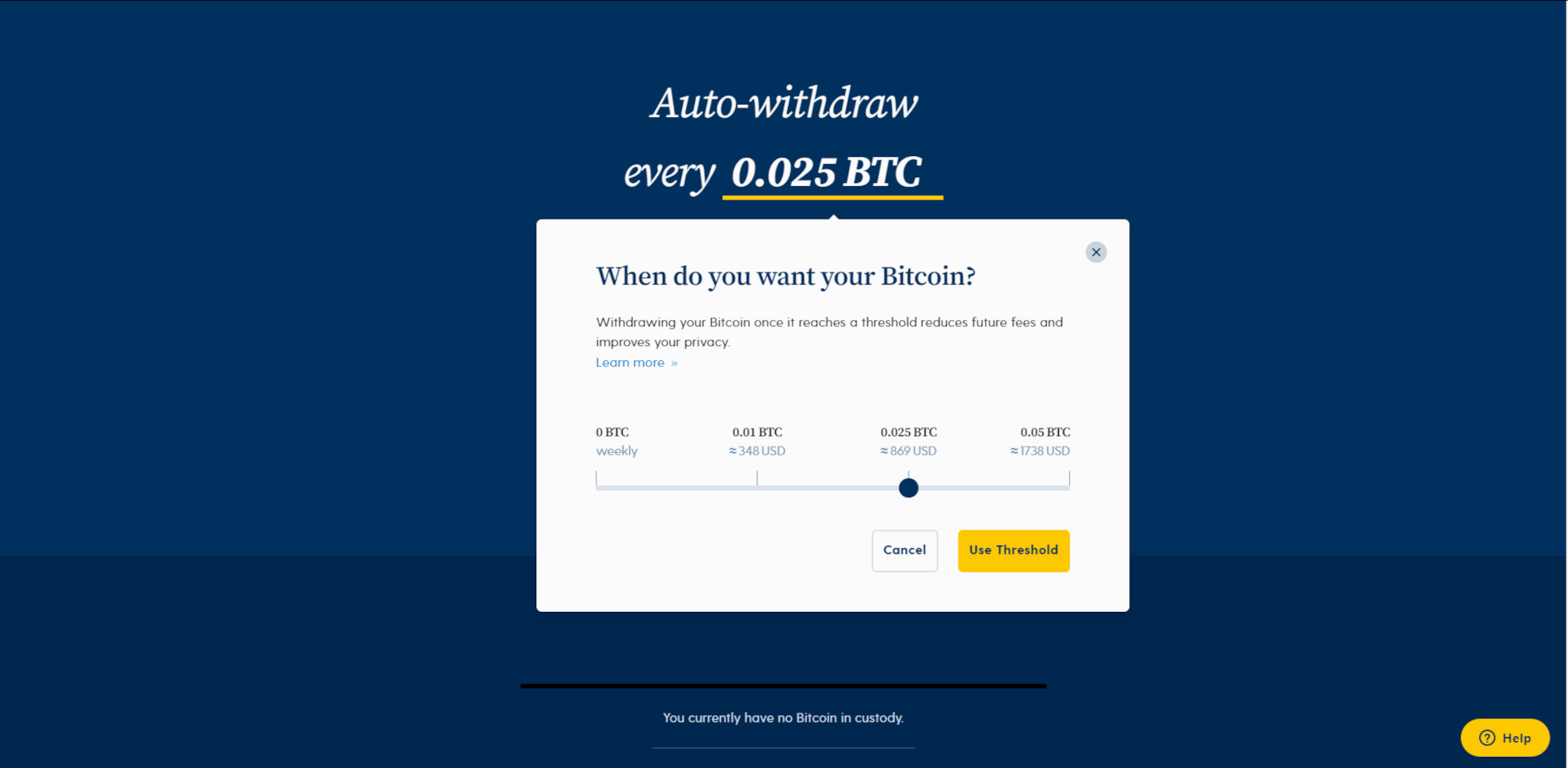 As for where this BTC actually goes, you're going to have to set up your wallet. If you get stuck here or just need to know more about wallets in general, check out this article here.
Now, before you get to the wallet details, Swan is going to make you set up a two-step authenticator. Pretty sure that you can use whatever authenticating app you want for this, I use Authy App. I'm not necessarily going to endorse them, I'm not paid by them in any way, but this is an app I have used for years for various authenticated accounts and I have never had a problem with them. For Android you can find it in the play store under the name Authy and while I cannot guarantee it, I don't imagine it being any different for iPhone users.
Now you also do not have to enter any wallet information for a while you don't want to. Swanbitcoin will hold them for you in their cold storage until you're ready for them to come out or when you reach the threshold that you entered earlier.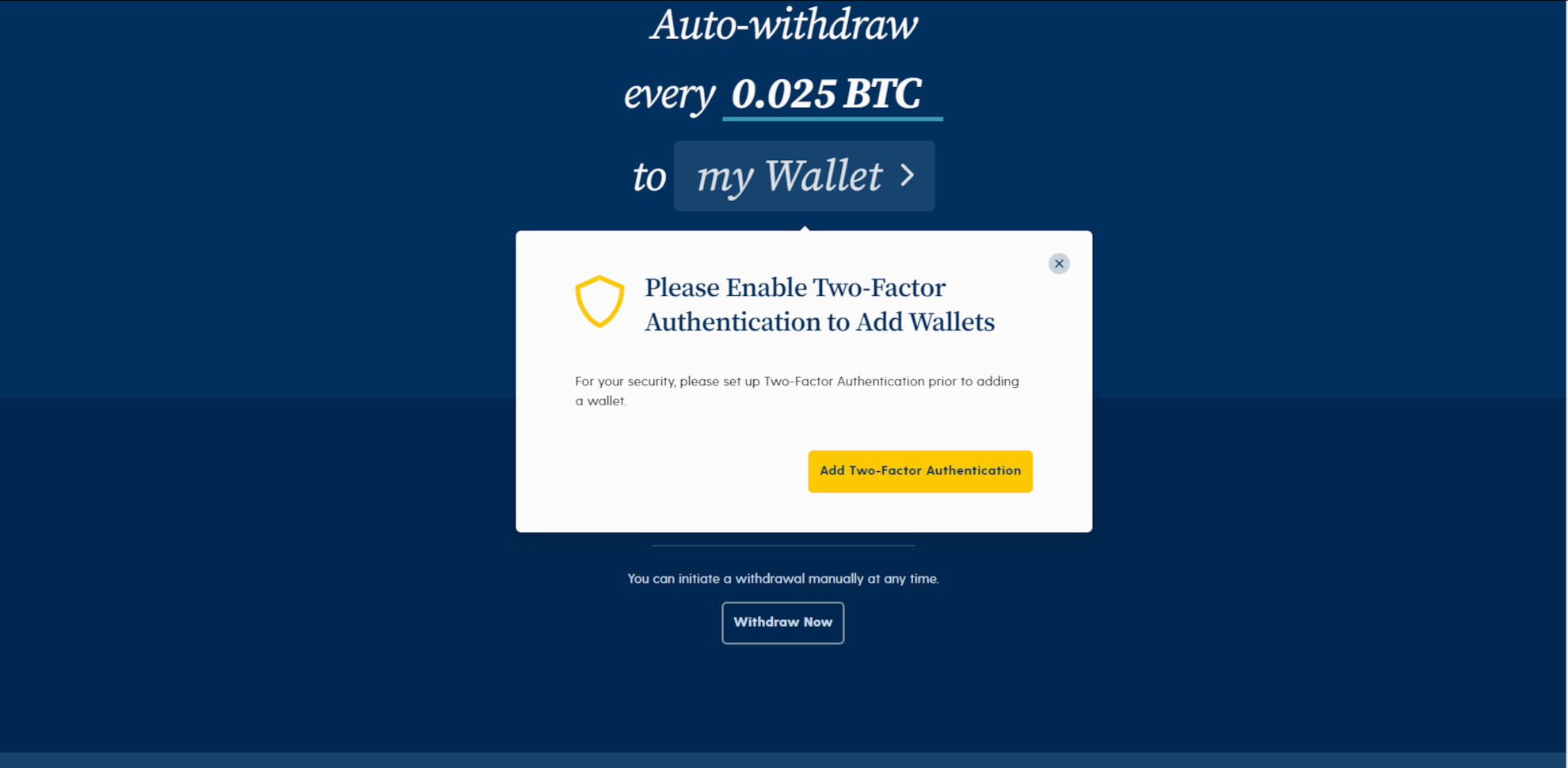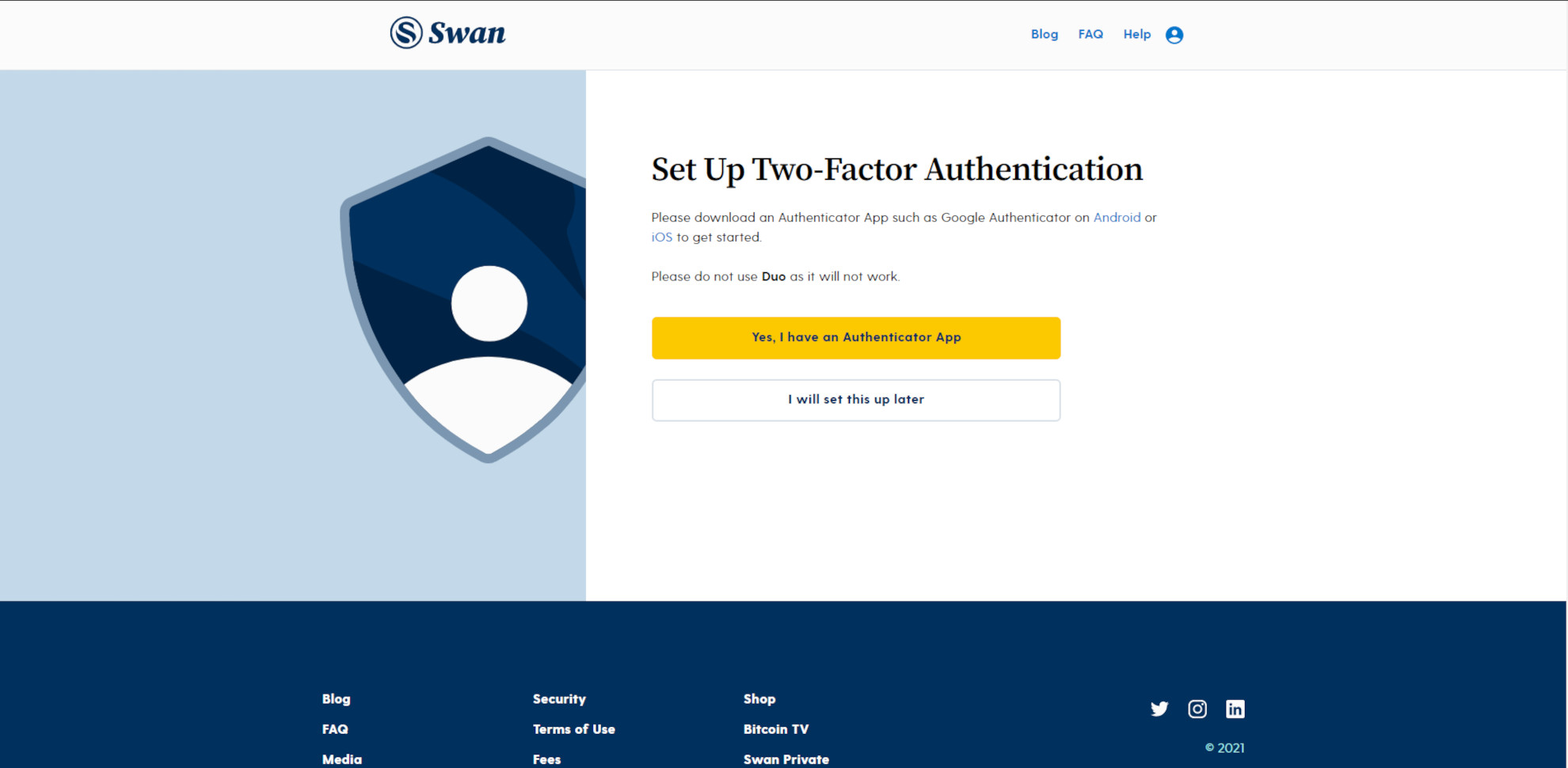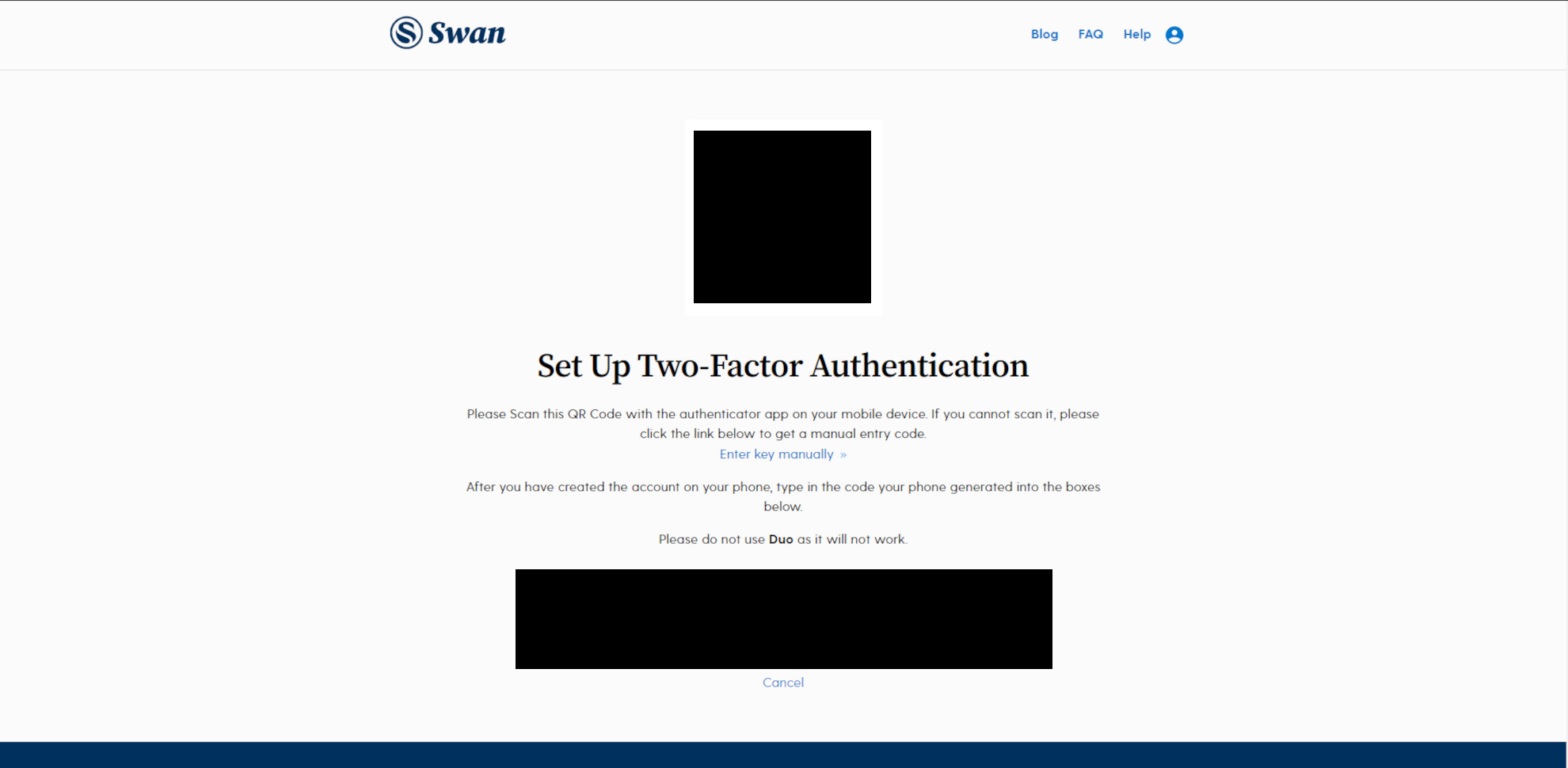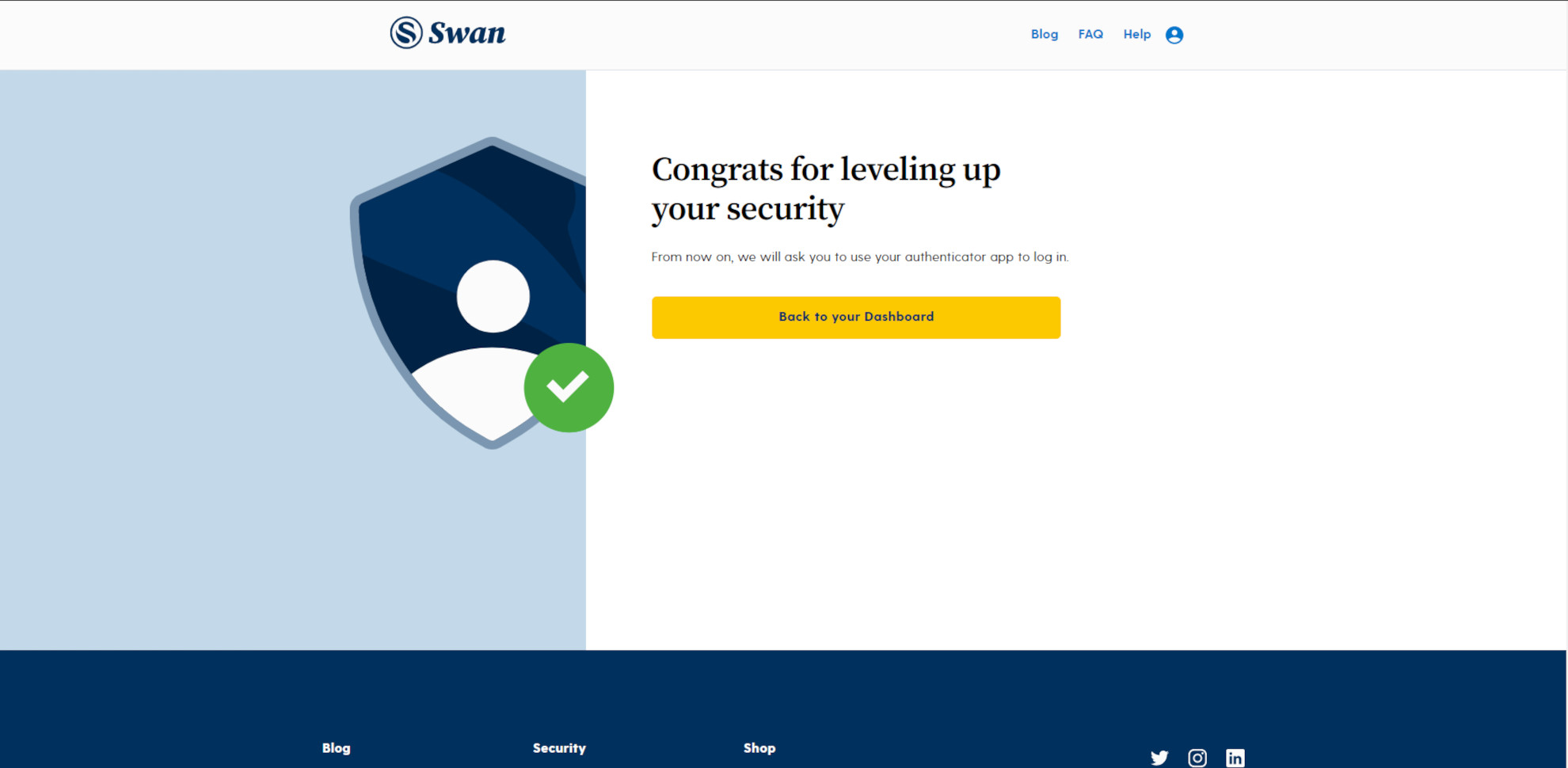 And this is almost it, we're getting close to the end. After you have your 2-step information entered it's time to enter the information for your wallet. Once again, refer to the above linked article if you need any wallet help.
Connect and confirm your wallet. Swan will remind you to name your wallet whatever you want, but DO NOT put any personal or identifying information on it.
For example, you can see that my wallet is called Trezor just because that's the type I'm using here, but I'm not calling it Trezor in desk drawer or anything of the sort. Want to know where I keep it? Ha! Good luck IRS!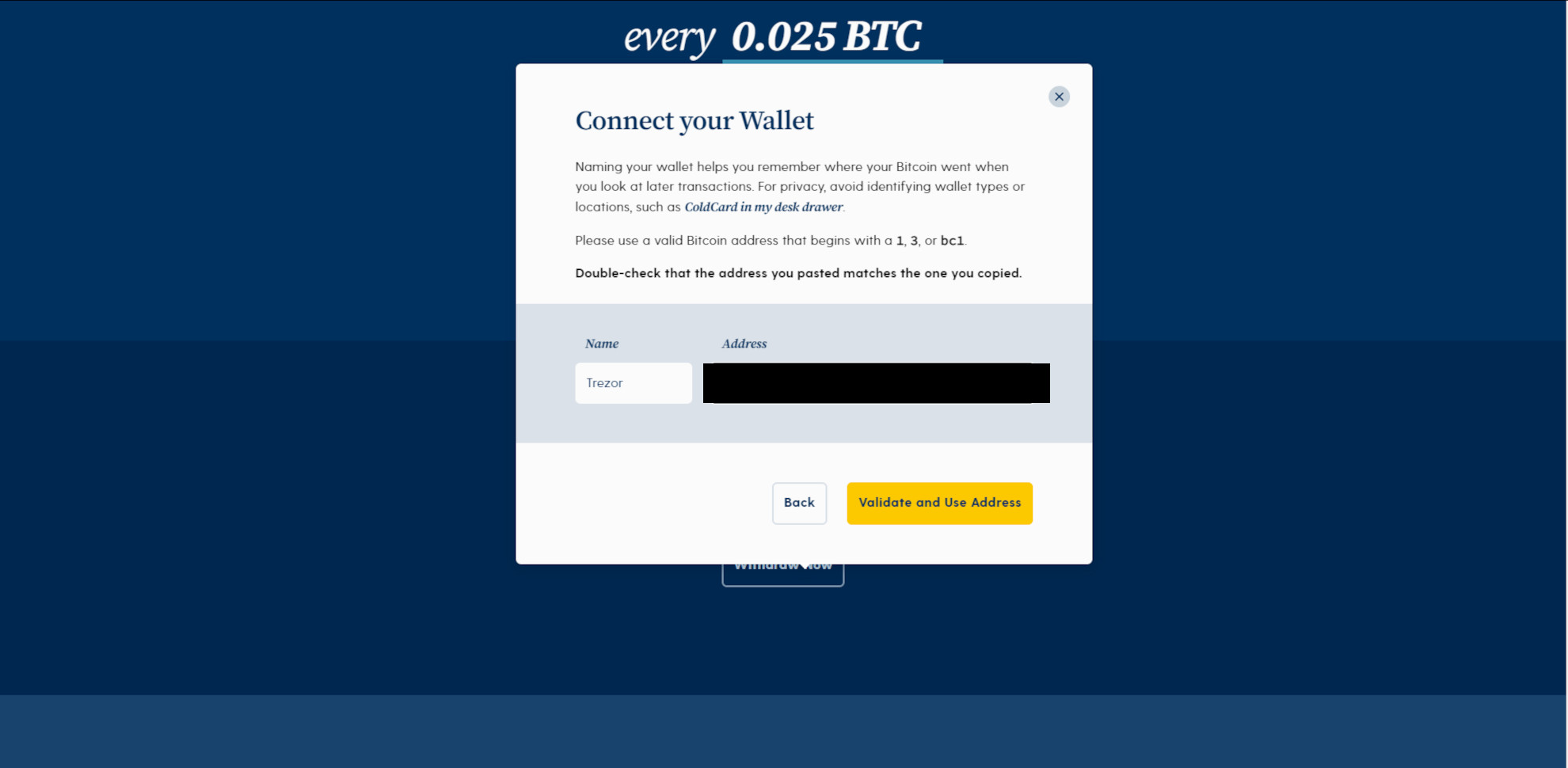 But moving on, once it's connected and confirmed, we're done! That's it, not I'm just waiting for Swan to but some BTC for my while I can look at it everyday or I can essentially forget about it for a while and just let it do it's thing until I decide that I would like to cancel the service.
Let's look around the site now that I'm all done and registered!
Bonus BTC?!
Up until now, we have looked all over the Swan site and tried to learn a little about it before actually spending any money.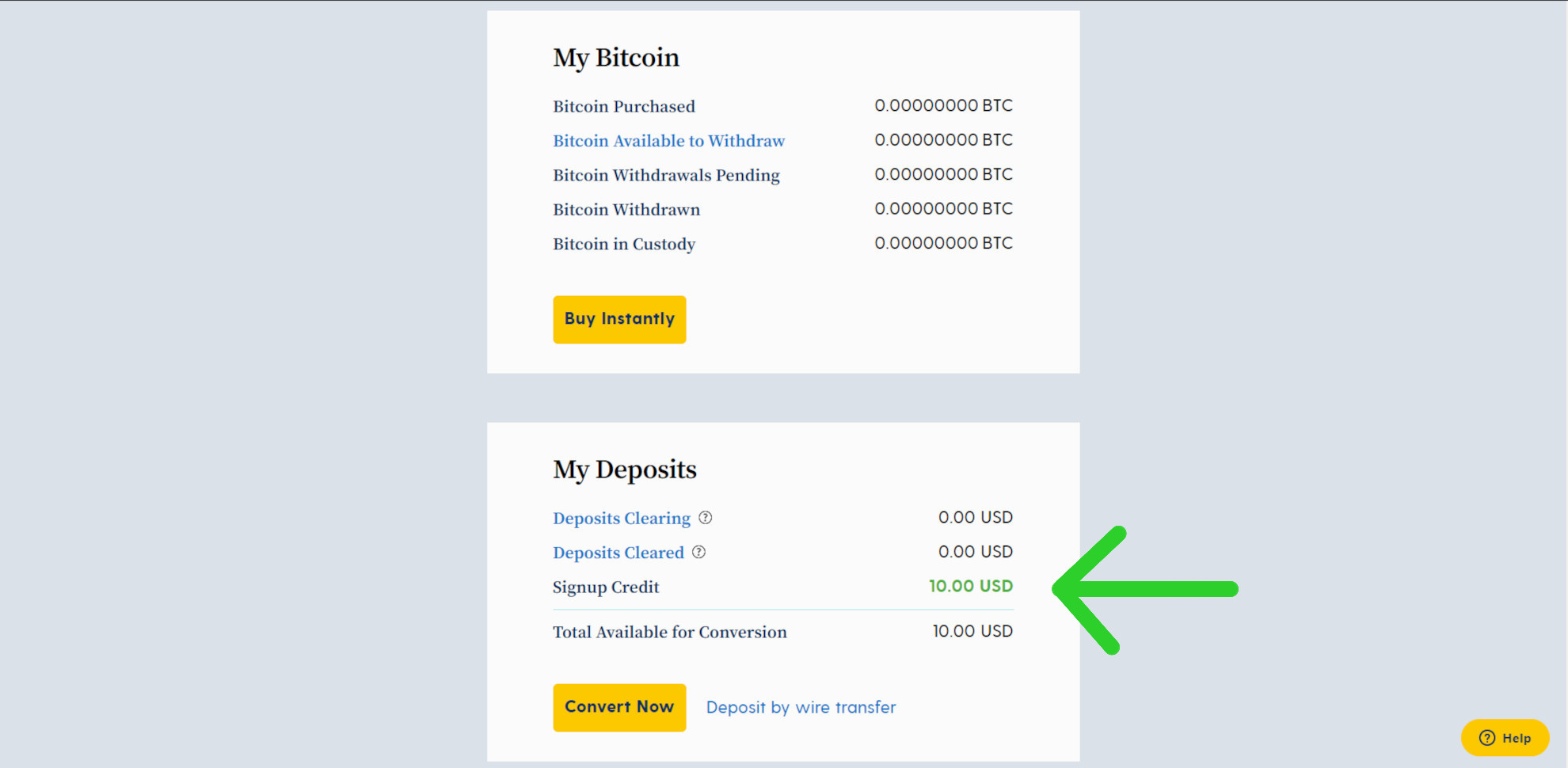 This was complete news and a very nice surprise since I wasn't expecting it, but as we start to look around we see that I got a $10 Bonus Credit just for signing up! I wasn't expecting that at all, so that's a pretty nice treat! Obviously I cannot guarantee anyone else will get that since I wasn't expecting it either. Maybe if you set up an account for more money you'll get a bigger surprise bonus? I mean, who knows?
Finished and Done
And with that, we're all done, there's nothing left to do except for just wait for time to go by and wait for Swan to buy us some BTC.
Let's look at some images that just show you around the site.
Actually, there's not a ton to check out on the following images since the account is brand new and nothing has really been done yet. The only thing we can say here is come back in a week or two and there will be an update to this to check out what changes have occurred!
And once again, when you decide that you're ready to come see what it's about, click right here to be taken straight over to Swanbitcoin!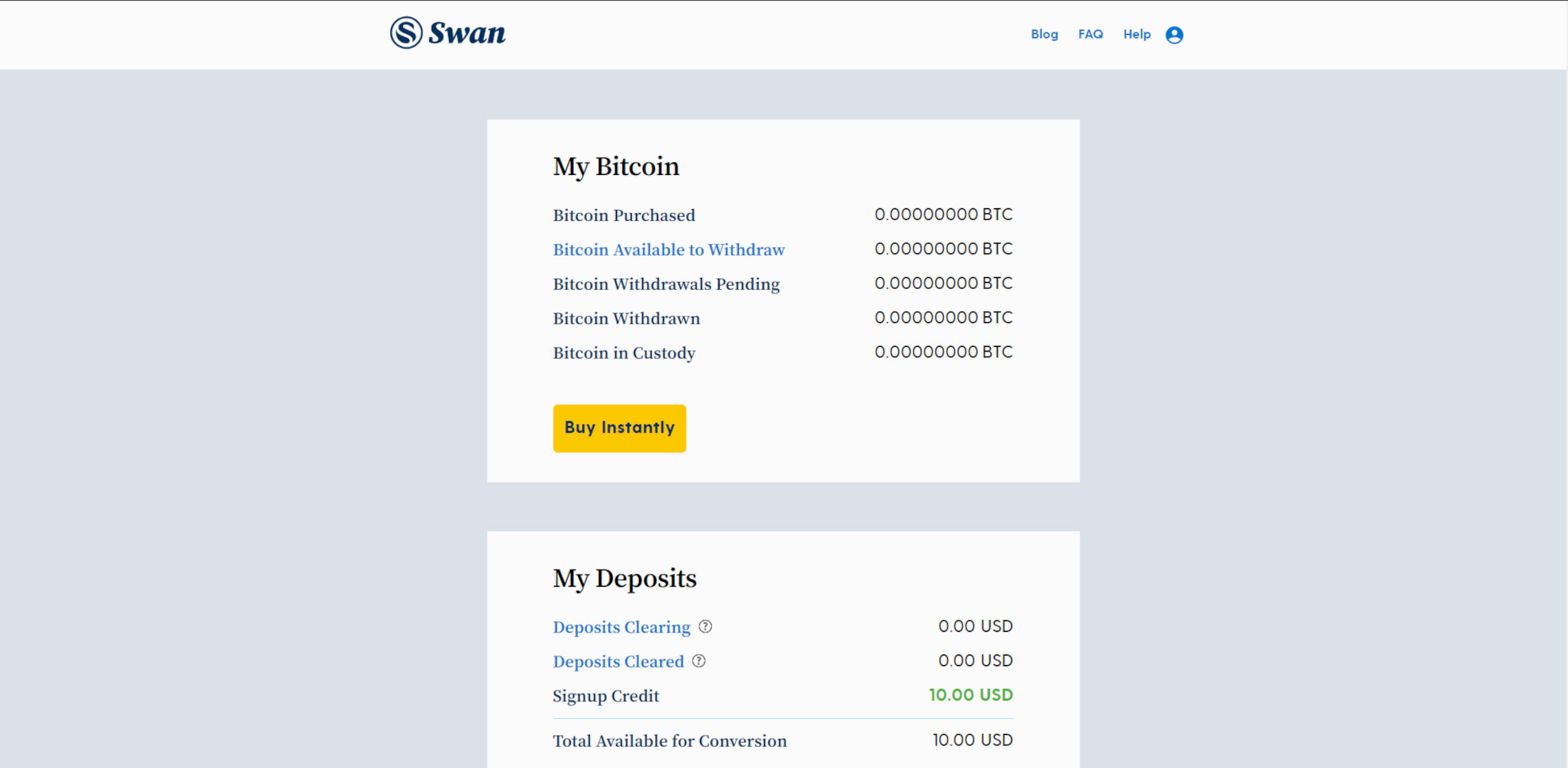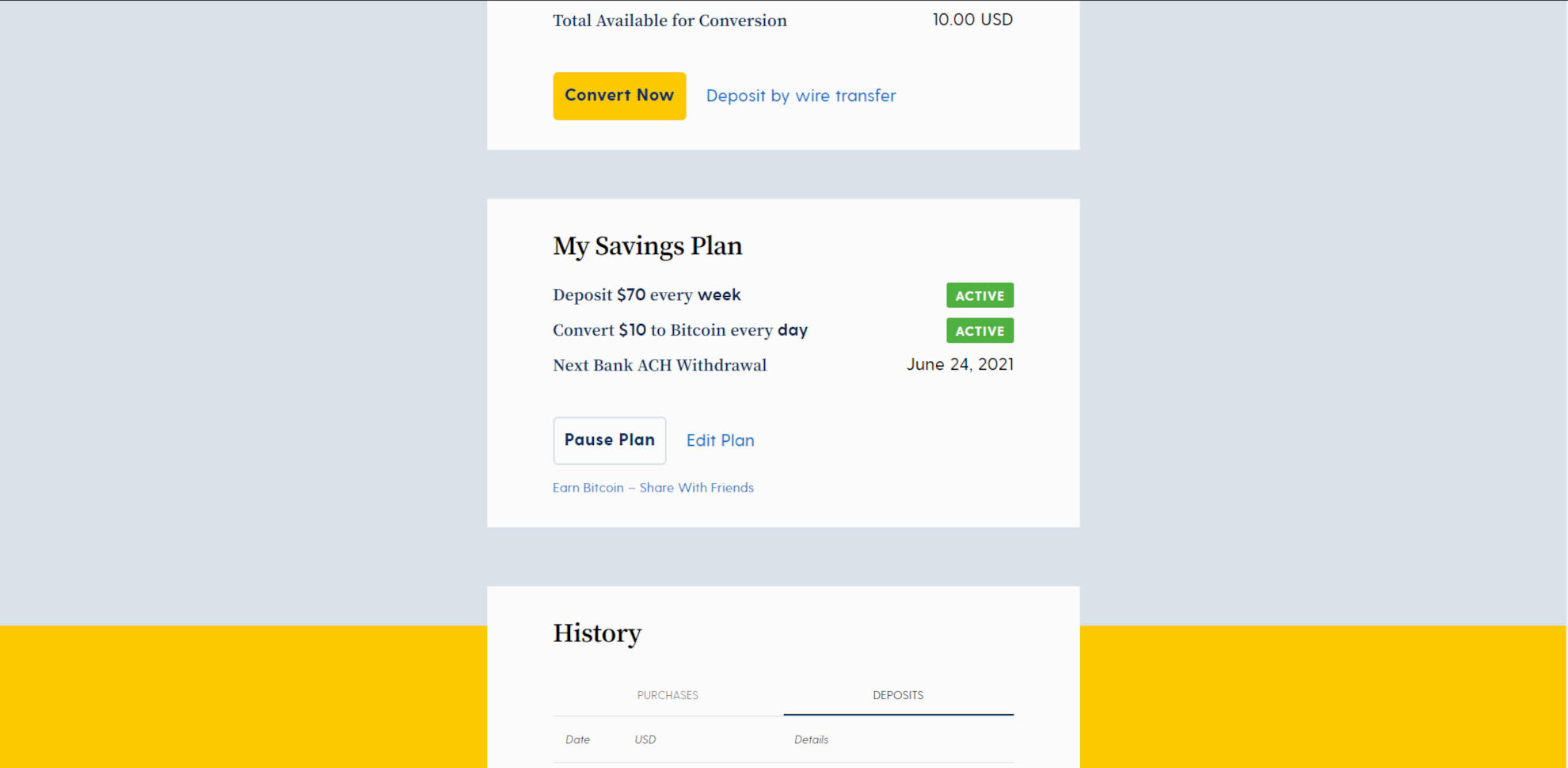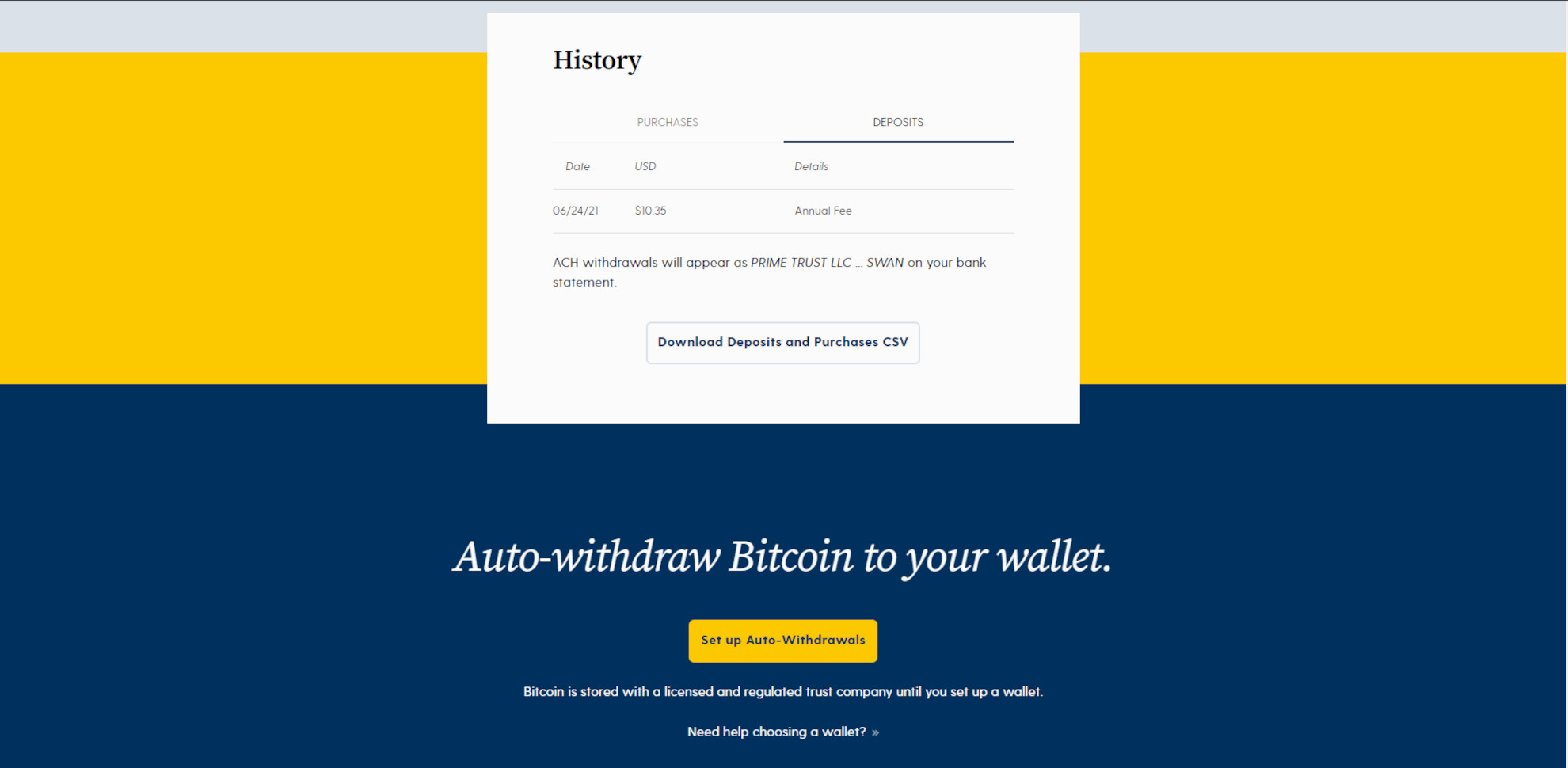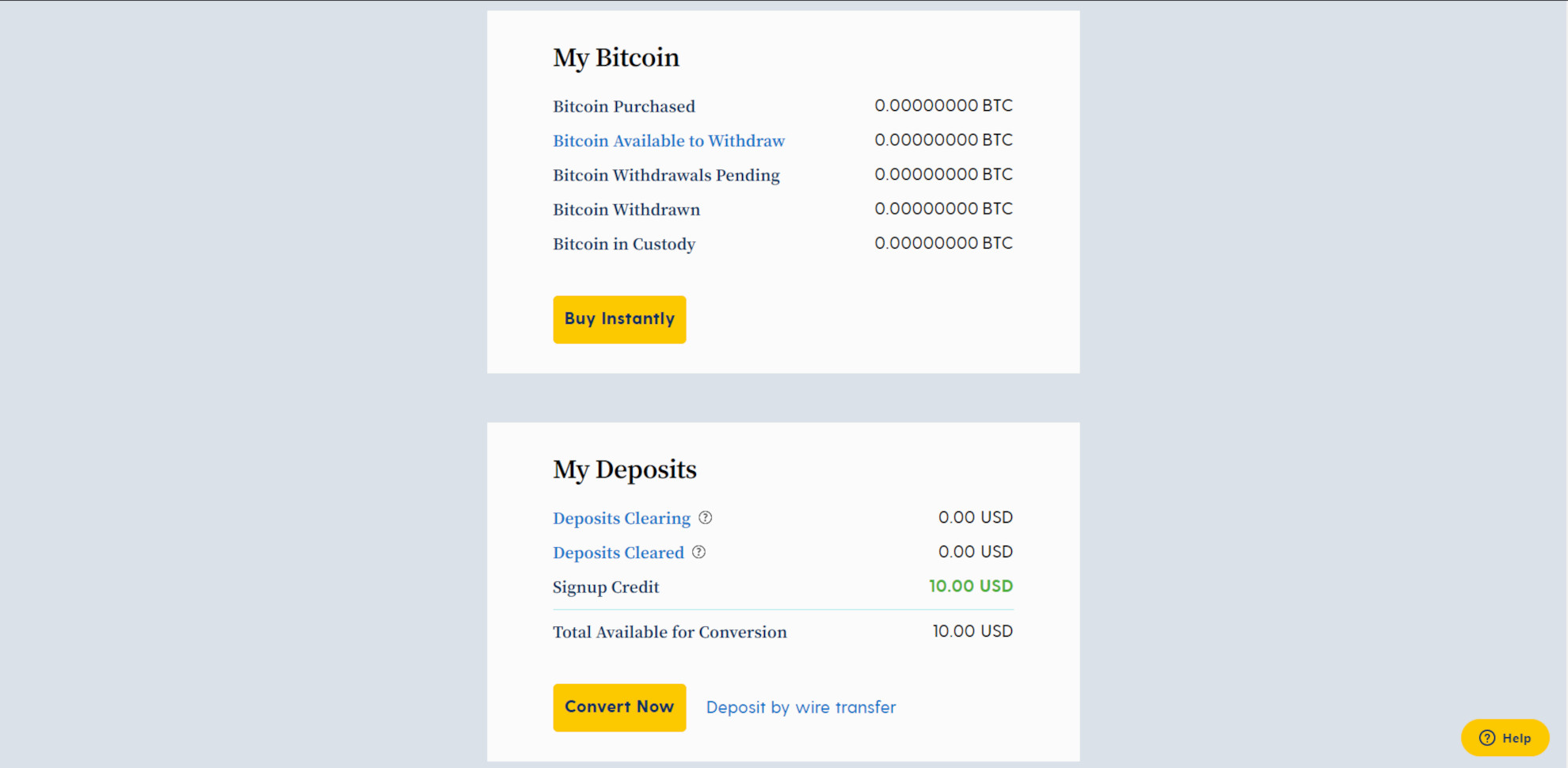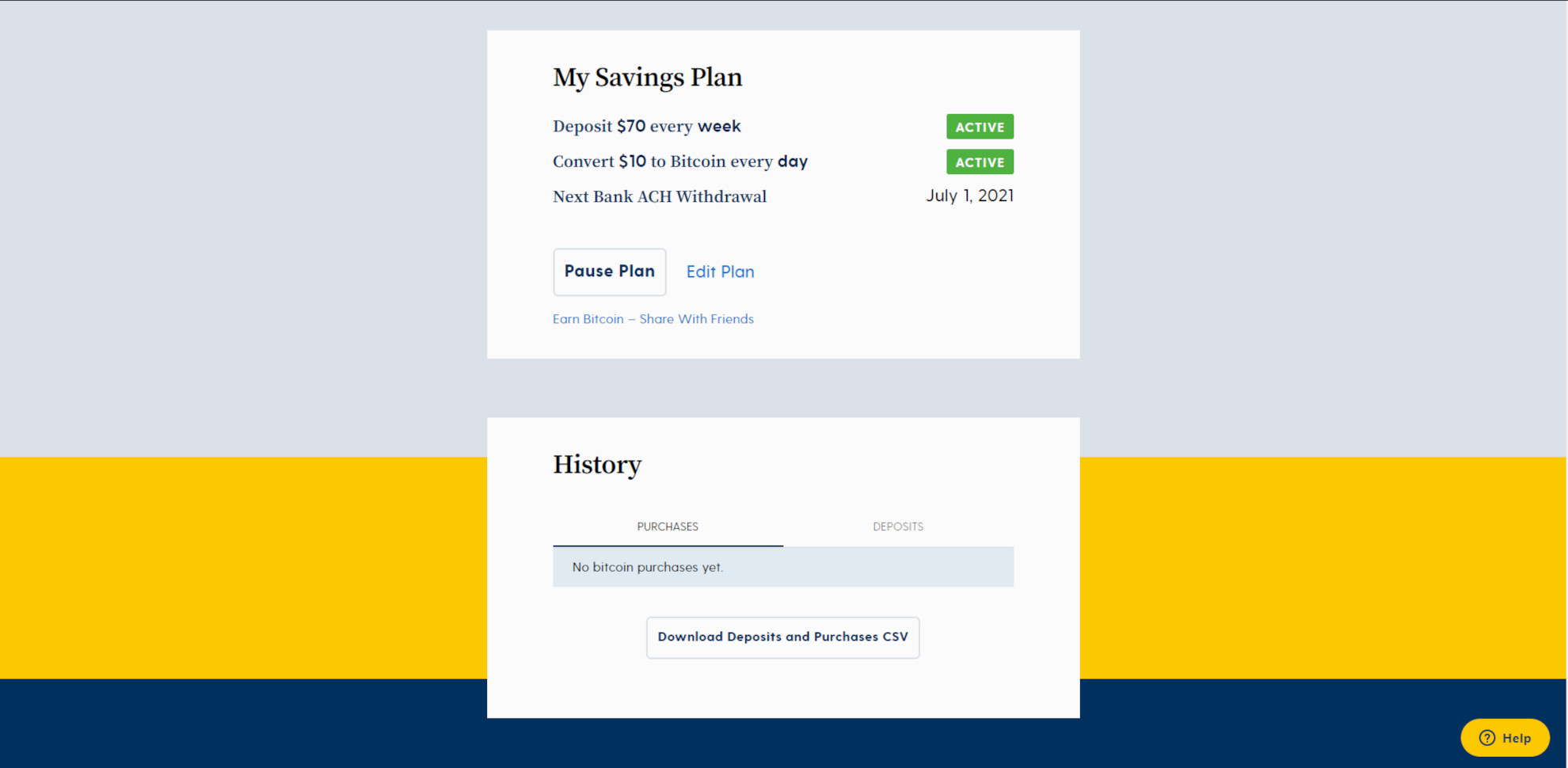 Conclusion: That's it! We'll see you in a week or two!
Before you dip out, make sure you also take a look at these!
The Week (or so) Update
It's been a couple of weeks or so since I opened up my account. How's Swanbitcoin been working out? Let's see!
As soon as I log back into Swan, I'm greeted with the following (long) page. Let's take a look at each of these sections here.
With this first image we see the following information:
How many satoshi's I have bought, or saved.
A "Satoshi" is the smallest amount of an individual bitcoin or 1 millionth of a bitcoin. It can be represented by 0.00000001 BTC.
How many deposits I have made over the last 15 days.
Makes sense at my agreed upon $10 per day.
The current value and change of my purchased BTC.
So I'm currently down 3.74%, or $5.61. That sucks, but it's okay. At some point last week I looked and was up like 6 bucks at that time. BTC fluctuates, you already know that.
In the next subsection we have the following items:
bitcoin purchased
bitcoin available to withdraw
bitcoin awaiting unlock
bitcoin withdrawals pending
bitcoin withdrawn
bitcoin in custody
Let's see. 0.00442511 BTC purchased over 15 days? Yes, that's correct.
0.00151042 BTC available for withdraw? That's correct. Remember, they tell you that your purchased BTC gets "held onto" for a short period to combat fraud.
0.00291469 BTC awaiting unlock? That's correct as well. See the line just above.
0.0 withdraws pending? That's correct. I haven't tried to take any out.
0.0 BTC withdrawn. Correct. See just above.
0.0 BTC in custody. That's correct. I agreed to do the auto-withdraw when I have a total of 0.025 BTC purchased.
So far it's looking like everything is solid and Swan is doing exactly what they said they would with just buying the BTC for me on an automated schedule.
Let's see what else we've got if we just keep on scrolling down the screen.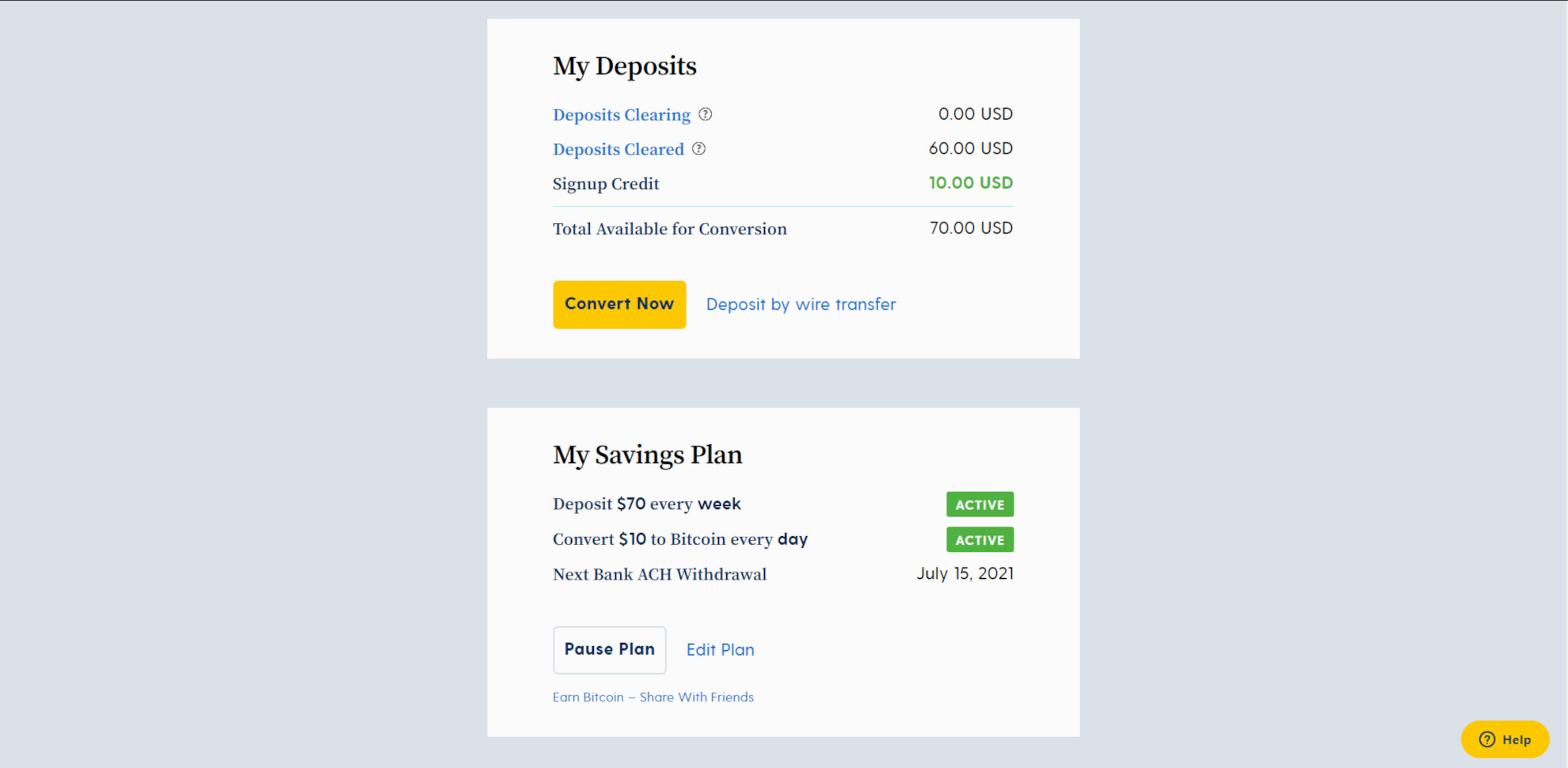 Here we see that I've got a total of $70 ready for conversion at this moment. $60 of this has already cleared while we're still seeing my original $10 for my sign up credit.
Just below that we get reminded of exactly what my personal savings plan is and I am given the option to change it if I would like. Those 2 green "active" images area actually buttons. We can also see that there is also just a plain old "Edit Plan" button at the bottom of this image and next to it, a "Pause Plan" button. This rules on the off chance that something happens in life making it so that I have to pause the plan to take care of some other stuff but I don't want to actually cancel yet.
Let's keep going on.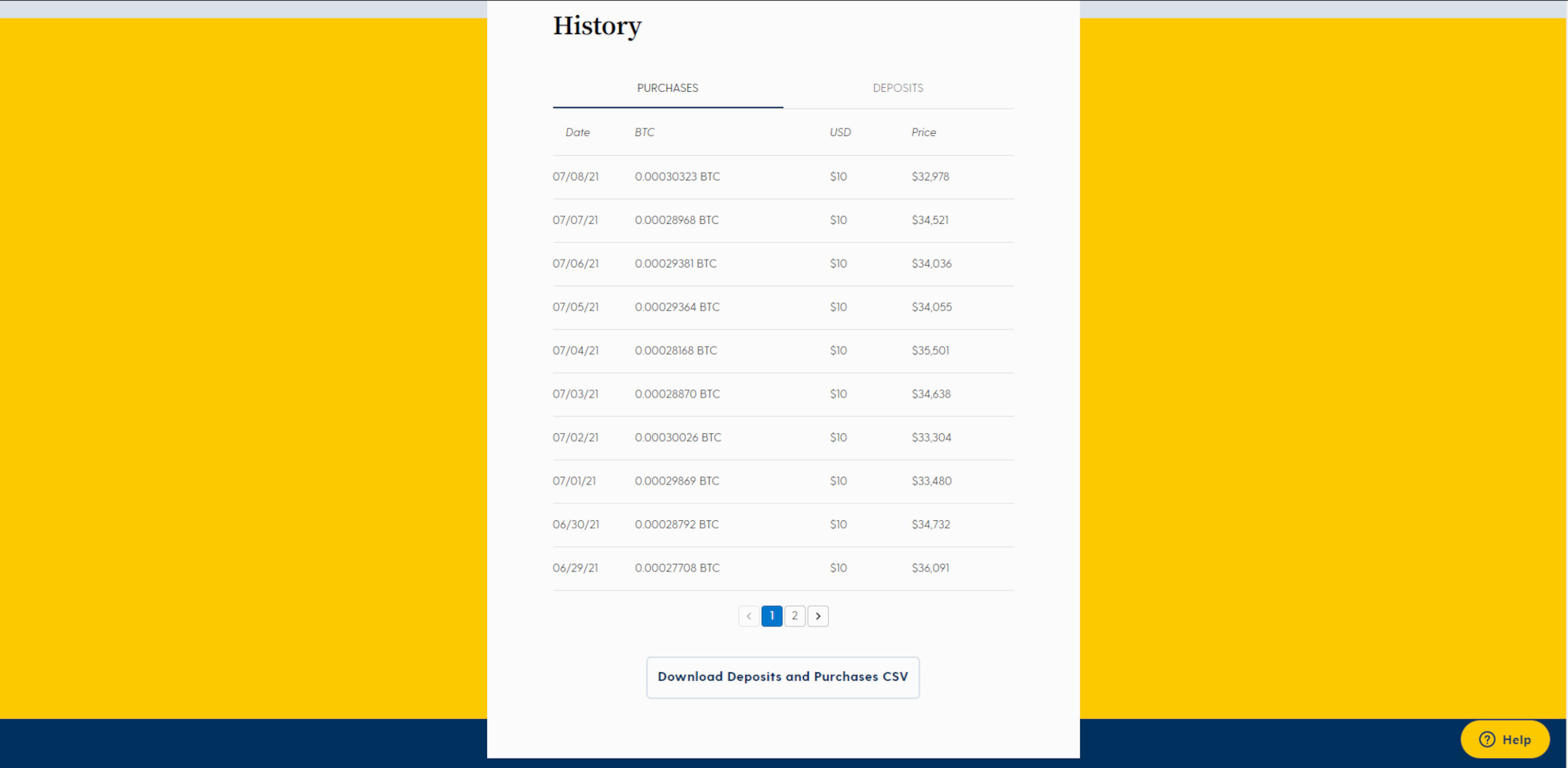 Moving on we see a chart that shows off the exact price of my daily BTC purchases.
To break that down, we see the daily price(s) of the BTC and exactly how much BTC I got for that days particular purchase.
Scrolling down the page brings us to the next little window of information.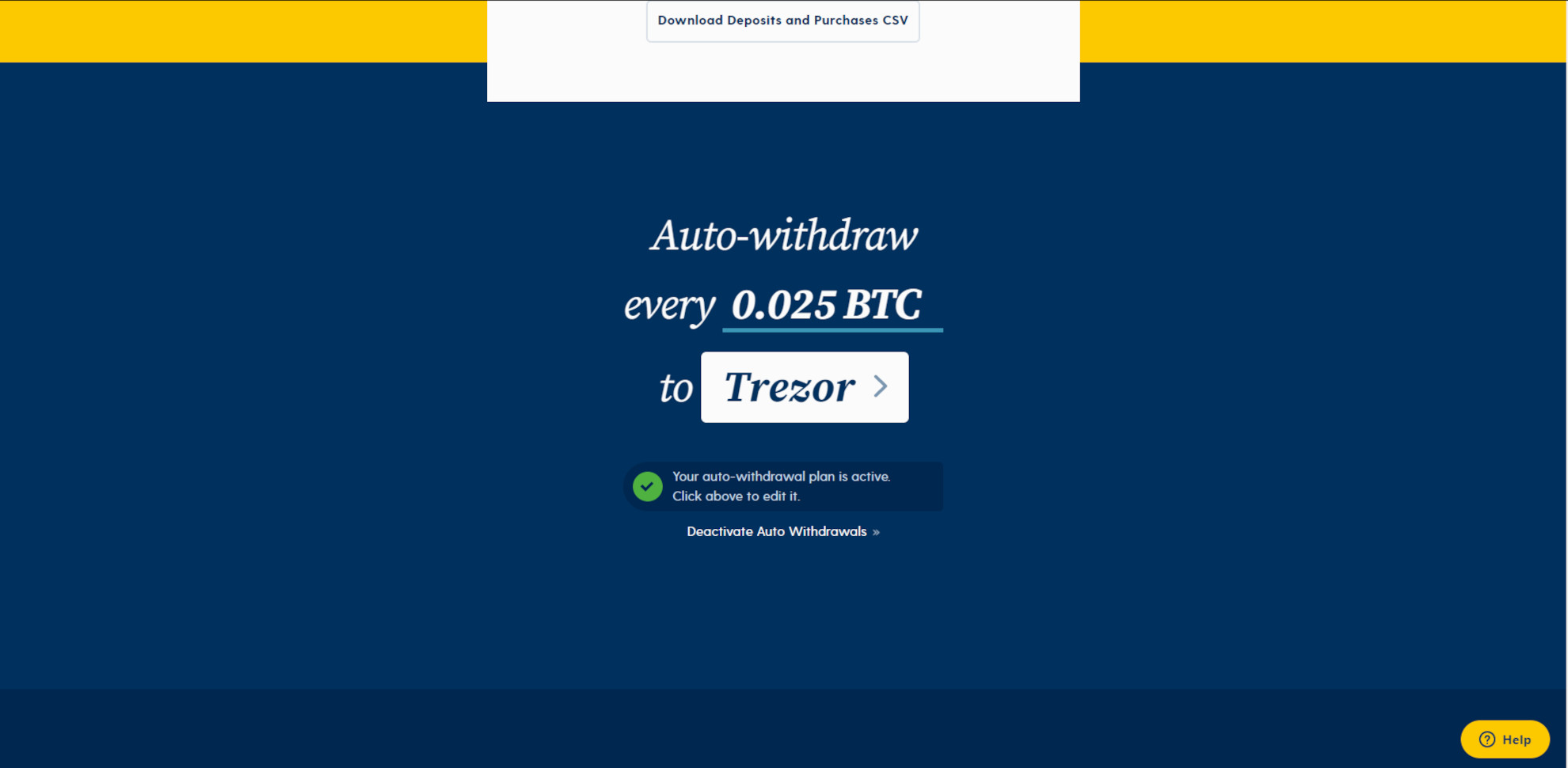 Obviously this is just a reminder to myself of how I want my BTC to be withdrawn.
Now, where it says "Trezor" as well as the very bottom where it says "Deactivate Auto Withdrawals" are both buttons. I did not click on either of these, I am liking my account just the way it is.
And lastly we come on down to the very end of this screen.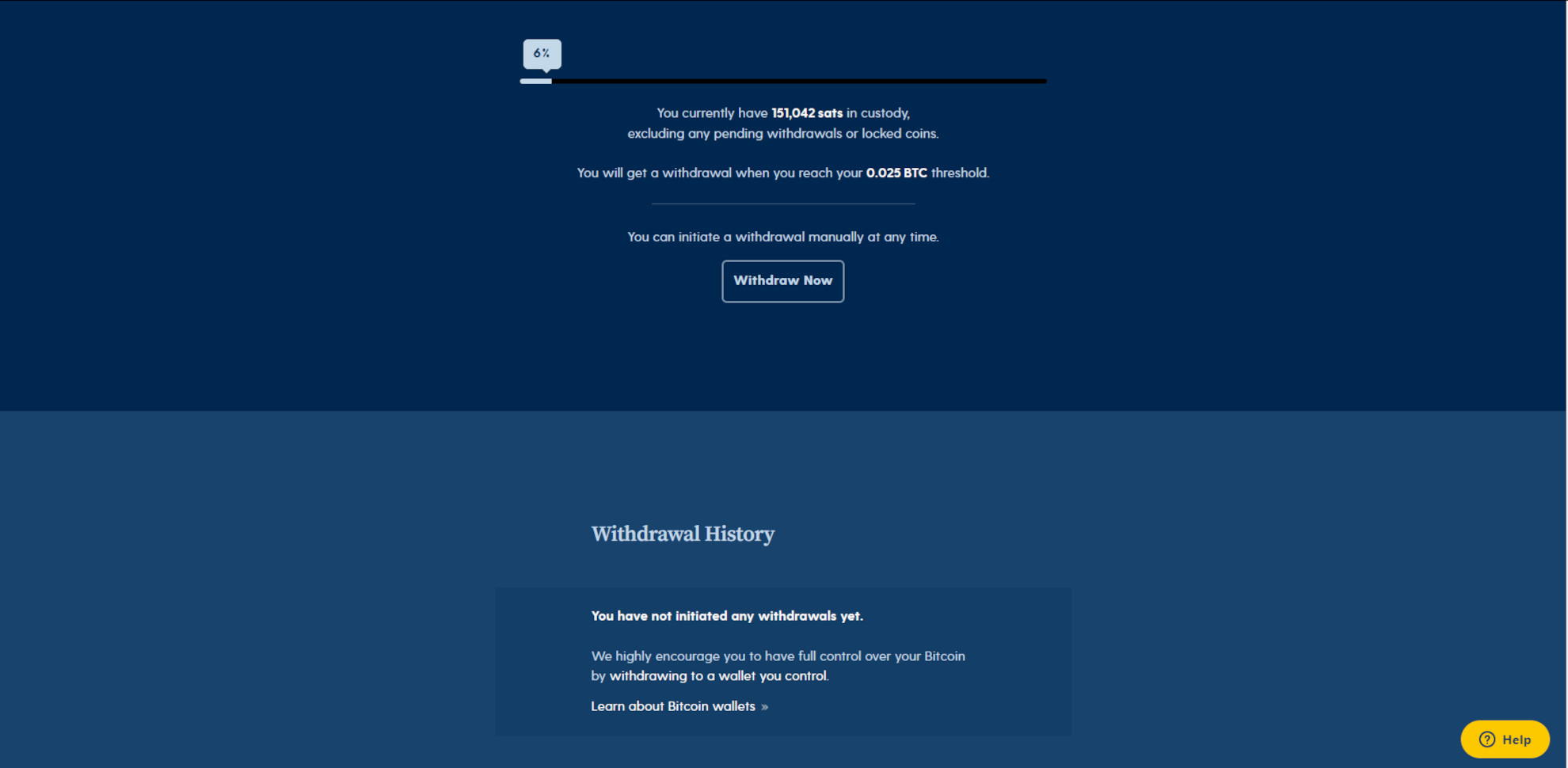 First off we're getting a reminder of just how many sats I own, or rather, have directly in custody with this account.
We see an exact percentage of these sats and see that with my current plan, it's going to be a while before I have any BTC coming my way, automatically anyway.
Last thing, my withdraw history. You can see that you can initiate a withdraw manually at any time and this is obviously where that information would be kept. I've got nothing to show in here as I haven't made a withdrawal. Hopefully I won't anytime soon and I'll just keep on adding up to this total here.
6 Month Update
Okay, so maybe it hasn't been quite 6 months, more like 5 and a half or so, but you get the idea here. How have things been going on my end as well as Swan's end? Let's take a look!
If you had been keeping up with the price of bitcoin over the last few months you would have seen something. Some time around the end of September and into October, the price of bitcoin just kept rising up and up until it hit its new All Time High of just under $70k (it got to $66,974 on October 25th). During this time I was watching the price take off toward the moon and on October 12th I paused my account. I'm glad I did because of two things.
The price kept going up. Nobody wants to buy high so I'm glad I paused it when I did from a financial standpoint, but also,
We get to see what happens when you pause your account.
What do I mean when I say, "what happens when you pause your account"? Well, specifically that. Is there a time when Swanbitcoin will just up and start up my purchasing action again with no input from me? Will they be one of those companies that say, "You haven't been active for X amount of time so we're just going to close the account for you"? What happens to the bitcoin I had already purchased?
Well, now we can attack all of those questions so let's just get right into it!
As you can see from the above image, my purchasing account of $10 per day was chugging along just fine until I paused it on October the 12th. Just as an aside, why wasn't any purchased on October the 11th? I honestly don't have an answer for that one. Something to do with Columbus Day? I wouldn't think that would affect anything but it's the best I can come up with. But anyway, let's move on.
Now with the above image, which is the first image you see when you first log into your account, you see my current saving with Swan and we see some information here.
We see the grand total of bitcoin I have bought through Swan.
We see that I spent a total of $1,110 for 111 days of purchase.
We see that the bitcoin purchased has a value of $1,556.65 thanks to going up an average of 41.14%. (Nice.)
And then these numbers get broken down a little more to show you exactly where all of your cash is or has gone.
We know that altogether I have purchased 0.02694787 worth of bitcoin, yet under it we see that I only have 0.00190491 available for withdrawal. Where's the rest of my cheddar?
Well, you'll remember a few months ago when I was originally setting up the account that I chose the setting to automatically transfer 0.025 to my Trezor whenever I rack up enough. On the day that came around, everything went smoothly with no troubles and Swan came through and did exactly what they said they would. I woke to an email one morning telling me that the 0.02504296 was transferred and sure enough, when I went and looked, there it was!
While I would love to show you an image of the bitcoin sitting in my Trezor, alas, I cannot. During a peak I sold my $1300 or so worth of purchased bitcoin for just over $3,000. No regrets.
And lastly from the previous image we see that I currently have 0.00190491 in my Swan account, just sitting there waiting for me to do one of two things.
Withdraw it and be on my way, or
Resume the purchasing action on my account and continue adding to it, (Spoiler alert – That's what I'm going to do in the long run).
And it looks like really only one more thing to see here if you were to scroll a little down the page. Take a look at the following image here.
Have your account paused for any reason? You can see that Swan makes it extremely easy to get back into being a buyer by just clicking on that big yellow button there labeled, "Activate".
And that's about it for our 6 Month or so Update!
The "Conclusion" that you're about to read about still stands true. Swanbitcoin are not innovators of the future here, nor are they trying to be. Instead, they're just hanging out, doing their thing and doing it very, very well.
As far as all of the "financial companies" that I personally deal with on a regular basis, they may actually be my favorite. They're not fancy or flashy, they just flat out tell you what they're going to do with your money and they do it with no hidden fees, no unknown stipulations, no surprise "gotchas!".
If you'd like an account where you can just buy some bitcoin on a "set it and forget it" schedule, I really cannot think of another reason to go elsewhere off of the top of my head!
Conclusion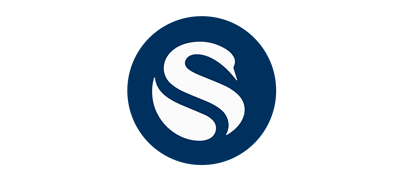 As we have said, not only in this article but as well as other parts of this site, Swanbitcoin is not the place you want to go if you're looking to one-off buy some BTC. Swanbitcoin is where you want to go if you want to actually invest and make a large purchase, over time.
Swan may not be the technological game changer of all time. They may not be the most innovative thing around. But here's the thing:
They don't have to be.
As for what they say they're going to do, they've done it well. They came at me personally and said, "Hey, here's what we have to offer and what we're willing to do for you" and that was it. They have done exactly what they said they would and there's no surprises.
If you're looking for a way to save some crytpo without having to worry past the initial set up visit SwanBitcoin and set up your account. This is definitely for you and we cannot think of a better way to get to exactly what Swan is offering the people.