Using Paypal To Buy Bitcoin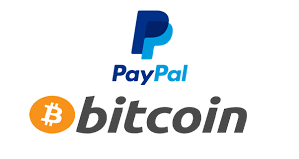 If you are looking for a way to buy your first bitcoin, you probably have figured out by now it is no walk in the park. Let's be completely honest here … purchasing bitcoin can be a righteous pain.
Wouldn't it be great if you didn't have to use cash or a credit or debit card and you could just use your PayPal account?
Well, here's the thing: using PayPal to buy bitcoin really isn't an easy matter either.
It is possible, however, so if you want to learn how to do it, you can. In this article, I will teach you three different methods you can use.
Keep in mind that there are a few sites which offer PayPal as a withdrawal method. So if you have bitcoin and want to pull it out of your account and send it directly to your PP, you can. But that is not the same thing as being able to use it as a payment method.
A lot of sites keep promising to add that functionality in, but as of October of 2017, we are still waiting.
Anyway, without further ado, here are the top three options we recommend if you want to buy bitcoin using your PayPal account:
Paxful
LocalBitcoins.com
VirWox
Additionally you could consider getting a PayPal credit card and use that instead, which also works. .
Let's check out each in detail.
Buy Bitcoin With Paypal
1. Paxful – P2P Exchange with Hundreds of Payment Options including Paypal
Paxful lets you buy bitcoin with paypal instantly but will often require ID.
Find an offer you like. You can see that some of the offers require a verified paypal account, and or photo ID. Some offers do not require ID.
The offers also show you how much bitcoin they have for sale.
Click on an offer you are interested in.
From here you can see more details about the offer as well as the reputation of the seller. In this instance 871 positive remarks and one negative. This looks like someone you can trust to follow through on their side of the deal.
You can also decide if the ID requirements meet your needs as well.
At this point you click the 'buy now' if you are good to go with the offer. Continue the instructions and make your payment.
the sale of bitcoin utilizes the Paxful escrow service to help ensure both sides of the trade are protected.
Send your money via paypal and complete any steps required in the offer (like sending the paypal screenshot of completed transaction) and the seller will release the bitcoins that are already held in the Paxful escrow account and you will be free to spend them as you please.
2. LocalBitcoins.com – Worlds Largest P2P Bitcoin Exchange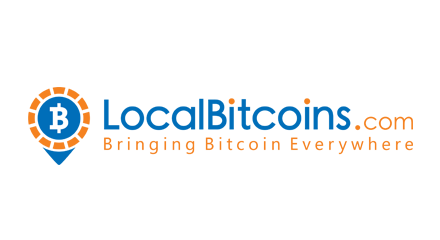 LocalBitcoins is a very handy website where you can search for local sellers who are willing to make bitcoin exchanges with you directly. The service is available in 248 countries and 15,243 cities as of the time of this review (that includes the USA).
After you sign up for an account, you can find sellers who are willing to accept PayPal as a payment method by scrolling below the main banner on the homepage to where you see "Quick Buy" and "Quick Sell."
1. Select "Quick Buy."
2. Enter in the amount that you would like to purchase, the currency you have and the country you are in.
3. After you have done that, look at the dropdown to the right of where you selected your country where it says "All online offers." Here you can select PayPal.
4. Click on the orange "Search" button.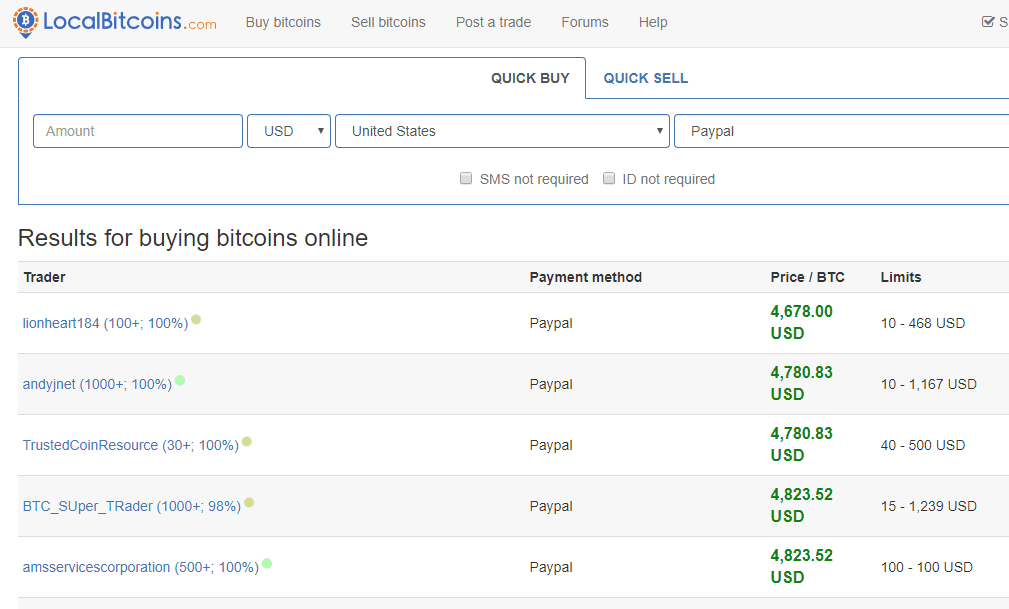 You will then see a list of applicable offers. At that point, you can select any offer which interests you. After you click on it, you will be taken to another screen where you can view details, including:
• Price
• Payment method (PayPal)
• User name
• Feedback score
• Trade limits
• Location
• Payment window
• Terms of trade
The terms of trade are provided by the user, and can vary significantly from one person to the next.
Suffice to say, a lot of users will require you to prove your identity in some form or fashion, and naturally you will need to have a verified PP account.
Once you have sent over all the requested items of information, the seller will usually approve you, and you can then send over the funds through your PP account. At that point, the seller will transfer the bitcoin to you.
Are there some risks buying bitcoin this way?
Yes, but the feedback system helps ensure that you are participating in safe transactions.
So long as you are satisfied with the feedback score of the person you are dealing with, you should be able to proceed with a fair degree of confidence.
Pros:
• Apparently well over a million people use LocalBitcoins.
• With so many countries represented and so many individuals on the platform, you will doubtless find local deals.
• PayPal is actually accepted here, and there is nothing convoluted or indirect about it. You just pay using your account. It does not get more straightforward than that.
• The terms which go with trades can vary a lot, as previously mentioned. I would say that in general this is a benefit, because it means you can search around for terms which you feel comfortable with. You are not going to find flexibility like that on another platform where you are just dealing with one big website.
Cons:
• Since you are dealing with an ordinary individual, there is always a chance that you could get scammed. The ratings system helps to minimize these occurrences, but there is no way to entirely remove the risk. Be very mindful of that when conducting large transactions.
2. VirWoX
VirWoX stands for "Virtual World Exchange." This method sounds pretty convoluted, so you will have to bear with me—it really is easier than you think. On VirWoX, you will be purchasing Linden Dollars and then converting them to bitcoin. In case you do not know what I am talking about, Linden Dollars are a currency used on Second Life.
This might sound weird.
Why go to the trouble of dealing with some virtual currency used in a video game? Well, the reason is that it works.
It does not matter if you do not play Second Life or care about it.
For whatever reason, this site is set up in such a fashion that you can conduct multiple conversions to achieve the end you are aiming for—and that is ultimately to buy bitcoin using your PP account.
And no, you do not need a Second Life account to do this.
In case you are wondering about the site's reputation, VirWoX is an Authorized Linden Dollar Reseller, and has over 400,000 users.
Incidentally, if you play other games which utilize some form of in-game currency, the site also deals in other metaverse currencies.
Here is how you can use it to buy bitcoin with PayPal.
Start By Setting Up Your Account:
1. Register an account on VirWoX. Enter in your details and activate through your email.
2. Change your password so you are not using the default. You need to make sure your account is secure since you will be storing and transferring money using it.
3. In your account, go to "Deposit."
4. Choose "PayPal Express Checkout," and use it to fund your VirWoX account with however much money you want to deposit. Be aware that there are fees for paying with PP on VirWoX, and they can be pretty high.
Buy Linden Dollars to Convert to Bitcoin:
5. Now it is time to purchase Linden Dollars. Go to the Exchange section, and then select USD/SLL (or whatever fiat currency you are using/SLL). SLL stands for "Second Life Lindens."
6. Use the money you have deposited in your VirWoX account to buy SLL.
Convert the Linden Dollars Into Bitcoin and Withdraw
7. Now you have Linden Dollars in your VirWoX account.
8. In the Exchange, click on BTC/SLL.
9. Use your Linden Dollars to buy bitcoin
10. Wait through the manual review process which is sometimes implemented. It can take as long as 48 hours.
11. Click on "Withdraw" in your account.
12. Scroll down to "Withdraw to Bitcoin."
13. Enter in the amount and put in your bitcoin address. Note the handling fee.
As you can see, while this method sounds complicated, it really is not that bad once you get a feel for it.
There are a couple of things you should note:
First of all, the fees can really add up. You are paying a fee for two currency conversions and for your withdrawal.
Next, you may think you have to do some extra math since you have to go through the SLL step.
But if you are just purchasing however much bitcoin you can get for X amount of USD (or other fiat currency), you do not have to worry about it. The SLL step is not going to interfere.
The whole point of conversions it that you are always getting an equivalent amount.
And for that reason, it also really is not an issue if you are trying to get a specific amount of bitcoin.
Just use a calculator to figure out how much USD you need to spend to get that amount. However, much SLL that buys you will convert into the amount of BTC you need.
Pros:
This method has been around for years and is widely considered to be reliable.
Users can join from countries all over the world.
If you happen to be a gamer, you will find this platform has additional benefits for managing your in-game currencies.
Cons:
Transactions are not always instant. Sometimes a couple of days are needed for the manual review process.
The fees are high.
The method may appear confusing at first, and there are some extra steps involved. Some people may be daunted by this (though you shouldn't be—it really is not that difficult).
Get a PayPal debit card and use that instead.
Finally, one more option is to go with another indirect method, and that is to use a PayPal debit card. This allows you to use funds which are in your PP account, but without using PP itself as your payment method.
This method is recommended by CEX.IO. It can be used on CEX.IO, and should also work on other sites which accept debit or credit card as a payment method to purchase bitcoin.
I highly advise checking out this method, because you do not need to worry about opening up accounts on third party websites just to buy bitcoin which you plan to trade on other exchange. You are only dealing with PayPal and whatever exchange you intend to use (like CEX.IO).
The basic steps are as follows:
1. Open an account on a site like CEX.IO which accepts PayPal debit card payments.
2. Open a PP business account (see the pros and cons to learn more about this—there are situations where a personal account may be acceptable).
3. Apply for the PayPal Business Debit MasterCard.
4. Wait for approval. After you are approved, your card will be sent to you. This takes around 7-10 business days.
Once you have your PayPal debit card, you are able to use it to pay with PayPal anywhere that MasterCard is accepted. That means that the money comes out of your PP account, not your regular bank account. As a bonus, you can earn 1% cash back.
If you screw something up and PP declines your application, wait 30 days, fix whatever you did wrong, and then try again. Note that you can only get a PayPal debit card if you are located in the USA and have a valid street address.
You now can use your PayPal debit card to buy bitcoin using PP on CEX.IO or any other website which accepts MasterCard as a payment method for cryptocurrencies.
Pros:
For those who meet the requirements, this is probably one of the simplest and most straightforward ways to pay for bitcoin using PayPal, even if it is indirect.
Using this method really opens up the number of websites where you can conduct transactions. Again, very few websites accept PayPal as a payment method for cryptocurrencies, but you will find a reasonable selection accepting credit and debit cards. So long as they take MasterCard, you are all set.
You may be able to minimize your fees using this method.
Cons:
This method is only available to people who live in the USA.
You generally need to have a business account in order to get a debit card from PayPal. The exception is if you have a personal account which has received a minimum of $500 within the past 12 months.
You must use a valid US street address in order to do this, not a PO box.
Conclusion: Buying Bitcoin With PayPal Is Not Easy, But It Can Be Done
As you can see, PayPal is not an easy method to use to purchase bitcoin, despite its convenience for most other applications. But buying bitcoin is notoriously convoluted no matter what payment method you use. So if you think PP is still the most convenient option for you, go for it. Prefer cash? Check out the guide, "Can You Buy Bitcoin With Cash Safely?" Personally, I recommend using a credit card. Read "How To Buy Bitcoin With A Credit Card – 4 Easiest Ways."
More Great Reads